*articles contain affiliate links*
Mental health nurse practitioners are like the specialists of all psychiatric conditions, such as mood disorders and trauma. They help patients manage these challenging situations just by being there for them mentally through their tough times. They also assist psychiatrists in the diagnosis, treatment, and prevention of mental illness.
To become a nurse practitioner specializing in psychiatric nursing practice, you must earn a master's degree in nursing (MSN) from an accredited program and enroll for supervised clinical practicum hours to work under licensed NPs.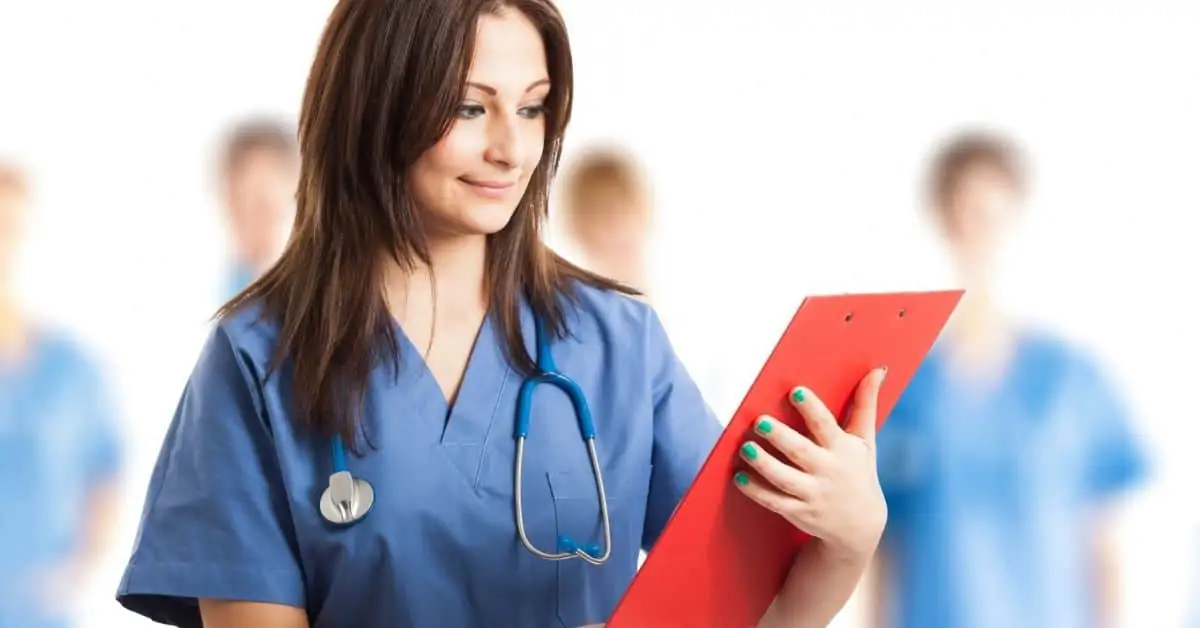 What Is a Psychiatric Mental Health Nurse Practitioner?
Psychiatric-mental health nurse practitioners are trained to assess and treat mental health issues, such as depression, anxiety disorders, post-traumatic stress disorder (PTSD), or schizophrenia. They diagnose these psychiatric disorders through assessments that involve interviews with patients in addition to observations of their moods or behavior patterns. 
PMHNPs also consult with physicians regarding medications and other treatments for the diagnosis they have made earlier on by gathering more information from a patient's medical record and verbal history about any past illnesses they may be experiencing.
PMHNP is a registered nurse (RNs) that prescribes medications and provides psychotherapy to treat mental health patients independently. It takes around two years of training in a master's nursing program to become a mental health nurses practitioner. Students learn how drugs affect the brain, behavioral therapies for mental illness, diagnostic evaluation techniques, patient care plans, and various treatment options for patients with drug addictions or mood disorders such as depression.
What Do Psychiatric Nurse Practitioners Do?
Psychiatric NP works primarily in community-based mental health clinics, hospitals, and private practice. They usually work closely with psychiatrists to provide primary care for patients suffering from psychiatric disorders. Following are some duties that PMHNPs do:
Diagnostic and treatment of common acute psychiatric problems, illnesses, and crises
Consultation with psychiatrists regarding psychopharmacological management
Administering individual, group, and family therapy to clients
Managing chronic psychiatric disorders
Specifying appropriate medical treatment for clients with complex psychiatric problems
Referring common health care issues to specialized medical care when necessary
Offering family psychiatric-mental health education
Providing screening performed or recommended for all ages
Educating the public on healthy lifestyles
Advocate for family mental health clients and their families
According to research by nurse.org, Psychiatric nursing is a growing field, and qualified behavioral healthcare providers are still scarce in many countries, especially in the United States. It is not very easy to become a psychiatric nurse and takes years from various training programs to complete.
Diseases and Disorders Treated by Psychiatric Nurse Practitioners
Psychiatrists use their mental health expertise to diagnose and treat a wide variety of illnesses, including:
Anxiety
Depression
Manic-Depressive Disorder
Eating Disorders
Obsessive-Compulsive Disorder
Attention Deficit Hyperactivity Disorder
Substance Abuse
Panic Disorders
Dementia Disorder
Autism Spectrum Disorder
Schizophrenia Disorder
Personality Disorders
Trauma, PTSD, and adjustment Disorders
Everyone understands that psychiatric-mental health nurse practitioners do important work caring for patients afflicted with mental illness. They help them get better and reduce the stress & suffering they have to undergo during their treatment sessions. They can also assist your loved ones who are going through serious problems due to any form of mental illness by providing psychological assistance and support.
How Long Does It Take to Become a Psychiatric Nurse
If you want to help people in need, a career as a psychiatric nurse might be perfect for you. First of all, it is important to know that becoming a psychiatric mental health nurse practitioner would be a long and continuous process.
It may take up to 18 months to 2 years to become a fully-fledged psychiatric nurse. There is also a particular reason behind the waiting period.
The process takes a lot of time because most of the applicants would have to complete their formal education and do certain courses and training before becoming psychiatric nurse practitioners. It may even take a year or more to complete certain related coursework and internship.
Psychiatric nurses also need to be accredited by their respective governing bodies to get employed in any hospital or mental health clinic to provide the best psychiatric treatment for patients of all age groups suffering from various mental disorders and other psychological problems.
Pathways to Become Advanced Practice Nurses
Psychiatric mental health nurse practitioners have to complete a rigorous application and certification process before entering the profession. They must hold an RN license, graduate degree in nursing from an accredited school of nursing, and national board certification with their respective organization. Following are steps that you need to follow if you want to become a registered nurse.
Get a Bachelor of Science in Nursing (BSN) Degree
Getting a BSN degree is the first step of becoming a psychiatric health nurse. The BSN degree is now required in the United States to become a licensed practical nurse (LPN), registered nursing assistant (CNA), and for psychiatric mental health nurse practitioner programs.
The longer you take after obtaining the associate's degree in nursing, the more you will earn when entering this profession. You can either choose to start with an ADN program or get a bachelor's degree in Nursing as quickly as you can so that you could enter practice sooner than your colleagues who are still furthering their education in college.
Pass the NCLEX Exam
Psychiatric mental health nurses must pass the National Council Licensure Examination (NCLEX) test to earn their advanced practice registered nurse licenses.
To take this exam, you will need to obtain an RN license first before taking the NCLEX examination. It is usually given in more than 20 states in the US and is considered to be one of the most difficult licensing exams for nursing professionals all over America.
Once you have passed this test, you can legally work as a psychiatric mental health nurse practitioner in every state within the USA. You can also apply for a job at any hospital or clinic that requires your services as per their set program or needs.
Acquire Experience as an RN
Psychiatric nurses must acquire at least one year of practical experience along with two years of clinical work before they can finally qualify as psychiatric nurse practitioners.
It is an important step to take because it will help you gain enough knowledge and experience in psychiatric nursing so that you could be able to provide the best psychotherapy treatment to patients who need your assistance.
You should also know how to deal with different psychological problems while working with certain patients.
Long-term exposure and experience would also make you develop better communication skills, connect well with patients, understand them better, and give them ease during their sessions and therapy sessions.
Although you cannot work with only psychiatric patients (because this is not allowed), the experience as a mental health nurse would give you a better understanding of how to behave, treat, and talk to patients suffering from psychological problems.
Take a Nursing Graduate Program
For PMHNPs, it is required to complete a graduate program before they can officially enter the profession.
It is recommended to have a better grasp and understanding of psychiatric nursing in general and how to deal with patients of all age groups living with psychological issues.
There are also specific courses related to psychotherapy treatment, research work, and counseling sessions that you will learn and study on during your graduate program. If you want to pursue this career path, taking a respectable graduate nursing program would be a good way to start.
Once you earn your master's degree or doctoral degree from an accredited university, then becoming a PMHNP would not be that complicated for you at all.
Obtain Nurse Practitioner Certification in Psychiatry and Mental Health
To be eligible, practitioners must earn their Graduate Degree in psychiatric nursing and have at least two years of experience as an RN. The certification in PMHNP will be issued by the psychiatric nursing board of your state.
The certification exam is given by the National Board for Certification of Nurse Practitioners (NBCNPC) and will include three sections: psychiatric mental health, psychosocial nursing, and professional role. For more information about this examination, you may visit NBCNPC.org
After passing your PMHNP certification exam, you are now ready to work on complicated cases as a PMHNP specializing in treating people's psychological problems and issues with drugs or therapy sessions. Some cases require immediate attention from psychiatric nurses like those that involve suicidal patients or severe.
Get Ready for Employment
After completing all of the above steps and requirements, you are now ready to become a PMHNP. If you are an RN, you can work on a variety of locations, including:
Public Mental Health Centers
Government Agency
Hospitals
In-patient Psychiatric Facilities
Primary Healthcare Clinics
Psychiatric Practices in the Private Sector
Residential Substance Abuse Facilities
State Psychiatric Facilities
Student Health Clinics
Urban Nurse-Managed Clinic
Psychiatric facilities operated by the Veterans Administration
If you are a new nurse, it is recommended to join a hospital and take on the challenge in your chosen specialization. It will allow you to gain some hands-on experience before moving to other facilities that offer psychotherapy treatment services.
The good thing about this job is that psychiatric nurses are primarily employed in hospitals and clinics, so getting a job would not be much of an issue if you have all the requirements needed.
Take an Advanced Course in Psychiatric Nursing (Extra)
A master's degree program is offered at various universities and accredited institutions that focus on giving a better understanding and raising awareness about mental health issues among students who want to pursue this career path. Many schools are now offering specific courses related to psychiatry and how to deal with patients suffering from psychological problems.
Students learn about different types of therapies or treatment methods that might help them address certain emotional or psychological disorders quickly and effectively.
For example, some students might wish to concentrate on research, treatment sessions, and patient interviews, while others might want to study mental illnesses and treatments linked with certain drugs. This course can be taken as an extra program that will give you more experience in psychiatric nursing.
It is an excellent opportunity for those who wish to learn about psychoactive medications and help lessen patients' aggression or anxiety while improving their focus and concentration skills.
Many people have benefited from this type of advanced course because it helps them understand psychological disorders better while providing them with a better understanding related to different emotions experienced by patients during therapy sessions.
With extensive training in working with complex cases, PMHNPs can now help patients dealing with depression, anxiety, schizophrenia, and other mental disorders of all kinds.
With the help of this kind of nursing program, many aspiring candidates have learned how to recognize psychological issues in their patients and treat them the same accordingly.
It is one reason why people who want to pursue a career in psychiatric and mental health nursing must pay particular attention during their graduate programs to be more aware of emotional or psychological problems experienced by patients at any given time.
These days, it is not easy to do this type of work alone because different doctors will need your assistance once you finish studying for your degree in psychiatric nursing. So having an advanced course can help you learn more about these and other psychiatric problems found in some patients.
What is the Career Outlook for a Psychiatric Nurse Practitioner?
Based on the U.S Bureau of Labor Statistics (BLS), NPs are expected to see exceptional growth in employment over the next decade and a half, with 45% more jobs being created from 2019-2029 than for all occupations as a whole.
Nurses are now being promoted to higher positions in hospitals because of the increased demand for physician services. With their advanced education, nurses can now quickly diagnose and treat illnesses and provide comfort to patients suffering from a variety of health problems. It means that nurses will have greater responsibilities concerning the health care of their patients.
Highest Paying States in the US for Psychiatric NPs
According to Payscale following are some of the states that pay an excellent salary to Psychiatric Nurse Practitioners.
Los Angeles, California – $ 130,990 Per Year
New York, New York – $118,138 Per Year
Boston, Massachusetts – $117,483 Per Year
Dallas, Texas – $113,572 Per Year
Ending Thoughts
It is essential to follow the right career paths if you want to become a psychiatric nurse. Although it could be pretty challenging, perseverance and hard work can help make your dream come true.
You must have a genuine interest in mental health and understand the suffering people with psychiatric disorders go through daily. It will also make you more committed to their treatment as well as provide the proper care.
With the help of a good nursing degree, you can efficiently work with different doctors in a hospital setting and have the edge over other future nurses. If you are a nurse, it means your future is secured.
So we have helped you with all the possible ways to show you how to become a psychiatric nurse and the possible time it may take. Now it depends on you if you are ready to do it.
Also Check Out: