*articles contain affiliate links*
Having a little extra help from great fitness gadgets can really help you start and stay on track with a new healthy routine.
Instead of becoming a gym rat or trying to track your fitness progression by staring in the mirror each week, there are a number of new gadgets available on the market for great ways to stay fit in the New Year. It will not only work to provide accountability, but will prove an accurate way of keeping you healthy and toned for those with fitness goals.
These 7 Fitness Gadgets Can Help You Rock a Healthy Lifestyle
1. Fitbit One
Although basic step counters have been popular in the last decade as an easy way to track how many miles you walk or run every day, the Fitbit One is an advanced version that also tracks the quality of your sleep. The portable device conveniently clips onto clothing and can even be placed in a pocket or onto a bra. It proves to be motivating by also calculating how many calories you've burned throughout the day. The product also wirelessly syncs with computers and select smartphones while offering a food journal, badges, and personal goals for a waterproof device that is incredibly versatile.
2. Nike Fuelband SE
Known as a trendy accessory to wear on the go, the Nike Fuelband SE edition provides plenty of motivation on a daily basis to stay active with a lightweight bracelet. With only a single button on the product, the product can also be used as a watch and even has a built-in usb device to easily plug and charge in any computer.
3. FINIS SwiMP3 Waterproof Headphones
As many people enjoy running or cycling with their favorite music blasting in their ears, swimmers are often unable to enjoy this modern luxury. Fortunately, with the FINIS SwiMP3 Waterproof Headphones the product is waterproof and transmits music through the cheekbones, making it easier than ever to reach your goals.
4. Compex
Compex uses electro muscle stimulation to stimulate the motor nerves to contract the muscles and allow them to work more effectively with performance. It quickly builds muscle strength and power for a more efficient way of accomplishing personal goals while optimizing muscle recovery.
5. Aria Wi-Fi Smart Scale
This scale goes beyond simply weighting your pounds, but also tracks your BMI and body fat percentage for a better way of determining your physique and progress when training. Its sleek and innovative design will also work as a great way to accessorize the bathroom with a new product.
6. Garmin Forerunner 910XT
The Garmin Forerunner 910XT devices makes it easy to track your heart rate when exercising for any type of activity. It's a modern black watch that is comfortable to wear and won't interfere with your physical activity. It can even be used when in the water, making for a product that is truly durable and easy to use anywhere.
7. Armpocket Nighthawk Armband
This armband is the ideal solution for runners who are hesitant to run at night. It can hold a number of credit cards, along with offering an LED light that works to illuminate up to 30 feet of the road ahead. Along with these features, it comes with a bright flashing red light for cars passing by for an easy way to stay safe.
The latest gadgets for 2014 offer new features for those who want to set fitness goals in the coming year, as it's easier to track personal progression with accurate tools that work to motivate those who exercise. It will work to not only enhance your personal physique but will also increase your overall health and well-being.
How many fitness gadgets do you own?
Download Nurse Bingo Today!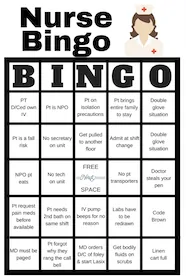 Liven up any shift with a fun game of bingo. See who can fill a row first!
Fill a whole card and lose grip with reality.
Your privacy is protected. We will never spam you.