*articles contain affiliate links*
Nursing is a profession that keeps you on your toes. With the long hours and workload, nurses hardly have the time to worry about appearances or about keeping up with the latest trends. However, one trend that we definitely love for nurses, is the stethoscope necklace.
Why? Well, as a nurse you may have little say in the Caribbean blue scrubs you wear, or even the color of your Alegria nursing shoes. Often little touches like a watch for nurses or stethoscope necklaces symbolize the noble profession that you are pursuing, allowing you to wear your profession with pride! And it definitely doesn't hurt that you can do so in a fashionable way.
Stethoscope Necklace – Wear Your Profession with Pride
Buying jewellery can often be like looking for the right needle in a stack of needles! Each person has their own sense of style and one product can't satisfy everyone. To ease the treasure hunt, we've put together a diverse list of the best stethoscope necklaces available in the market, with a little something for everyone!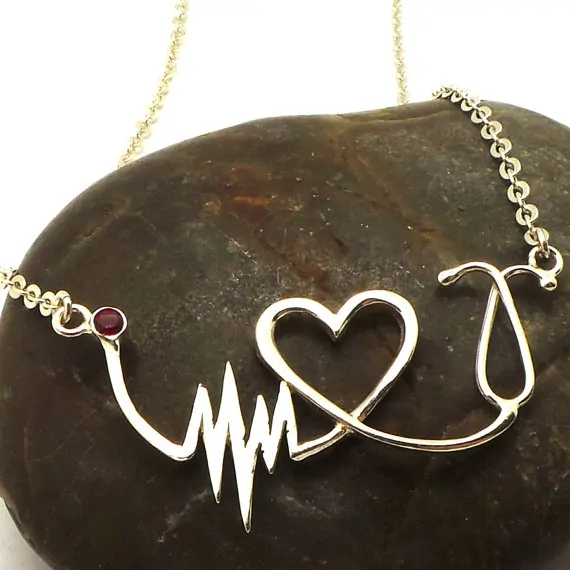 This charming little necklace stole our hearts with its adorable design. Handmade with 925 sterling silver, this necklace can be customized as per your requirements in terms of length (anywhere between 12-24 inches) and the color of the stone set in the necklace, with a delivery time of 7-14 working days or even express delivery if you require the necklace sooner. Sold by "Yhtanaff" on Etsy, the nurse heartbeat stethoscope necklace is available at a price of $45 and is perfect as a gift or a personal statement!
Why We Totally Dig This!
Handmade
High-quality silver (925 sterling silver)
Customization in terms of length and stone color
Cubic zirconia stone
Chain thickness of 1.5 mm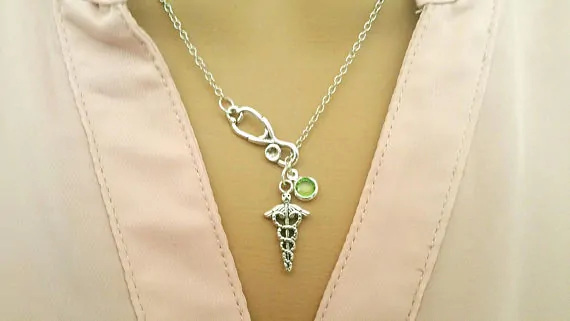 This necklace is one of the prettiest on the market, with a stethoscope connector and a "Caduceus" charm. This amazing necklace, sold by "Neera D" at $16.50 on Etsy, also lets you add your birthstone to the necklace, truly marking the necklace as yours!
Why We Totally Dig This!
18-inch necklace with a stethoscope connector and "Caduceus" charm
Customization in terms of birthstone
Rhodium-plated chain
Alloy metal charms
Barrel clasp for closure
Handmade
Delivered within 1-3 business days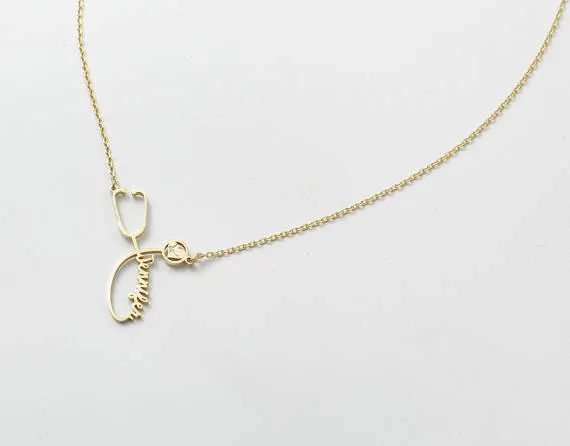 Another great addition to our list, the Personalized Stethoscope Necklace is indeed a work of art! This handmade beauty is made of 925 sterling silver and can also be coated with an 18-carat gold plating or rose gold plating. What appeals more to us is the fact that you can completely personalize the necklace to include your name, resulting in a beautiful, personal design that you can proudly show off on your neck! Sold by "CodeBlueJewelry" on Etsy, this stethoscope necklace can be yours for $39.
Why We Totally Dig This!
925 sterling silver
Customization in terms of:

Plating (18-carat gold plating or rose gold plating)
Finish (polished or semi-polished)
Adding a name (with a limit of 10 characters in upper or lowercase)
Length (16, 18, 20 or 22 inches)

Delivered as per your specifications
Handmade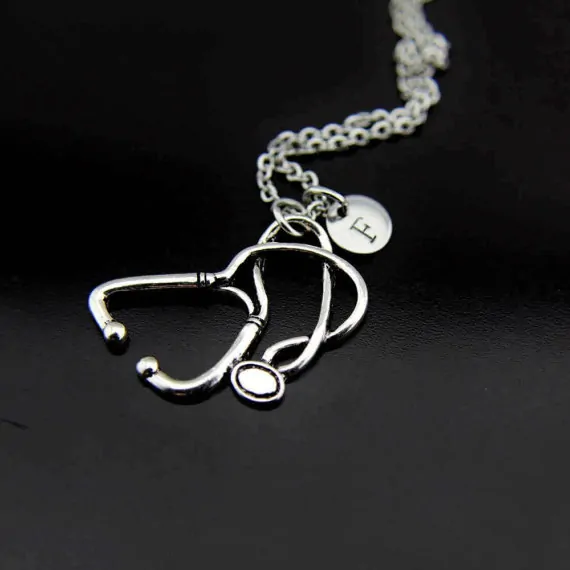 This cute charm necklace, made of high-quality stainless steel, is completely handmade and even lets you add a charm with your initial stamped on it. With a made-to-order length for the chain (14-24 inches) and the charm (10-12 mm), the necklace comes with a polished finish. The best part though, is that the product is shipped in an adorable gift bag within 1 business day (except for Saturdays, Sundays and holidays) by the seller LeBuaJewelrytoo, making it a perfect last-minute gift idea or an impromptu gift! This stethoscope necklace is available on Etsy for a steal at just $13.99!
Why We Totally Dig This!
Chain made of high-quality stainless steel and its antique silver stethoscope design
Customization in terms of chain length, charm length and letters
Polished finish
Shipped in 1 business day
Handmade
Chain width of 24 mm
Primary color is silver and secondary color is bronze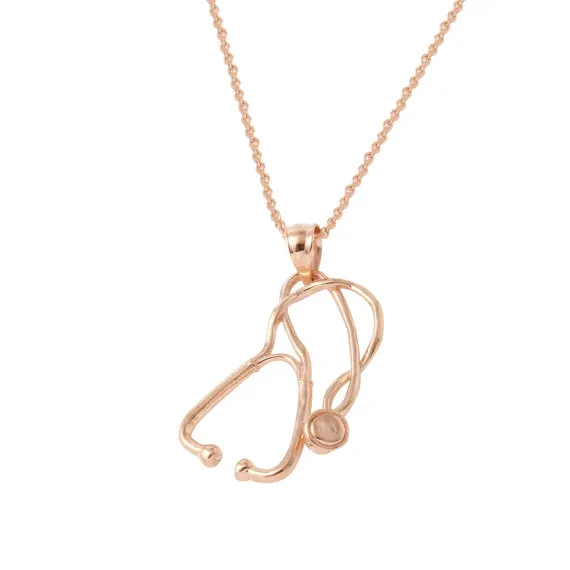 This stethoscope necklace is a great buy, with an 18-carat rose gold plating and a base material of 925 sterling silver. The chain of the necklace is a hand-crafted Italian cable chain that lends a subtle beauty to the necklace with its elegance and delicate nature. The necklace is free of nickel, making it hypoallergenic. Made-to-order and shipped in cute gift boxes, this stethoscope necklace is available at a starting price of $30 (dependant on the necklace length).
Why We Totally Dig This!
Handcrafted Italian cable chain
925 sterling silver base and 18-carat rose gold plating
Nickel-free and hypoallergenic
Pendant size of 1 inch and chain length of 16 inches
Made to order and can be customized in terms of necklace length (16-20 inches)
This necklace is a completely adorable choker necklace, made of stainless steel and is available with a gold, rose gold or silver finish. The pendant is highly unique for its combination of a heart, stethoscope and ECG cardiogram and makes an excellent gift or personal belonging. This necklace is available at a steal for just $8.52 on Amazon, making it a must-have product!
Why We Totally Dig This!
Made of stainless steel
Available in gold, rose gold and silver
Pendant length is 4.5 cm and chain length is 50 cm
Weighs 15 g
Our last pick is a necklace that will definitely grab eyeballs whenever worn! With a beautiful pendant that features a stethoscope twisted to form a message of love, this necklace is available in rose gold, gold or silver vacuum plating, with a base of "316L" stainless steel that is lead and nickel free. Available in 9 different buying options, this necklace is easy on your pocket at $10.99, and definitely more than easy on the eyes!
Why We Totally Dig This!
Made of "316L" stainless steel
Lead and nickel free
Pendant length of 35 mm and chain length of 46 cm
Available in gold, rose gold and silver vacuum plating
Wear Your Profession!
Stethoscope necklaces are a great way to carry your profession close to your heart and wear it with pride! Fashionable yet symbolic of a noble profession, these necklaces are perfect accessories for nurses as well as other healthcare professionals. Even better, they can be customized, which makes them a really special personal statement.
So what are you waiting for? Pick a stethoscope necklace from our list, make your professional statement, and grab some compliments. You know you deserve it!