*articles contain affiliate links*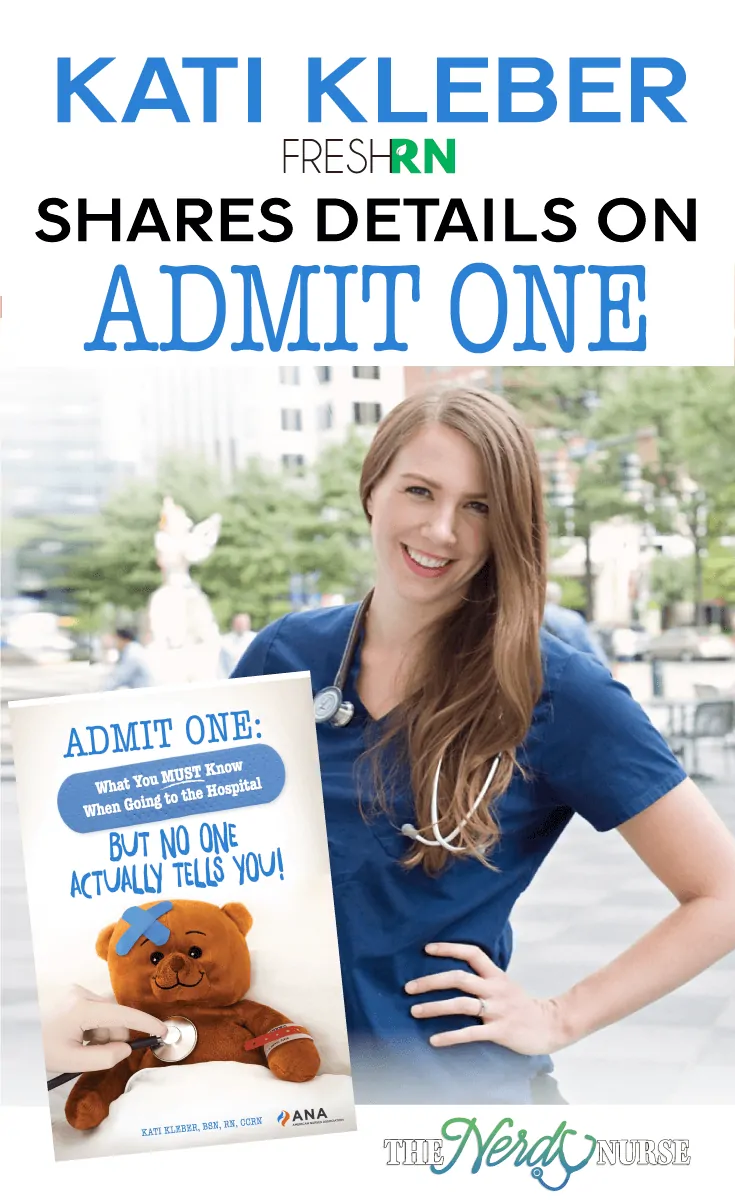 One nurse blogger who I am honored to know is Katie Kleber from FreshRN. If the name sounds familiar, she is the author of the book Becoming Nursey, that takes new nurses from school to bedside with practical advice and some humor. Now Katie is back with her second book, Admit One.
I recently had a chance to talk to Katie about her newest book Admit One and what it takes to become a nurse author.
What is Admit One all about? Who should read it?
Admit One is all about helping patients understand the hospital system better. It is complex and scary when you've never been there before and healthy, let alone when you're experiencing an acute illness. Suddenly finding yourself in a hospital at the mercy of people you've never met before can feel like suddenly being transported to a foreign country where you don't know anyone, what they do, or how they speak. This book is meant to be a guidebook, translator, and map all rolled into one.
The target audience for Admit One is prospective patients and their support systems. However, I also wrote it for health care professionals to be able to see what kind of questions and needs the patients may have as they are attempting to navigate our complicated system for the first time. The longer we are immersed in our hospital-world, the easier it is to forget what it's like to know what to do when you've never been in a hospital before. This information may also be helpful for brand new or protective nurses, physicians, therapists of all kinds, and so forth as they start getting accustomed to the hospital culture and cut down on the learning curve of the culture so they can focus on learning more important things.
What inspired you to write Admit One?
I had a tough transition going from graduate nurse to a successful and adjusted bedside nurse. I just assumed everyone knew more than me, including the nurses who started at the same time as I did. I also felt like even the patients knew more than I did. And in some cases, that was true. After working as a nurse for about 5 years and becoming completely immersed into the hospital environment, I realized that not everyone lives and breathes this lifestyle. Not everyone realizes all of the processes and workflows of a hospital. In fact, many of us within the hospital only know our personal workflows and not those of people in different disciples.. yet, we expect our patients and their loved ones to understand all of it in a extraordinary short amount of time. I knew we gave everyone hospital admission packets, but they were so general and lacked some important information. I also realized that the hospital is a lot of "hurry up and wait" time for loved ones. I wanted to provide a comprehensive resource so they could read over things during the in-between times, so that when members of the health care team rounded, they were prepared to play an active, engaged and informed role in the process and therefore facilitate a smoother transition home.
Your 1st book, Becoming Nursey, has been a major success. Why do you think it has resonated so well with nurses?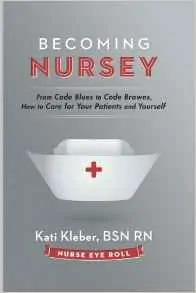 I believe it has resonated well because it gave people a look into the profession, like a fly on the wall when I experienced various rites of passage as a nurse, which are very powerful. Your first bed change, your first code, your first clinical experience, and your first really tough patient death are experiences we all have, that while they may play out differently, many of the emotions are similar. I think my vulnerability and honesty about those experiences really bonded myself with my audience. It's hard for nurses (and, well anyone) to publicly talk about the times they messed up, especially when it comes to patient situations. I wanted to make it okay for us to talk about the things we don't know, where we need help both clinically and personally, to be the best nurses we can be so that we can be positive influences within our profession for our entire career. And I think that started/starts with my honesty about my mistakes and needs.
What impact do you hope to make on the nursing profession?
My ultimate goal is help create a new culture of safety within nursing; one that is based upon open honesty about our educational needs (no matter how basic they may be), accountability and making it okay to correct one another and not be personally offended, and emotional support for one another as we grow so that we may ultimately provide our patients better, safer care.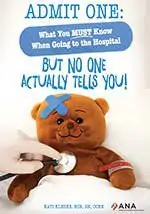 What advice do you have to a nurse who is interested in writing a book, but isn't sure where to get started?
First one must decide their ultimate goal with their book. Will it be inspirational, how-to, encouraging, clinical, etc.? Then sit down and write your manuscript. Make it perfect. Then think about if you want to try to work with a publisher or publish independently (many pros and cons to both – carefully research this).
If you'll be publishing independently, outsource the editing if needed. This is definitely a place you do not want to go cheap! Get someone qualified to edit and make sure they do it well. Once again, perfect the manuscript. Then work with a service (like Bookbaby or Createspace) where you can just upload your document and they can format it for both e-readers and print editions, as well as create a cover design. You definitely could do this yourself, but it wasn't something I wanted to spend the time or effort to learn how to do to save a few hundred dollars. You'll buy your ISBN number from them and they will upload it to be purchased! They have on-demand printing so you won't have to worry about buying a ton of copies and mailing them yourself.
Take Charge of Your Nursing Career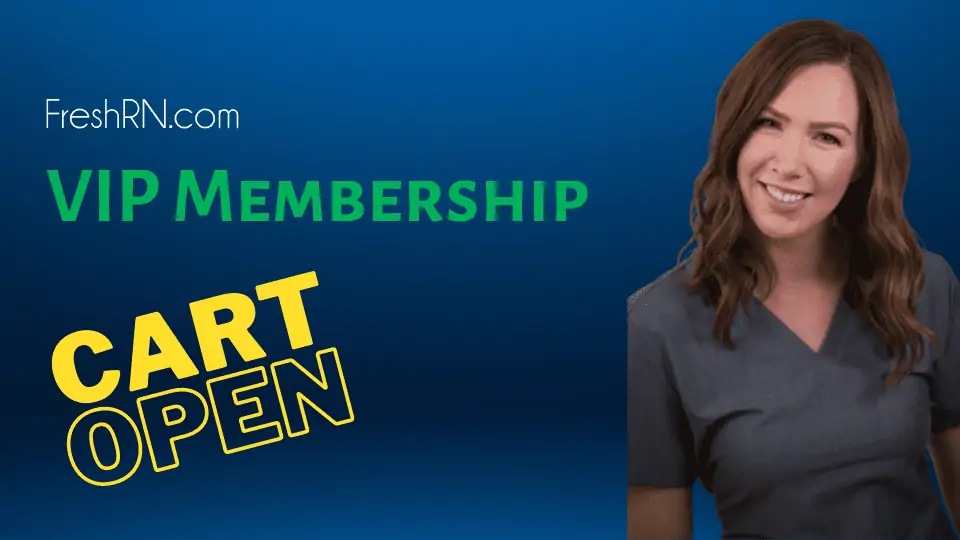 Your first year as a nurse is daunting. You need someone in your corner telling you what your managers really need from you, helping you learn to interact with your preceptor, and really just manage your life. Find all that an more with the FreshRN VIP - Membership.
I'm Ready to Thrive
If you're going to publish a book either with a publisher or independently, I recommend getting involved on social media and with blogging to get your name out there so people know who you are.
You can get both of Katie's books, Becoming Nursey and Admit One on Amazon.
Check out Katie on her blog, FreshRN and at NRSNG where she is a content creator.
Be sure to get updates on every post. Sign up for Email Updates from The Nerdy Nurse and never miss a post again. Plus get a free copy of 8 Ways Nurses Can Make More Money.
Download Nurse Bingo Today!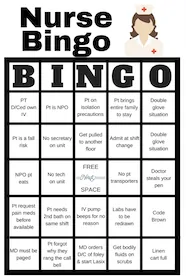 Liven up any shift with a fun game of bingo. See who can fill a row first!
Fill a whole card and lose grip with reality.
Your privacy is protected. We will never spam you.