*articles contain affiliate links*
Guest Blogger: Melanie Gueira
If you're trying to decide if you should enroll in a criminal justice graduate program or a master of health administration program, why not combine your passion for both fields? You could seek a criminal justice degree and work in health care, or you could seek a degree in health administration and work in law.
Health Care Law
As a health care lawyer, you could specialize in two areas. You could help doctors defend themselves in malpractice situations, or you can help patients who feel they haven't been adequately cared for.
To become a health care lawyer, you'll need to be a licensed attorney. You'll also need to complete a Juris Doctorate program and pass the bar exam for the state you want to work in.
Forensic Nursing
Forensic nurses help victims of crimes and other traumatic events deal with the emotional and physical repercussions. They have special training in criminal behavior and what happens afterward to victims as well as perpetrators.
To become a forensic nurse, a master of health administration degree is necessary along with coursework in law enforcement.
Correctional Medicine
People in prison need health care like the rest of the population. When an inmate becomes ill or injured, nurses and doctors are called in to assess the condition and come up with treatment.
To work in correctional medicine, you'll need at least a master's in health care with coursework in law. The best route to take is to become a nurse practitioner with a law specialization.
Legal Counsel
Similar to what an attorney does, legal counselors work with organizations providing legal advice. Many health care organizations have invested in legal counselors to ensure they don't violate any laws.
To become a legal counselor, you'll need a degree in criminal justice with health administration coursework.
How to Decide
In many of the careers that incorporate law and health care, there's usually a preference toward one. This means you must decide which program to enroll in and then which courses you should take for your specialization.
If you have a specific career in mind, it's best to contact someone in that field to ask about the reality of the position. While sometimes requirements change, it's usually slightly, so you should be safe with the answer he or she provides.
Don't forget to ask if there are any courses you should take in your specialty. This can help you because many people end up having to go back to school to take an additional course to satisfy an employer's requirements. For example, an employer may want an employee to have knowledge of legal documents, and if you didn't take a relevant course in addition to your health care degree coursework, you'll either lose out on the position or have to go back.
If you don't know what type of job you'd like to pursue, take time to research each field in depth. If you can spend some time volunteering in relation to each job, you'll get a better idea of what to expect. It's even better if you can find someone to shadow. That way, you can get a good look into what you could end up doing, which will help you make a decision easier.
This Is Your Future — Make It Great
You know you're passionate about law and health care. Now that you know it's possible to combine both, you can go enroll in the right degree program for you and take courses to specialize. Decide which degree you want to concentrate on, and take your time while doing so. Remember: This is your future.
About the Author: Melanie Gueira is a criminal justice student who enrolled after researching several criminal justice graduate programs. She hopes to one day earn a degree in law, too.
Download Nurse Bingo Today!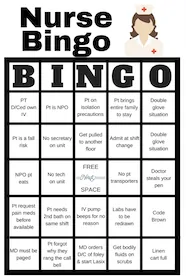 Liven up any shift with a fun game of bingo. See who can fill a row first!
Fill a whole card and lose grip with reality.
Your privacy is protected. We will never spam you.