*articles contain affiliate links*

I know that this has been a soapbox of mine here, but honestly, it is the reason why I started this blog in the first place. I was bullied.
I was being called a liar, incompetent, and made to look a fool. At the most difficult point in my young life, pregnant, postpartum, the death of my mother, and as a new grad nurse, I had this lovely stressful nugget to add to my plate. Everyday I had to make the best of the situation where the other nurses refused to help my patients and I suffered. Unlike many, I did speak up, and often. Yet for fear for the loss of my job, and the livelihood of my family, I kept continuing to go to an unsafe work environment in the hopes that eventually, somehow, it would stop.
I feel like this article is on the most well written I have ever seen on the subject:
A Matter of Respect and Dignity: Bullying in the Nursing Profession

Laura A. Stokowski, RN, MS
An excerpt, and the part that most hit home:

"Manifestations of Bullying

Bullying takes many forms — some blatant, some less so. Nurses who have researched this problem have collated an extensive list of behaviors that represent bullying, including the following[4,5,14-16]:

Refusing to speak to a colleague, being curt, giving the "silent treatment," or withholding information (setting someone up to fail);
Unwarranted or invalid criticism, excessively monitoring another's work;
Physical or verbal innuendo or abuse, foul language/swearing;
Raising one's voice, shouting at or humiliating someone;
Treating someone differently from the rest of the group, social isolation;
Asking inappropriate and/or excessive questions about personal matters or teasing about personal issues;
Gossiping, spreading rumors, assigning denigrating nicknames;
Inappropriately exempting staff from responsibilities or assigning low-skilled work;
Blaming someone without factual justification;
Allocating unrealistic workloads and not supporting a colleague;
Being condescending or patronizing;
Taking credit for another person's work without acknowledging his or her contribution or blocking career pathways and other work opportunities;
Publicly making derogatory comments about staff members or their work, including use of body language (eye rolling, dismissive behavior), sarcasm, ridicule; making someone the target of practical jokes; and
Impatience with questions; refusal to answer questions." ( Laura A. Stokowski, RN, MS, A Matter of Respect and Dignity: Bullying in the Nursing Profession, via Medscape Nurses)

and the related discussion forum.
It is viewable on MedScape Nurses. I do believe you have to have an account to view the article, but it is worth it for this an many other usual articles I have seen. And I know I should be beaten with a stick for not putting that there reference in APA format, but it does the job, and I'm not being graded on this here blog (that I know of).

What's pathetic is that this is fresh article, published 9/30/2010 and it has already received over 100 comments related to bullying and even people stating they've been fired as the result of being a target of bullying.
This is sad.
We have to stop this.
For as a profession we cannot hope to advance without fixing our problems internally first. The fact that "Nurses Eat Their Young" has become a common phrase, is absurd and despicable. Why do we allow this to continue? What worse image of nursing does one need than of the new recruits being thrown the wolves?… other than maybe my odd rendition of nurses as birds being eaten, I think that it's a sign to lay off the twitter; but,I digress. I cannot think of many.
Remember, that young nurse, with her fresh set of unpolished skills, know-it-all attitude, and desire to prove him/herself may very well take care of you one day. Don't you want to know that they were embraced by their colleges, taught to excel and encouraged to be the best nurse they could be. Don't you want to know that your legacy as a nurse will continue on through their care? Don't you already know that they look to you for guidance and strength and a few simple words of encouragement can make the difference for them.
Don't forget that you were in their shoes once. You were a new nurse, and you may very well be new in another setting at some point in your career. Ask yourself, how do you want to be welcomed?
We have the power to change this, and it's easily done.
Nurses, be aware of yourself. You're confidence and desire to care for the patients may take hold of you and cause you to become a bully one day. I urge you, evaluate yourself and every situation you come in contact with. I for one, would have never guessed I would become a victim of a bully, I had much better pegged myself as accidently being a bully, because of my opinionated nature. Because of this, I have made great strides to protect myself and those around me that I feel are vulnerable. I encourage you to do the same.
We have a responsibility to protect one another. Why is it we can all seem to do it so seamlessly in a life or death situation, but cannot be bothered to continue in our daily routine. We owe our fellow nurses respect and dignity and the ability to be the best nurse they can be.
If you hear your fellow nurse being bullied, Speak Up!
If you see your fellow nurse struggling, Offer Help!
If you sense your fellow nurse needs a friend, Be One!
As nurses, we have the ability to positively impact so many lives. Let us start first with those in the trenches' of healthcare with us: our fellow nurses.
Download Nurse Bingo Today!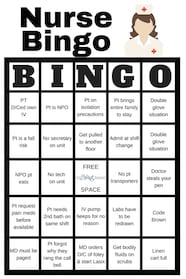 Liven up any shift with a fun game of bingo. See who can fill a row first!
Fill a whole card and lose grip with reality.
Your privacy is protected. We will never spam you.