*articles contain affiliate links*
If you've been looking for the Being a Nurse Means poem, then you've found it.
Being a NURSE Means…
You will never be bored.
You will always be frustrated.
You will be surrounded by challenges.
So much to do and so little time.
You will carry immense responsibility
and very little authority.
You will step into people's lives
and you will make a difference.
Some will bless you.
Some will curse you.
You will see people at their worst…
and at their best.
You will never cease to be amazed
at people's capacity for
love, courage, and endurance.
You will see life begin…and end.
You will experience resounding triumphs
And devastating failures.
You will cry a lot.
You will laugh a lot.
You will know what it is to be human
and to be humane.
Author: Melodie Chenevert, RN
I hope this beautiful poem brought a smile to your face and warmed your heart. I think it says a lot about nursing and was worthy of sharing.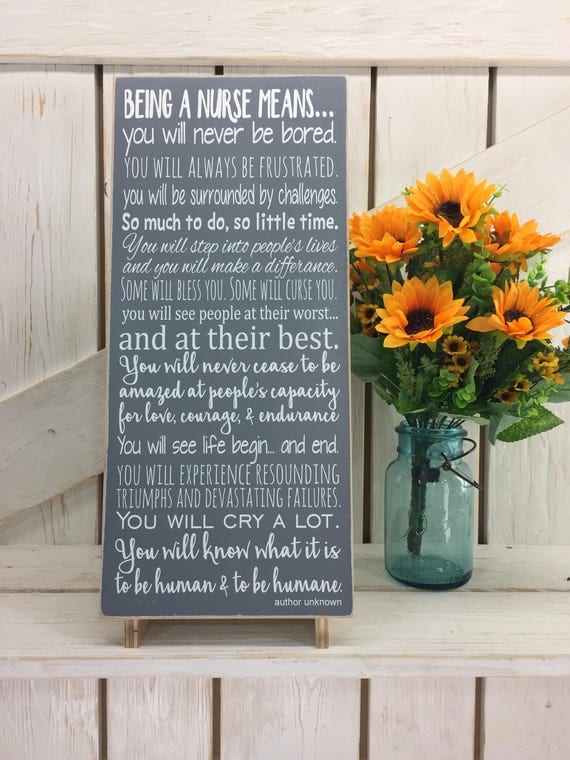 Being A Nurse Means Sign
It's a Nurse
A mother of a patient wrote a moving letter describing the care that her son received. "It's a nurse" is repeated throughout describing the loving and compassionate care provided to her son. Fair warning, you'll want tissues ready. This video is incredibly moving.
I AM A NURSE
The nursing profession is incredibly complex and requires highly-skilled and educated individuals. Nurses are leaders at every single part of their career. They do great things. This video will make you feel empowered and proud.
Lessons Learned from the Nursing World
In this powerful TEDx, Kathleen Bartholomew shares the story of how she became a nurse among other impactful nursing stories. For 25 years, she's collected stories from healthcare. This 20 minute video is a must-watch for any nurse or anyone considering being a nurse.
The Dauntless Nurse: Communications Confidence Builder
Charting the Course: Launching Patient-Centric Healthcare
Ending Nurse-to-Nurse Hostility, Second Edition: Why Nurses Eat Their Young and Each Other
Why did you become a nurse?
What does being a nurse mean to you? Did you choose nursing because you knew you could make a positive impact on the lives of others?
Women's Being A Nurse T Shirt, I'm A Nurse T Shirt XL Black
N is for Nurse: 26 Reason I Love Being a Nurse from A-Z (Gift for Nurses, ABC Book for Grown Ups)
Being a Nurse Means Subway Sign CANVAS Wall Art – Graduation Gift for Nurse – Registered Nurse
Download Nurse Bingo Today!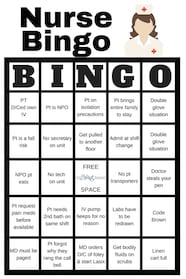 Liven up any shift with a fun game of bingo. See who can fill a row first!
Fill a whole card and lose grip with reality.
Your privacy is protected. We will never spam you.