*articles contain affiliate links*
If you're a nurse, at one time or another, you've probably felt it: that alarming tinge in your back after lifting or repositioning a patient. Whether you are trying to prevent back pain or currently dealing with it, use this variety of ideas for back support for nurses to help maintain back health.
As a nurse, you spend your days standing, walking, bending, repositioning, and lifting. All of that is brutal on the lower back, so it's probably no surprise that nurses experience a higher rate of lower back pain than workers in many other fields do.
If you deal with back pain, you are not alone!
With back pain being a prevalent problem in nursing, it's crucial to take the right steps to maintain optimal back health and prevent it. And if you're someone who's already dealing with backache, here are some suggestions for back support for nurses to help prevent your pain from getting worse.
Lower Back Pain And Nursing
Lower back pain is a common issue in the United States and worldwide. It can range from mild to severe to debilitating. Lower back pain can also radiate and cause pain or numbness in the legs.
Further, if not treated, acute episodes of back pain can become chronic problems. It's crucial to do everything you can to prevent it. Then if you find yourself with an injury that causes lower back pain, take steps to address it as quickly as possible.
Why Are Nurses At High Risk For Lower Back Pain?
Nursing is a demanding field. Standing and walking for long periods can cause lumbar spine depression and back pain. Also, nurses who provide bedside care to patients often do heaving lifting when repositioning or moving patients.
In addition to these risk factors, muscle weakness can significantly contribute to lower back discomfort. If spinal muscles are weak, they cannot provide support and lumbar stability to perform repetitive lifting or twisting motions.
Weak core muscles can similarly contribute to lower back pain because they don't provide the needed natural back support for nurses, providing an opportunity for injury.
Ways To Prevent Back Pain For Nurses
Managing back pain starts with prevention. There are several things nurses can do to help prevent the hassle of dealing with a backache:
Healthy lifestyle – eating nutritious foods and maintaining a healthy weight prevents unnecessary strain on the lower back.
Keep your core strong – regular exercise, especially doing core strengthening and stability exercises, helps provide natural and preventative back support for nurses.
Use proper lifting techniques – take advantage of training opportunities on lifting, if they are provided by your employer. And make sure to lift with the legs while you position yourself so that your back isn't straining during lifting.
Avoid repetitive motions – a common cause of back injuries is repetitive tasks that cause overuse injuries and strain. Try to mix it up and find alternative methods.
Use lifting equipment – there are times when it might seem faster or easier to just do a lift without taking the time to get the proper equipment to help you. Long term, that could be a poor choice if you end up getting injured. Take the time to set yourself (and your patient and coworkers) up for success by using lifting equipment to help relieve some of the burdens.
Wearing supportive shoes – buying great shoes is about more than foot comfort. Providing good support to your feet also supports your knees and back since they are all interconnected.
Back Support For Nurses To Help Manage Lower Back Pain
Although prevention is always a best practice, it still may not be possible to avoid back injuries 100% of the time. If you are dealing with chronic back pain, here are some back support options that can help provide pain relief and prevent additional injury.
Check Prices
This comfortable back support for nurses immediate support and relief from many conditions that cause back pain. Made from breathable fabric, it offers both support and mobility so you can still do your job at the top capacity.
What I like about this back support brace: designed with an adjustable lumbar pad and vertical support stays to get the right fit.
Cost: around $35
Check Prices
This neoprene belt provides incredible support without limiting your movements or range of motion. The breathable materials used in construction ensure that you won't feel too bulky or hot when wearing it. And the adjustable velcro closer guarantees the right fit each time you wear this brace.
What I like about this back support brace: is the strong support strips that help you maintain proper posture while providing a comfortable fit.
Cost: around $27
Check Prices
The four-way stretch elastic material in this back support for nurses provides unhindered mobility with needed stability and stabilization. This high-quality back brace employs soft fabric that touches the skin and a velcro enclosure for the best fit each time you put it on.
What I like about this back support brace: the elastic strips and silicone anti-skid bands help maintain great posture and prevent muscle rolling when sitting.
Cost: around $37
Check Prices
This brace is ideal for anyone who just needs light lower back support. The breathable orthopedic material provides stability without a bulky or uncomfortable fit. Choose from several different sizes and adjust the compression to alleviate pain and speed up your recovery time.
What I like about this back support brace: it's invisible under clothing and is a great option for nurses who need a smaller amount of support.
Cost: around $31
Check Prices
This brace is for those nurses who constantly do heavy lifting tasks and strain their backs. The criss-cross suspender straps can be easily adjusted and provide additional support. You can choose from multiple size options to find the right fit to lessen lumbar strain, ease existing chronic back pain, and prevent further damage from overuse.
What I like about this back support brace: its tapered sides make it easy to hide under clothing.
Cost: around $60
If you're a nurse who deals with back pain, I hope you'll find these options for back support for nurses helpful!
More Helpful Guides For Nurses
Download Nurse Bingo Today!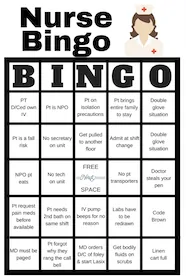 Liven up any shift with a fun game of bingo. See who can fill a row first!
Fill a whole card and lose grip with reality.
Your privacy is protected. We will never spam you.