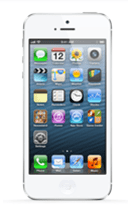 I've never bought an iPhone or iPad on release day. I've always been nervous or quite frankly, just didn't have the cash.
But this year my little blog had earned the money to make the dream of owning an iPhone 5 on launch day a reality. At least, in theory.
I pre-ordered my iPhone 5 on September 14th. I eagerly awaited the 21st so that I could hold the aluminum and glass toy in my nerdy little hands.