*articles contain affiliate links*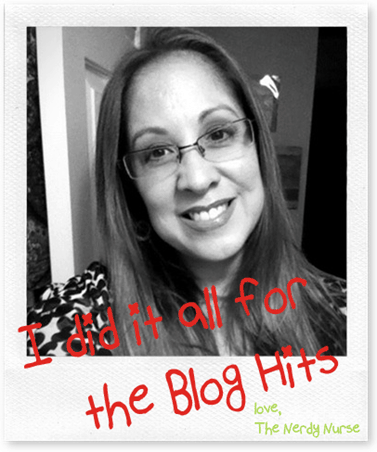 I'm ruined.
Yep. My blogging career is over.
WordPress is going to corrupt my database. Studio press is going to take away my Genesis theme. ICANN is going to take away my domain name. The Nerdy Nurse will die a bitter death in the nursing blogosphere.
(ps. that was total sarcasm, in case my tone didn't leap of the page at you… sometimes I have to spell these things out. I've been told I can be perceived very differently than I intend. So now that we're clear on that one at least…")
HAH… yep. Believe it, because that's what's been said about little ol' me.
yea…
I've Been Tweet Hated On
A nurse on twitter publicly accuse me on of writing about Amanda Trujillo for blog hits and profit. I'm not going to link to it directly because I don't feel it deserves your attention. You can search my stream if you want to see it yourself. It is an example of nurses attacking each other rather than working together on the bigger issues. It's bullying, lateral violence, and all those other buzz words that I've written about here frequently.
Haters Gonna Hate
I'd by lying if I said that my blog hits have not increased because I wrote about Amanda. But I didn't write about Amanda just for Amanda. I wrote about Amanda because her story spoke to me. It represents a bigger issue in nursing. An issue that many are afraid to talk about.
I wrote about her because I felt the she needed her story to be told. God has given me the ability and passion to share these issues and stories with the world and it would be wrong to not use that gift.
I do believe that I was the first to blog about it after Vernon Dutton's posterous post and tweets. But it really doesn't matter who, where, or why this who thing started. What matters is it started and it needed to.
I did use my social media presence to spread the messages to as many nurses as possible because I wanted others to comment and share her story.
No.
I wanted others to share OUR story.
We are ALL Patients
This is about all nurses. This is about all patients. This is about doing the right thing for patients.
This is not about blog hits.
But I guess some people don't realize that nurses typically don't nurse for the gobs of money we make. And bloggers don't typically blog for the gobs of money we make. Because although I do receive compensation for some of my content and I do make some income of my blog, it's not the type of cash that would make me sell my soul to the devil and do anything to jeopardize my personal and professional integrity.
You may choose to believe what you wish about my intentions, but I know in my heart we are doing the right thing. I am truly sorry if you cannot trust that there are good people in this world who want to do the right thing and to help others.
If you want to do the right thing and help us help Amanda and other nurses, we welcome your support in the #NurseUp cause and I will continue to blog about any nursing issue I feel needs the exposure that my blog can give it.
Nurse Up for Amanda Trujillo on Facebook
Nurse Friendly Has a well organized list of content and resources about Nurse Up and Amanda Trujillo
Other Nurses and Bloggers Who are Blogging About Amanda for Personal Profit (again, sarcasm)
Who's with me to fight the good fight?
special thanks to Chronic Babe and Six Until Me, who at Blog World Expo, introduced me to the concept and gave me a really cool sticker reminding everything that "We are all patients".
Download Nurse Bingo Today!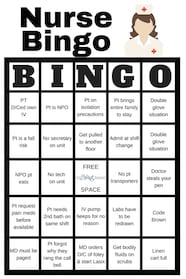 Liven up any shift with a fun game of bingo. See who can fill a row first!
Fill a whole card and lose grip with reality.
Your privacy is protected. We will never spam you.