*articles contain affiliate links*
Master's degrees vary in their usefulness, but it's safe to assume that most individuals who pursue the Master of Health Administration (MHA) come out with a pertinent degree that qualifies them for a variety of careers that are both within their chosen sphere and on the front lines of influencing, shaping and developing public health issues. The fact is, jobs in the health care field are experiencing a surge in numbers, growth which isn't likely to slow any time soon. Now more than ever, advanced degree-holders, especially in management and leadership, will find that they have varied options and career paths from which to choose, and MHA graduates are no exception. If you're interested in pursuing public health administration, making a difference in how we treat people and desire a career that, let's be honest, pays well, consider where an MHA can take you and your career goals.
Hospital Administrator
With the complex health care system that has developed, able hospital administrators are in demand and absolutely essential to keeping public health functioning. Hospital administrators oversee all the day-to-day operations in a hospital, public health agency, clinic or managed care organization. The skill set needed for this position is broad; qualified individuals will have not only at least a master's degree, but must also possess strong interpersonal skills, the ability to think on their feet, with creativity and under scrutiny, plus proven business savvy for navigating the complex health care waters where operating costs compete with objectives and goals.
Yet this intense array of personal acumen is highly rewarded, both as an opportunity to do good for others, and come pay day. The average annual salary for a hospital administrator hovers around the $90,000 mark, with advancement, and pay increase, not only possible but likely.
Medical Office Manager
Like the hospital administrator, a medical office manager can be found in a variety of places, such as hospitals, nursing homes or physician offices. As opposed to medical staff, which diagnoses and treats patients, the medical office manager oversees the office and administration aspect of a health care provider. Duties include analysis of financials, supervision of office staff (making sure policies are put in place and then obeyed), overseeing of patient scheduling, registration and billing, plus hiring and training of staff.
Medical office managers can get started on as little as an associate's degree or bachelor's degree, provided they display the proper business and accounting know-how. However, in the same way police officers can rise through the ranks to top administration positions thanks to criminal justice graduate programs, those in the public health sector who obtain higher degrees, like the MHA, will find themselves qualified to manage larger institutions and see substantial salary increases.
Health Information Manager
The health information manager (HIM) position exists wherever there are medical records to keep, secure, analyze and organize – digitally. HIMs spend a lot of time on computers, ensuring that patients' medical records are accurate, complete and safe. They will also find themselves gathering information, analyzing and interpreting data and helping to develop and maintain technological systems for storing medical data. Knowledge of computer systems is a huge boon, as the government mandates that health care providers not only keep digital records, but also stays abreast of computer and software technology and updates. MHA graduates who go into this line of work may hold or work toward titles such as HIM Director or Chief Information Officer. Job prospects are very good – above the national average in terms of growth up to 2018 – and salaries average from the starting point of about $30,000 annually to well over $100,000.
International Health Care Administrator
If you're interested in working in medical administration but you also have a touch of wanderlust, consider taking your skills abroad, where there are ample opportunities – indeed, and desperate situations – for qualified health administrators to travel and make a difference in the worldwide community. (Statistics from the World Health Organization show that Sub-Saharan Africa constitutes about 25 percent of the disease burden internationally, yet they maintain only about three percent of the global health workforce.) Competition for positions abroad is fierce nonetheless, but MHA graduates will have a leg-up on their peers thanks to the management and administration skills the degree confers. Experience is another deciding factor, especially in times of crisis like war or natural disaster, when having someone out of their element puts the whole team at risk.
Jordan Green is a contributing writer who has just entered his fourth year of studies in business administration. He hopes to pursue health administration at the master's level with the intent to eventually manage a hospital or insurance company.
Consideration was given for the review and publication of this post
Download Nurse Bingo Today!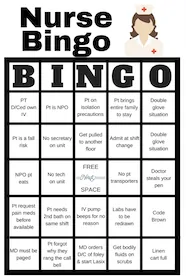 Liven up any shift with a fun game of bingo. See who can fill a row first!
Fill a whole card and lose grip with reality.
Your privacy is protected. We will never spam you.