*articles contain affiliate links*
Nothing.


Well not if she gets the privilege to work. If the privilege to work is granted, that you are to do so with no tech, a bigger patient load with higher acuity patients, and often are pulled to other departments.
Being pulled to me is often a nice change of pace, so that I do not mind. What I do mind is being pulled and yet still having an understaffed department that is unfamiliar to you. I've been lucky in that the nurses are almost always very friendly and do their best to be helpful, but often are so wrapped up in their own patients and tasks that they often do not have the time to offer assistance.
Unfortunately, with the terrible economy, our unusually low census, and budget concerns it seems that the nurses are facing the brunt of the burden. I am sure that I do not understand all the details, but in my humble opinion they decisions they may to cut costs in regards to staffing are often absurd and end up costing them much more than they are attempting to save. Unfortunately, it seems more often then not we are being called off at least once a week. That's a pretty big hit to the pocketbook, especially with taxes coming due, a toddler to buy Christmas for, and a pile of debt competing for Everest status.
I have contemplated attempting to work PRN somewhere, but it makes me very anxious to consider starting over new somewhere. With my less than stellar experience as a newbie nurse, I am fearful that I may encounter similar treatment even though I much less green these days. I also do not really want to give up the time with my family if I can help it, but it would be nice to eliminate some of the monthly reminders of my prior frivolous spending.
What are you opinions on working PRN? Specifically, if you do it/have done it at a completely different facility or specialty, I would like to know what it was like for you starting and how you are accepted by the other nurses and staff.
This is something I have pondered for quite some time, and would like to know how easy to is to dive in to a completely new environment every now and then. How long does it take before you catch your breath? Is it worth it? Do you feel you can safely practice as a nurse? Do you feel you have the help you need?
Download Nurse Bingo Today!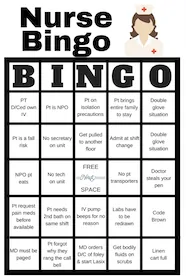 Liven up any shift with a fun game of bingo. See who can fill a row first!
Fill a whole card and lose grip with reality.
Your privacy is protected. We will never spam you.