*articles contain affiliate links*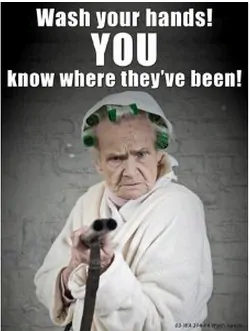 Over 90,000 deaths occur annually due to hospital acquired infections. Most of these deaths could be prevented with simple solutions, like adequate hand washing. An innovative technology called Hyginex seeks to assist healthcare workers everywhere in ensuring they are meeting the standards for hand hygiene. To view a demo of Hyginex click here.
Every healthcare worker knows the importance of adequate hand hygiene. Unfortunately there are many nurses, doctors, and other healthcare workers who do not wash their hands as often or as long as is required to adequately protect patients from the potentially deadly viruses and bacteria that exist in hospitals everyday. And it's not that we're not all trying. We strive to provide the best care possible and take care of our patients properly. We all know this means proper hand hygiene.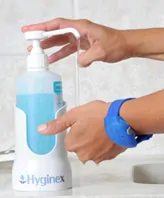 But sometimes it's difficult to remember to wash your hands every time. A nurse may think "I do don't need to wash my hands now. I'm just moving a patient in the bed." But really nurses should be washing their hands every time they enter a patient's room. And perhaps it's not even that we don't think we need to. Perhaps we just got distracted before we remembered to wash our hands?
Enter Hyginex. This nifty little healthcare technology will sound and alarm vibrate via a band on your arm if you do not wash you hands before caring for a patients. Talk about accountability!
Israeli startup company, Hyginex, has developed a simple system to reduce healthcare risks around hospitals and medical practices. The company has created digital bracelets that work alongside sensor-embedded soap dispensers to detect if the user has washed their hands properly. The non-intrusive bracelet has a tiny red LED light to also remind the medical practitioner to wash their hands between patients.

The technology works via a wireless connection and the hygiene regime is tracked and passed on to hospital managers. According to the CDC, poor hand hygiene lead to infections that are responsible for over 90,000 deaths per year in the U.S., a cost of over $30 billion.

Efrat Raichman founded Hyginex in 2008 after his uncle contracted an infection in a hospital and passed away. He believes that the bracelet will not only save lives, but also save the healthcare system a lot of money.
Many nurses may feel that this technology is a little invasive. While I must admit, it is a little Big-Brother-ish, I actually think this would be a fantastic tool to increase compliance in hand washing. Yes nurses and doctors alike may complain, but what if even just one life was saved by this technology? What about the millions of dollars that could be saved and spent other places in healthcare? Think of the good that could come of increase compliance with hand washing.
Video surveillance systems in hospitals have helped to boost hand washing compliance to levels of 80% (with the norm being around 40%). The Hyginex solution would not only increase compliance by providing surveillance, it would automatically record data and provide feedback to healthcare workers. So nurses and others wouldn't just feel like they were being spied on. They would actually be getting results and feedback on their performance.
source PSFK: http://www.psfk.com/2012/08/digital-hygiene-bracelet.html#ixzz24KjXHO4R
What are your thoughts on hand washing surveillance equipment?
Download Nurse Bingo Today!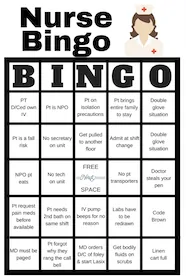 Liven up any shift with a fun game of bingo. See who can fill a row first!
Fill a whole card and lose grip with reality.
Your privacy is protected. We will never spam you.