*articles contain affiliate links*
Smartphones are being used to improve lives in a variety of ways. One of the most impressive and necessary are in the heath industry. Rather than just having a doctor or nurse help keep patients in line with healthy living standards and promote exercise and good eating habits on a daily basis.
The following infographic features a range of healthy apps that focus on healthy eating, exercising, and healthy rest.

via Mashable and High Table
My thought is that in the future, more and more providers will see the benefits of having a healthy voice right in there pockets. Smartphones make having a greater influence on public health possible.
What are your thoughts on the future of health augmented with smartphone apps?
What apps do you use to help you stay on track with your health?
Download Nurse Bingo Today!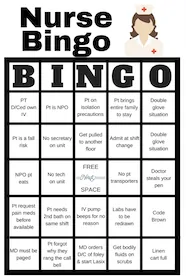 Liven up any shift with a fun game of bingo. See who can fill a row first!
Fill a whole card and lose grip with reality.
Your privacy is protected. We will never spam you.