*articles contain affiliate links*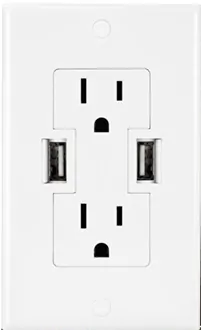 At CES I got to see so many cool technologies. They feature innovative and exciting products to simplify your life. One of my favorites is was this USB wall outlet.
One of those innovations happens to be this nifty wall outlet with USB ports right along side of the traditional power sockets. The Power2U AC/USB Wall Outlet is a safe and ultra-convenient way to charge your gadgets.
While you're probably not going to need or want to replace every power outlet in your home, this would be a great addition to any home office, kitchen, or bedside outlet.

If you're nerdy like me, then you likely have multiple devices that charge via USB. Having an outlet like this would keep your power outlets free for other uses. Although the $39.99 price tag seems a bit steep to me, considering you can get a USB wall charger for just a few bucks online. But what you'd be paying for here is the form factor, and let's face it, coolness.
DIY The USB Wall Outlet
The makers of this product state that this is a simple DIY install. They say it can be installed in less than 20 minutes. The outlet will install on any 15Amp circuit with a 16 cubic inch electrical box. It is fully UL listed and approved to be safe.
Save Money and Energy
It is designed only to output enough power that the devices plugged into it needs. This means you won't run the risk of over-charging your device. The shutters/covers for the USB port are spring loaded and automatically turn the power off to the USB ports when a cable is removed. This is great if you're focused on conserving energy.
Device Compatibility:
Apple iPad (all models)
Apple iPhone (all models)
Apple iPod (all USB chargeable models)
Android™ tablets and phones
tablet computers, cellphones, gaming systems (Nintendo, Sony PSP, etc.)
Bluetooth headsets, digital cameras, or GPS devices which charge via standard USB plug
Pretty much anything that uses USB
I think this is a neat concept and foresee this being an upgrade in new homes in the very near future. In fact, I would imagine that nicer homes and homes marketed as "smart homes" would have this standard in key locations such as bedside outlets and kitchen counters. A few extra bucks can go a long way in wow-factor.
Want your outlets to have USB ports? Find out more information about:
Newer Technologies  Power 2u 15-amp In-wall Dual Ac/USB Wall Outlet 
What do you think of this USB wall outlet? Where would you like to have a few spare USB ports?