*articles contain affiliate links*
Recently we made a trip to the Rocky Branch Railroad and Ghost Town.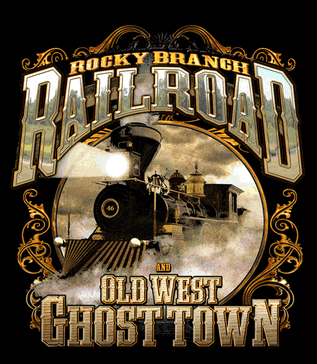 We had family come to town and didn't want to be the old bumps on the logs we normally are. Since my husband and I had been talking about taking Ty to a nearby old west ghost, we figured this would be a great time. It was also a great thing to take Pappy and our niece and nephew to.
The price of admission was very reasonable compared to many of the other attractions we attended during the week (including Zoo Atlanta, The Georgia Aquarium, The World of Coke, and The Fernbank Museum). For $10 you got a hay ride, a trip on the train, alligator exhibit, an 1880's Variety Show, a gun slinging show and even robbed at gunpoint by train robbers (oh my!).
My dad came down this weekend, and sounded a tad bit jealous of the fact that we took the other grandparent there. Because we had such a great time last time (and no one wants a pouty grandparent around), we took Ty and my dad there this weekend.
But what was truly awesome was see the look the faces of by my child and husband. The both had smiles the entire time and really enjoyed being a part of the show. I certainly enjoyed the experience as well. Heck, we even got involved enough as an audience and had the robbers win a round and shot the sheriff!
While I certainly wouldn't want it to happen in real life, it was fun that the gun fight actors were nice enough to entertain our idea. It certainly made the trip memorable and a story we could tell to our friends and families.
The children get to have a really great experience at Rocky Brach Railroad and Old West Ghost Town because they are made part of the show. On our first trip Ty was asked to be deputized to take the robbers to jail. He was a bit intimidated by that, and chickened out. But on our second trip, he was a little more confident. This time, when the undertaker said Ty had to pay for the robbers to be buried, Ty got sneaky and got the bag of money from the sheriff and handed it to the undertaker.
Beyond Cute! Watch the video and see for yourself.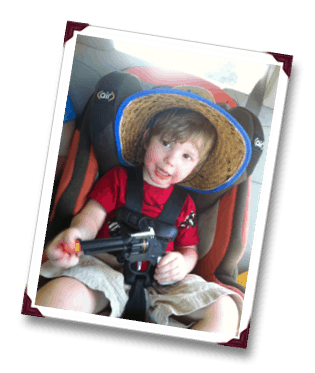 Admittedly, there were some points where Ty was literally shaking in his britches. The guns are loud and to a toddler it can all seem very real. However, that didn't stop Ty from having a great time. He went in a regular little boy and left being a cowboy.
We stopped by the gift shop and bought him a cap gun a cowboy hat. He wouldn't let either leave his side for days. We went swimming the next two days and Ty had his hat and is gun the whole time. Yep, swimming in the water with a cowboy hat and a cap gun.
If you've never been to an old west ghost town, you should definitely go. It's a fun experience to have with the family. In fact, next weekend (July 28th, 2012) they are having a special troop of gun fighters come in to put on a show. They are the Southern Gunslingers and it looks to be quite promising.  Since we've had such a great time the two times we've already went, we're probably going to take some more extended family to enjoy the fun this time around.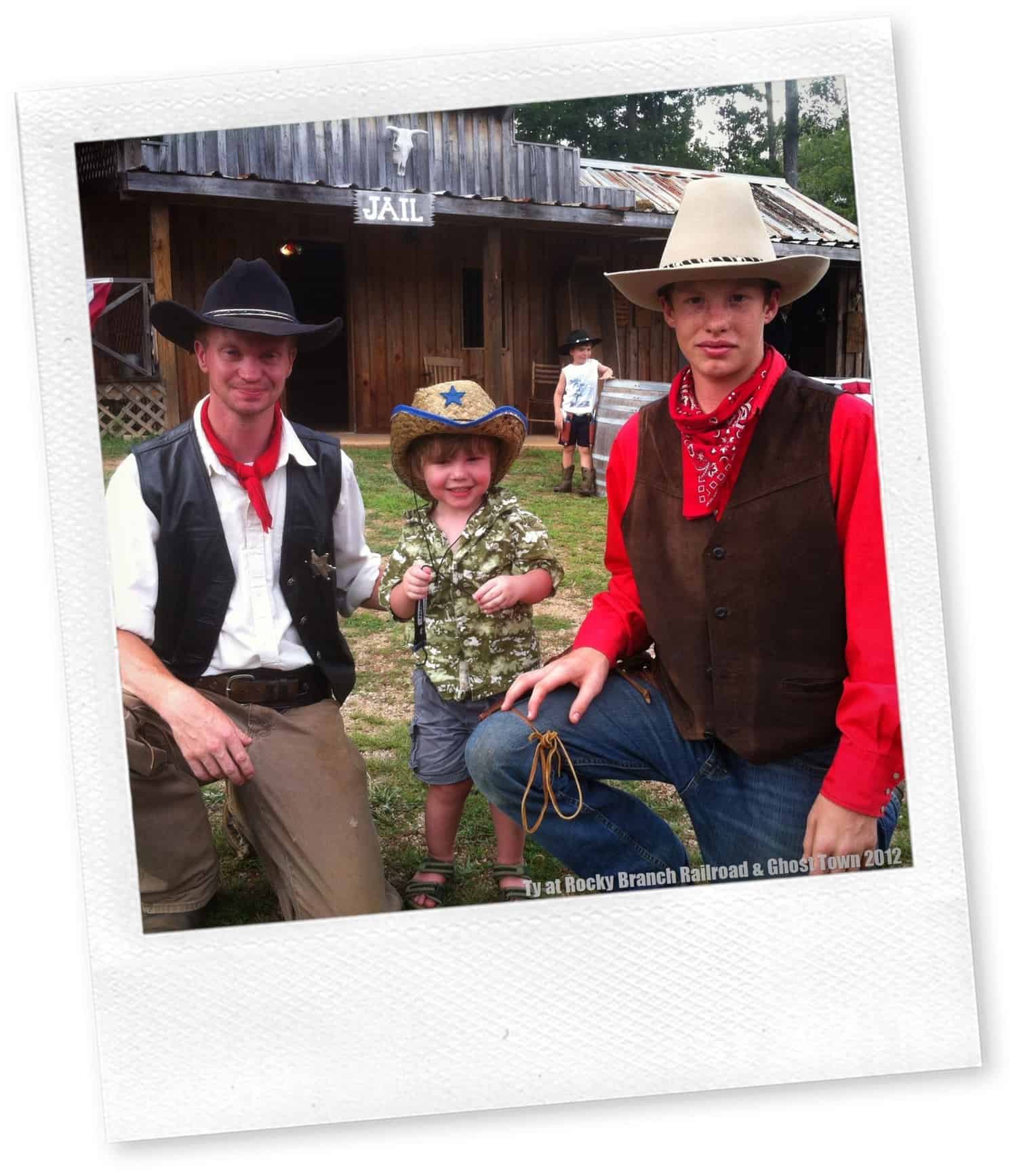 According to the Rocky Branch Railroad and Old West Ghost Town website:
Rocky Branch Railroad is the newest wild west destination in Georgia. Part live-action theater, part historic recreation, the western frontier town of Rocky Branch captures the thrill of the old west. Here you will get up close and personal with western characters as they shoot out their differences! Kids and grown ups alike will also enjoy the Ghost Town Express — a train ride through Rocky Branch's Deadwoods territory.
So if you're in the West Georgia area you should check them out.
Find out more about Rocky Branch Railroad and Old West Ghost Town. They do group discounts and  can arrange corporate events  and it's a great place to take your family. You can also like them on facebook.
Have you ever been to an old west ghost town? How was your experience? I'd love to hear if you've been to Rocky Branch Railroad yourself and what experience you had!