*articles contain affiliate links*
My final clinical experience involved going out into the community into a primary care clinic which utilized a different form of electronic medical records called All Scripts. The most interesting part of this experience was not the software itself, or the manner in which the medical staff incorporated it into patient care, but the opinions of my mentor for the day. Since my preceptor works in the hospital and is involved with various IT personnel, she arranged for me to be able to see how the primary care providers utilize electronic charting.
The mentor I had on site was not a nurse. I think this afforded me a valuable opportunity to learn that not everyone feels that nurses are needed in the clinical applications portion of healthcare. Although she was very nice and accommodating, she did give me the overwhelming feeling that I, and other nurses, were infringing upon a role that should be given to those who have a degree in the Information Technology realm. Essentially, I felt as though she was insulted at the thought that I could potentially learn on the job, what she had earned a degree in. My nursing degree affords me the ability to be a nurse, but I felt as though in her eyes gave me no qualifications to practice in any manner beyond bedside clinical care.
I have encountered these type of opinions and feelings before in my clinical setting. A bedside care nurse chooses to inform me very vocally that if you were not performing bedside care, then you were not a nurse. Our roles as healthcare providers are varied and complex. Just because I am not administering medications at the bedside, does not mean I am not a nurse or an active participant in the delivery of excellent patient care.
What the final clinical experience taught me was likely the most valuable lesson I have learned to date. There will always be challenges for me in my nursing career. Any time you step outside of the box and question the current practices, the current standards, the methods already in place, or attempt to broaden the horizons of nurses, there are those that will question every aspect of your arguments validity. There are those who will see you as a threat to their professions and will make you feel as if you do not belong. My challenge is going to be proving those individuals wrong.
I have been given a strong advantage by the many powerful and motivated healthcare professionals that have gone before me. Fortunately, as a budding nurse informaticist I will not be paving the way completely to my career path, but since it still a relatively new profession, I will often have to explain what my true value is to a healthcare organization. The fortunate benefit of my very vocal and resourceful personality is that I have ability and means to do just that, and when met with the question of my validity as a both a nurse and an information technology professional, I will likely gladly be able to quell any concerns and show the value and need for a bridge between nursing and technology.
I want to be a translator for nurses who don't speak geek. I want to be a translator for geeks who don't seek nurse. Somewhere in the nerdy nursing middle of all of this, we will all help to facilitate excellence in patient care. We will deliver safe and effective care, we will find a balance between technology and technical, and we will all be enhancing the quantity and quality of the lives of the patients in our community.
Download Nurse Bingo Today!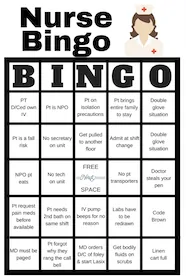 Liven up any shift with a fun game of bingo. See who can fill a row first!
Fill a whole card and lose grip with reality.
Your privacy is protected. We will never spam you.