*articles contain affiliate links*
There are so many useful apps for medical students.
In the UK there are all of these horror stories about 4th year:
'you will be made to work more hours than the doctors,'
'half of the year will have to retake because the exams are so hard,'
'your consultants will actually expect you to know stuff….'
So, it turns out all of these were right, but I have had a little helping hand with that last one. On the first day of my 4th year I received a shiny new iPhone 4s from my medical school, and using it as an 'educational tool' was the last thing on my mind. I had been part of the Blackberry club for some time, watching in envy as people talked to their phones and actually had it answer them back (believe me, I have now experienced hours of fun with Siri.)
We were encouraged to download an app called Dr Companion because my university had bought a license to it along with some books we could download. To my surprise, these included the BNF (British National Formulary,) and the BNF for children (both books are like gold dust in hospitals!) There was also the Oxford handbook of Clinical Medicine and the Oxford Handbook of Specialities, both books which I was planning to download. During my first week on my pediatric placement, I lost count of the number of times that I had to whip out my iPhone to look up a drug before the consultant had the chance to ask me its mechanism of action. It came in particularly handy on the ward round as I could look up the patient's condition as we got to them in anticipation for the questions that were sure to be thrown my way. I find that learning this way, as I actually see the conditions, means I am more likely to remember them. As the weeks went by my friends and I would swap recommendations for apps that we liked, and sometimes even the consultants would join in. Here are the ones that I have round most useful whilst on rotation, and best of all, they are all free! I hope you get as much out of them as I have.
1. Camera
Whether you have an iPhone or not you are pretty likely to have a camera already on your phone when you buy it, and this may be the most invaluable app of all.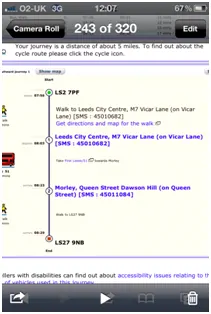 Medical students are constantly learning and seeing things that you are supposed to remember after seeing it for only a second. I use my camera to document things that I think I might need to be able to look at at another time. For example, my consultant once recommended a book to me, and instead of finding a pen and paper to write down the name I just took a picture. There was a day last week where I was based inon surgery in the middle of nowhere, so I looked up the route on the computer and took a picture of it. (Screenshots can also be very helpful.) As a medical student, you use to make use of every resource available to you.
2. Dr Companion
So I've already given you an overview of this one, but here are some screenshots. It is very easy to navigate and I find that the best bit is that you can actually search for a keyword, and it will show you all of the pages in all of the books you have downloaded that are relevant: so much easier that looking it up in the index and looking through all of the pages!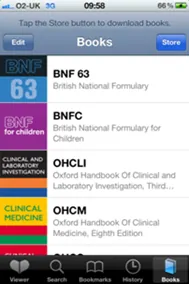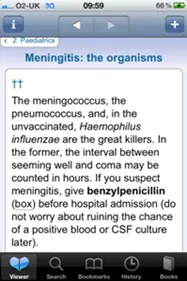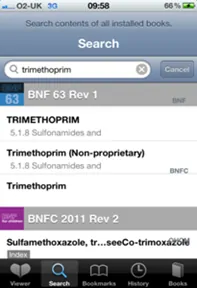 I actually think this app is a lot of fun, and you're learning at the same time! It gives you a case and then asks what you would ask and do at each point of the history or examination. It then asks which investigations you would ask for, and shows you the results of them so you can work out a diagnosis and form a management plan. It is really good for showing you the process of coming up with a differential diagnosis, and for getting you thinking about how you could manage their condition, which in 4th year is extremely important.
4. Eponyms
When you first start medical school it feels like you are learning a new language (I was told on my very first day at medical school that you learn more new words whilst studying medicine than you would if you were studying a new language!) and not much of the things you hear make any sense. There are many syndromes, and even consultants will admit that they don't remember all of them, but that does not stop them quizzing you on them in front of a patient who is currently looking at you expectantly. This handy app has a list of all of those words and syndromes which evade us at a crucial moment so we can use it as a quick reference.

You really do need an app like this on a daily basis. Calculators using all sorts of algorithms are essential in medicine, for example, I use the BMI calculator almost daily. Sure, I can use a normal calculator and so it that way, but it takes up a lot more time (and it isn't nearly as exciting when you get the answer.) There are other calculators which I had not come across before, such as one that assesses a patient's five-year risk of having a stroke or heart attack which could actually be very useful.
I was asked to work out the APGAR score just yesterday after being called to a forceps delivery, and with it being my first delivery I had a mind blank. Just shows that these apps really are practical and useful.
Calculators like these are very useful, but do not forget that they should not take the place of your medical knowledge and common sense. There is always the risk that one of the algorithms may be wrong, giving you a wrong answer, meaning that you treat the patient wrongly and as a result leave yourself open to get sued for medical negligence. ALWAYS check your calculations, and just think to yourself à 'is the answer I've got a sensible one for this patient?'
6. Radiopaedia
This app gives you a case study with a radiograph and some questions. I was told by a friend in her 5th year that this app really helped in her radiology revision as the images are so clear, and the cases ones that you are likely to come across as a foundation doctor (I think this is called a resident in the US? Don't quote me on that, I get all my knowledge on US medicine form Scrubs….)
7. Air Strip
I have utterly embraced the fact that ECGs are always going to baffle me, but that doesn't mean I can't at least attempt to understand them. This app is good for learning to recognize things like an acute myocardial infarction, which is the type of thing that will most likely come up in your exams.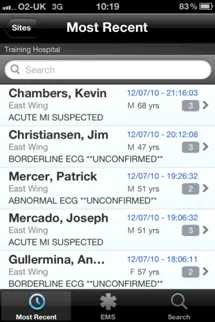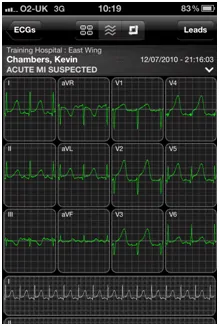 The app has lots of different case studies, and each one shows this nifty ECG page. You can use your finger to move the ECG trace along so that you can see the whole rhythm pattern or you can scroll up at the bottom to see all of the leads in a continuous line. It really helps to get you used to spot patterns.
8. Neuromind
I think the nervous system is something that a lot of medical students find difficult to visualize and to understand. This app gives you a systematic approach to what to do when you are faced with a patient with a neurological problem. For example…
If a child comes into A&E with a head injury you can look at the risk factors, select the ones that apply and it will tell you the investigations or management that is required. My friends on A&E recommended this to me because there are a lot of guidelines on every kind of presentation they see, and no one can remember them all (although if you really are unsure you should check your hospital's guidelines or ask a senior member of staff.) This app also has pictures of some neurological structures, the names of which always elude me then I need them most.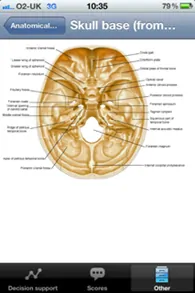 9. 3D Brain
Sticking with the theme of neurology, I have found this app really useful for the revision of the brain and its structures. It consists of a 3D model of the brain which you can move 360 degrees with your finger. You can take away superficial structures so that you are able to see the deep ones more clearly, and you can choose to have the labels on or off which is why it is so good for testing yourself with! Admittedly I did just spend the first 5 minutes of having this app twirling the brain around in astonishment.
10. Pubmed
I have been using this app on a daily basis recently. I have a literature review due in in a weeks' time and have been using Pubmed none stop to find articles relevant to my topic (distinguishing the 'athlete heart' from hypertensive cardiomyopathy if you are interested) and having it on my phone makes it so much easier. It means I can look things up on the train to placement or on my lunch break when I know I need to be working but I can't get to a computer. If I find an article I like the look of I can email it to myself to print out and read over properly later. Pubmed is something you will use for the rest of your medical life, so getting used to it now would be a good idea.

I really hope that you find these apps as useful (and as fun) as I have. There are currently around 10,000 apps in the medical section of the iTunes app store, so my list only scratches the surface! If you do find one that has been useful make sure you share it with others, as that is how I have found the majority of mine.
Guest Blogger: Niqui
Download Nurse Bingo Today!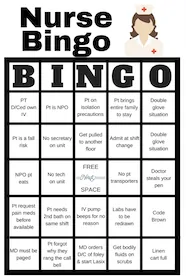 Liven up any shift with a fun game of bingo. See who can fill a row first!
Fill a whole card and lose grip with reality.
Your privacy is protected. We will never spam you.