*articles contain affiliate links*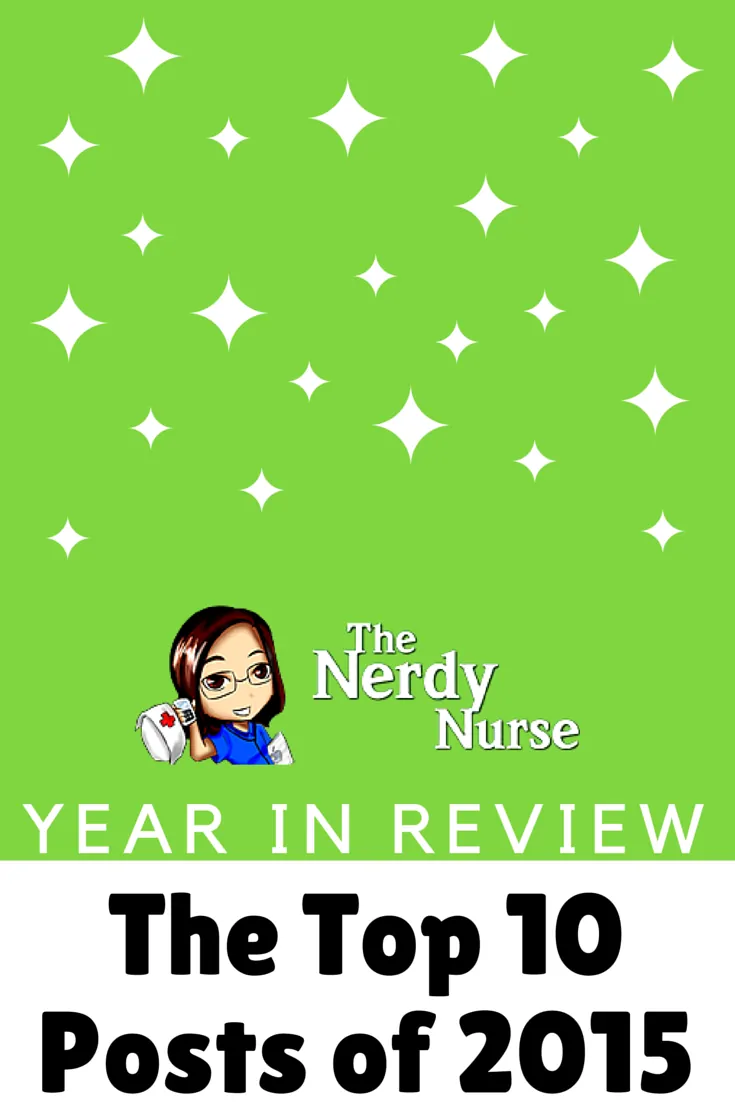 2015 has been a remarkable year for The Nerdy Nurse! Traffic has grown by over 200%, and we've had some amazing opportunities to highlight exciting and innovative products and tools in the world of nursing and technology.
One of the most interesting things about the top posts of 2015 is that most of them were actually written before 2015. In fact, only 2 of the posts were written in 2015. The distribution of content is as follows:
2015 – 2 Posts
2014 – 2 posts
2013 – 4 posts
2012 – 2 posts
I try to produce content that is considered evergreen, and valuable for years to come. I am thankful to see that that proves to be true.
So let's take a dive into the most popular posts in 2015 to see what they have to offer. If you haven't read any of these, you should take the time to check them out.
Most Popular Posts of 2015
Top 10 Nursing Shoes For Women – This posts helps nurses find the perfect pair of nursing shoes. What I like about this post is that all the shoes can be purchased on Amazon, which typically saves around 15-30% off most nursing shows. Since nurses spend so much time on their feet, great shoes are a must. This post has helped thousands of nurses find great footwear.
How to Pass the NCLEX with 75 Questions in One Attempt – I was fortunate enough to pass the NCLEX on the first attempt and with only 75 questions. I didn't find the NCLEX to be nearly as challenging as I thought it was going to be and I attributed that to a rigorous curriculum and studying more test taking strategies rather than just trying to memorize content. This post gives great tips and provides additional NCLEX prep resources.
10 Best Stethoscopes for Nurses – Having a great stethoscope is a must! However, there are so many choices, and many nurses are looking for a good recommendation for a stethoscope. I collected a list of some of the most popular stethoscopes for nurses to help nurses find one that is right for them. What's great is that many nurse spouses, friends, and family have also used the list to find a good stethoscope to give a nurse or nursing student as a gift.
10 Phrases Every Nurse Should Know in Spanish – Nurses encounter Spanish-speaking patients on a routine basis. Unfortunately, there isn't often enough time in nursing school to provide event basic medical Spanish for nurses. A guest blogger recorded a fantastic video and wrote an excellent blog post focusing on some of the most important phrases that nurses should learn in Spanish. It's been a big hit, and it makes me happy to know that many lives have been touched by this post.
15 Things Every Nursing Student Needs to Know – Nursing school doesn't teach you everything you need to know about being a nurse. I wanted to make sure nursing students had some insight into the things about their chosen profession that often isn't conveyed in lecture. It's proved to be a great resource for nursing students for several years.
Top 9 Nursing Shoes for Men – 9.6% or RNSs and 8.1 of LPNs are male. They need great shoes too! So I rounded up some of the very best choices and outlined some of their benefits. This post has proven to be a valuable resource for male nurses and nursing students.
5 Reasons Why Every Nurse Should Wear Compression Socks – Many nurses swear by compression socks, and with good reason. When you spend 12 hours a day on your feet, you put tremendous strain on your legs and run the risk of developing circulation issues, leg cramps and pain, and unsightly spider veins. Compression socks solve that problem, and many nurses like the fun and funky styles showcased in this post.
8 Best White Nursing Shoes for Women – Some hospitals require nurses to wear all white nursing shoes. More commonly, however, is nursing schools requiring nursing students to wear solid white nursing shoes. It can be hard to find a great pair, so we rounded up some of the best to help nurses find great and affordable choices.
The Comcast Data Cap is Ruining My Life – The Comcast data cap is one of the biggest technical thorns in my side. It drives me nuts. It's unfiar, has been created purely for profit, and causes conflict in my household. I wrote an in-depth post examining the history of Comcast data caps and provided suggestions for ways to Comcast customers to combat this technical backhand.
7 Tips to Stay Awake on Night Shift – When I transitioned to night shift, I wasn't sure if I'd ever adjust. I did, but it took some work. I share some helpful tips on staying awake on night shift that many nurses have found to be very valuable.
What's in Store for 2016?
In 2016, we will dig into more nursing topics that are of interest and well and trying to spend more time focusing on technologies that empower nurses to provide better patient care. We're always looking for suggestions, so please take a minute to share a comment about the types of post you're looking to see.
This post was written as part of the Nurse Blog Carnival. More posts on this topic can be found at http://nursecode.com. If you are interested in participating, find out more details and sign up.
Download Nurse Bingo Today!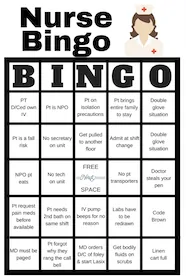 Liven up any shift with a fun game of bingo. See who can fill a row first!
Fill a whole card and lose grip with reality.
Your privacy is protected. We will never spam you.