*articles contain affiliate links*
The importance of online reputation management for doctors and nurses cannot be understated. 85% of employers Google their potential employees so it's imperative that your online image is representing a strong professional and personal brand. This is one of the reasons I'm a fierce advocate that nurses and doctors should start a blog. It's one of the best ways to craft the type of professional image you want to the world to see.
As a doctor, you are taught early on that your medical practice reputation is of the utmost importance. In fact, it's drilled into you right from medical school. So here you are worrying about every single patient you see, taking proper notes, making sure you make the right prognosis, and so on. You may even spend sleepless nights making sure everything is perfect. When all along someone could come along and make false accusations, which could seriously damage that reputation.
How Can Untrue Accusations Damage Your Reputation?
Social media websites changed the way we interact with the web. Currently, the internet gives anonymity freely and allows for anyone to post any information, comment or review. The information written is not regulated and therefore does not have to be true. Unfortunately, anyone can post defamatory information about you, whether they are a real patient or not.
How Can I Find Out What is Posted about My Medical Practice?
Researching your online reputation is as easy as entering your medical practice's name into Google and looking through the results. If most of this is positive information with only one, or at most two, negative comments, then the positivity will win out. On the other hand, if there is no positive information about your practice online and there is at least one negative comment, then this can seriously affect your medical practice.
You can also check different sites like Yelp, HealthGrades, and vitals.com.
How So?
Online marketing statistics show that over 90% of people Google a company, a doctor or any professional they are considering doing business with before they actually visit the professional's office. If negative information exists online this could cause the person to think twice about using you as their doctor. Additional studies show that about 50% of people who find negative information online which refers to a professional service, often refrain from using that service.
What Other Doctors and Nurses are Doing?
Many professionals in the medical field have found it beneficial to hire the professional services of a professional online reputation management team (ORM). This is a growing industry because it is useful to professionals around the world. This service ensures that positive information, comments, reviews, and posts are made about your medical service. This is a professional team that knows how to manage doctor reviews, so they are experts on how to manage medical reputations. This way if someone does post a negative review, it is offset by all of the good information that already exists online.
Download Nurse Bingo Today!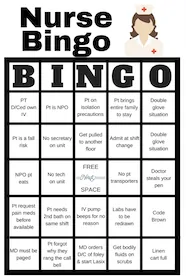 Liven up any shift with a fun game of bingo. See who can fill a row first!
Fill a whole card and lose grip with reality.
Your privacy is protected. We will never spam you.