*articles contain affiliate links*
While many new grad nurses are struggling to find their first job, it seems that the nursing population as a whole is aging. Although, the folks at the US Bureau of Labor Statistics need only do a quick google search or browse slightly on linked in to find gobs of young nurses sink their teeth into their first nursing gig. Twitter is filled with many new grads eager to nurse as well. So managers, there are grads, they want to work,and they'd love to hear from you! Use social media for it's benefits, because based upon this infographic, there are areas that do have shortages of nurses, or will have them soon.
The ratio of older nurses to new nurses is shifting. This infographic likely is reflective of how when the economy is poor, nurses stay in the workforce longer.
With 3 nurses school in my hometown, and 2 in my current location, we certainly didn't have a shortage of nurses. Then again, if hospitals had mandated safe staffing rations for patients to nurses then I might have witnessed this shortness.
Gosh I just love infographics. Don't you?
Download Nurse Bingo Today!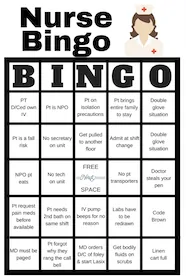 Liven up any shift with a fun game of bingo. See who can fill a row first!
Fill a whole card and lose grip with reality.
Your privacy is protected. We will never spam you.