*articles contain affiliate links*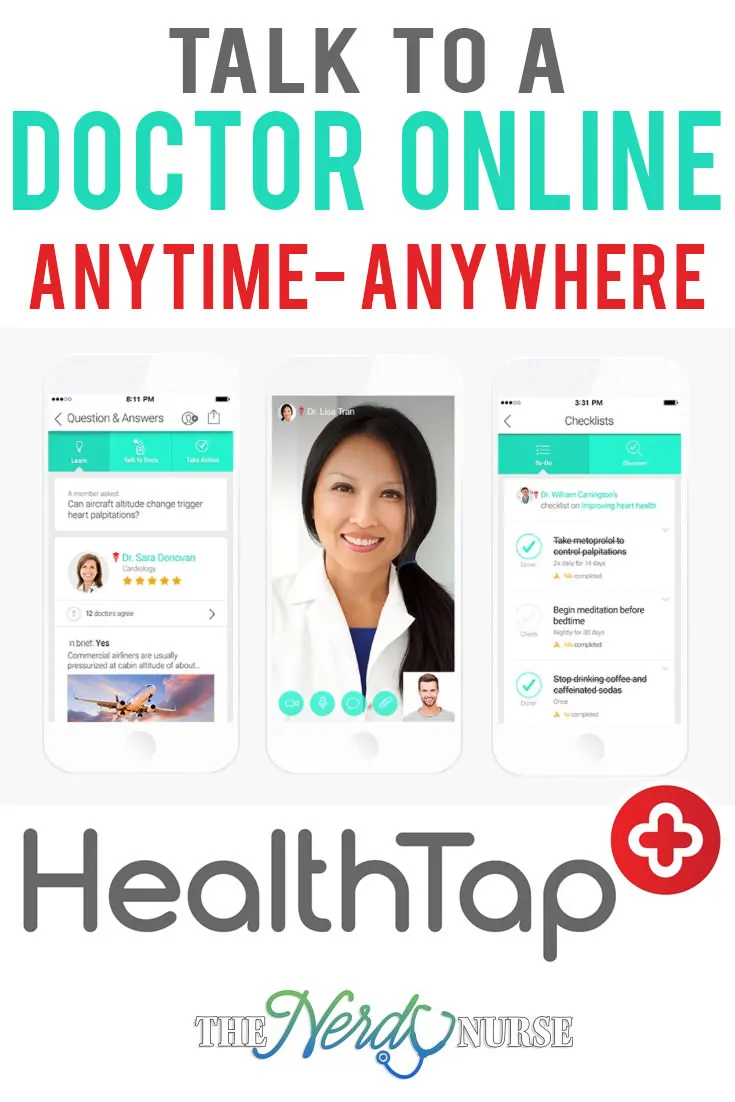 I looked at my clock as I had been tossing and turning all night with stomach pains. 2:43am. What was going on? Appendicitis? I flip open one of my old text books..no not that. Did I all of a sudden become lactose intolerant? Do I have a gallstone? Was it a back injury? Was it just stress? And then, in typical nurse fashion, I started to ponder if this could in fact be that rare strain of the flu that a patient had. Panic. Do I grab my keys and head for the hospital, or do I talk to a doctor online?
Talk to a Doctor Online- Anytime- Anywhere with HealthTap
In this age of medicine, there is a new way to get care. It's called HealthTap. While I could have easily chosen to get out of my pjs, drive twenty minutes to the ER, and sit next to crying babies and people who just got beat up leaving the bar, I chose to log onto my computer to get the help I needed.
Choosing to Talk to a Doctor Online
I know, you may be a bit skeptical. I was! But I assure you, this is not only innovative and convenient, it's streamlined, proficient medicine. Within a few minutes of signing up and answering some basic questions, you can speak with a doctor from the comfort of your home and get answers to the questions that kept you up until this time of the morning. Turns out, it was those darn Mexican street tacos I ate just eight hours prior. The good news: I was free from the flu. Bad news: "street tacos" if you know what I mean. By the time I had logged in, written out my question and spoken to a physician, I wouldn't have even been pulling into the hospital parking yet. Not to mention having a prescription waiting for me at the all night pharmacy. Having that peace of mind and assurance that I was not alone in the middle of the night, and that I can get the help I needed, gave me so much relief.
Many, Many Benefits of HealthTap
There are a few different plans with HealthTap, and it's all based upon what you need. The free plan allows you to ask anonymous health questions and get answers from doctors within their extensive network, store and manage all your health information in one place, have access to healthy living tips, and permits you to browse their vast library of health information. And when I say vast array of questions, I mean it. Alphabetized according to condition, you have everything from A-Z; if you have a question about asthma exacerbation, there is a whole discussion for that with many questions from fellow seekers such as yourself professionally answered by a doctor. As a nurse, I have already learned so much. And this is really great because not only is it completely free (yay!) but for most of what you're looking for, someone else was looking for the same thing. So there's a good chance that your question is already answered and you will be glad to know that you're not the only one in the world suffering from this specific condition. There's something comforting in that.
For an upgrade, you can get HealthTap Prime, which gives you all the perks of the free version but allows you to directly talk with a doctor online from your mobile device or computer, thus saving you a lot of time and money. This plan costs $99/month, and you can add other members of your family for $10/month. Depending on what your insurance is like through your job, this could be a great alternative. In addition, this plan permits the doctors to write prescriptions, except for controlled substances, and also allows them to order labs to be drawn for you as well. The last plan is HealthTap Concierge which allows you to develop a longer lasting, more personal relationship with the same physician each time.
With over 100,000 physicians in their network, 24/7 care, and questions promised to be answered within 24 hours, I believe this has created a turning point in our medical care. And while it works perfectly for a lot of minor things (ingrown toenail, stomach upsets, etc), just to clarify, you do still need to call 9-1-1 for anything that could even potentially be considered a life-threatening emergency.
A Changing Healthcare System
Here in the United States, we sometimes have to endure such long waits when needing to speak to a physician, thanks in part to insurance companies and doctors' schedules. Having this new ability to talk to a doctor online and getting real time solutions to your pressing concerns is a game changer. I don't know about you, but I'm excited. Optimistic. And I think that I can use this tool to better care for my own health and use it as a resource to ultimately be a better nurse.
[thrive_leads id='10815′]
Download Nurse Bingo Today!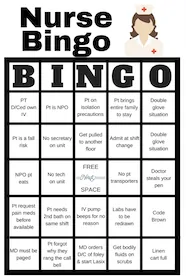 Liven up any shift with a fun game of bingo. See who can fill a row first!
Fill a whole card and lose grip with reality.
Your privacy is protected. We will never spam you.