*articles contain affiliate links*
I'm excited to announce that I will be hosting a twitter party to celebrate Buzzy's premier on ABC's Shark Tank. The episode will air on 2/28/14 at 9pm EST and the twitter chat will start immediately after at 10pm EST.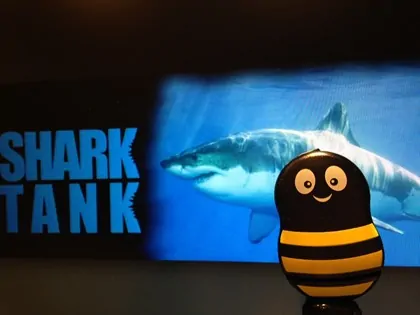 When I attended CES I had the opportunity to see tons of new and innovative product and meet many passionate individuals. What I found to be interesting, however, is that one of the most innovative products I saw at CES wasn't displayed at a booth. Instead, Amy Baxter,MD, passionate and dedicated pediatrician, carried it in her bag and pulled out something amazing to show me: Buzzy.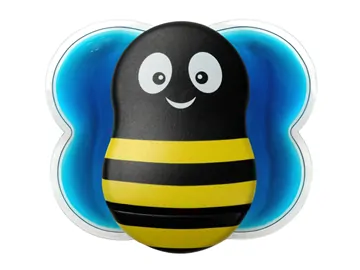 So what is Buzzy exactly?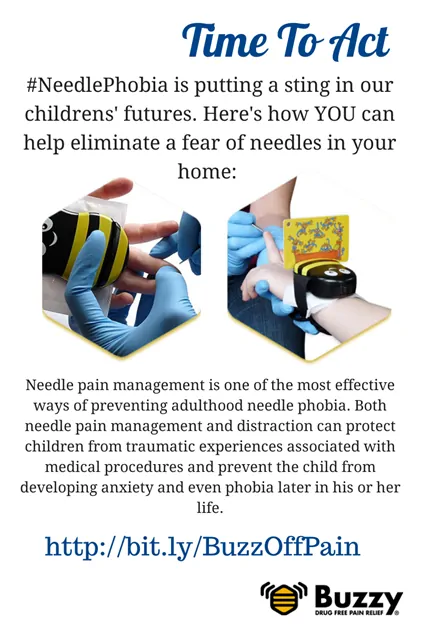 Buzzy is a small vibrating device that looks like a bumble bee (or ladybug) and is paired along with a small wing-shaped ice pack. Used together, the ice pack and the vibrations work to provide pain management for needle sticks. At first I thought what Dr. Baxter was describing was merely distraction, but it's actually some pretty deep scientific stuff that is backed by clinical trials and years and years of research (and a ton of happy customer testimonials).
Buzzy actually works primarily on the gate control theory of pain, which confuses your brain by sending a cold signal so it does not recognize the sensation of pain. Dr. Baxter described this to me by saying that basically your brain can only sense one sensation at a time, so if you send the cold sensation you don't feel the pain of the shot.
Needless to say, I was amazed!
Needle Phobia
I was actually shocked to learn that needle phobia (trypanophobia, if you want to be official) can cause long-term effects in many and even an aversion to healthcare in general. A fear of needles isn't just an issue that affects children, many adults have severe anxiety and needle phobia as well. This often occurs because children develop a fear of needles that does not leave them in adulthood and consequently are less likely to see their general practitioner. In fact the research suggests that the increase in childhood vaccinations has caused needle phobia to increase by over 250% in the last 2 decades.
One of the best ways to prevent needle phobia in adults is to stop it in children. Needle pain management (provided by Buzzy) and distraction can significantly reduce the trauma associated with doctor visits for children. And this will be carried with children into adulthood preventing them from developing needle phobia later in life.
Healthcare
As a nurse I have had so many patients that were terrified of needles. I've given so many shots and started so many IVs that caused pain and discomfort to so many patients. If I had any idea that technology like this was available (for $39.99, no less) I would have been beating down the walls of hospital administrators begging them to buy one for every unit. This should be a staple in healthcare. And patient's should have their own just in case their provider doesn't.
Parents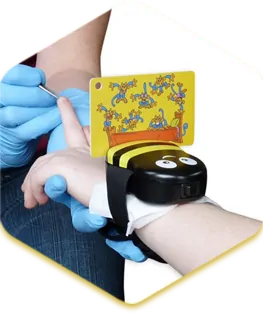 As a mother it breaks my heart to see the fear and pain in my child's eyes when needles are involved. We often judge our children's strengths and whether they are a "big boy" or not basted upon their reaction to vaccinations and other shots. We expect them to be brave little soldiers when they are hurt by needles by healthcare providers who are there to help them. They associated this pain with their experiences and they fear going to the doctors. It can be a battle to take a a sick child to a physician because they are afraid of getting another shot.
So that's where the twitter chat comes in.
Dr. Amy Baxter is bringing Buzzy all the way to Shark Tank. I've partnered with her to bring awareness to the often forgotten topic of needle phobia and needle pain by doing a Twitter party immediately after the show airs. This means the twitter chat will start on 2/28/14 at 10pm EST. What's awesome for you is not only will we discuss needle phobia and needle pain, you will also get a chance to win some amazing prizes including a Kindle Fire HD and Buzzy Products!
Twitter Party Info
To join the twitter party you can use a site like tweetchat.com and search for the hashtag #SharkBuzz. Or just go right over to this link where it's already set up and ready to go: http://tweetchat.com/room/sharkbuzz. You can also just search for the hashtag on twitter.com. Whichever way you like best.

Also, make sure you are following me @TheNerdyNurse and @Buzzy4Shots. And then interact in the tweet chat making sure that all your tweets have the hashtag #SharkBuzz.
See the press release for further details: Buzzy Shark Tank Press Release
If you could reduce or eliminate the pain and fear associated with shots and needles for yourself and the ones you love, wouldn't you?
Download Nurse Bingo Today!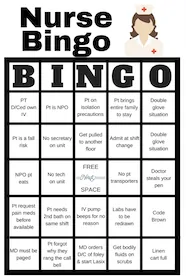 Liven up any shift with a fun game of bingo. See who can fill a row first!
Fill a whole card and lose grip with reality.
Your privacy is protected. We will never spam you.