*articles contain affiliate links*
I wrote recently about how my hospital's administration has decided to go the route of uniforms. Of course, there are obvious pros and cons to this decision, but they made it, with little involvement from the nurses.
What was bothersome about this change to me was the fact that they didn't really involve the nurses. They made a major decision that effects our daily lives and addressed our opinions as an after thought. We are mandated to a specific color, brand, location to purchase, and have to embroider their logo on the scrubs that we have to pay for.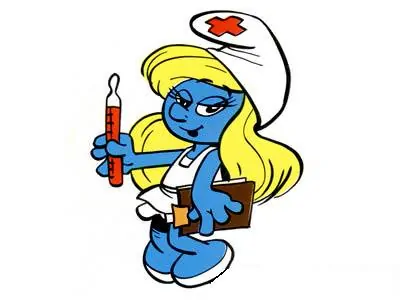 I understand the benefits of uniforms and the professionalism they can help to convey, but I don't like the blatant disregard for our opinions when choosing them. I also don't like being told who gets my money. But I will say, the musings of some nurses staying they feel like there should be a stream of the Smurf's theme song La la la-ing over the intercom is pretty funny and would certainly make for a interesting work day.
Since many nurses work long shifts, and spend much their time dressed in scrubs, it is entirely understandable that one might want to be outfitted in attire that they feel is flattering and fashionable. Long gone are the days of the standard teal v-neck OR scrubs. A dazzling array of colors, patterns, and styles are available that can assist nurses in their self expression and comfort while providing patient care.

Tafford.com has an extensive collection of scrubs with exclusive designs and prints that are update every month. Browsing through the pages I am reminded oh how nice it was to have a choice in what I wore to work. Seeing the unique prints, and some of the interesting cuts and designs makes me sad that I no longer have a choice in scrubs.
If I did have the ability to pick my own hospital attire, I may very well pick some of these lovlies:
I like these two styles particularly because they are fashionable, figure flattering, and yet still very professional. I also find it worth mentioning that tafford scrubs aren't lacking in their size selection, with sizes starting at XXS up to 6X.
The prices are great with scrub tops starting at around $10.98 (heck check the clearance section, where you can get scrub tops for as low as $4.98!) And as a thank-you for signing up for their mailing list, they will give you a coupon for $10 your first purchase of $60 or more.
And then there's the shipping.
Alas, many a great online deal have turned sour due to outrageous shipping charges. I am pleased to say that this is not the case with Tafford. Flat rate shipping for $6.95 on all orders, and if you spend over $100, then shipping is FREE!
So yes, needless to say, I'm a little bummed that I couldn't buy my uniforms from Tafford. I certainly would have been able to afford a bunch more had they been dubbed the "vendor of choice".
Download Nurse Bingo Today!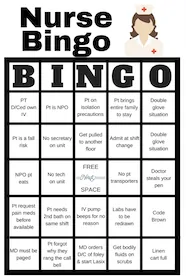 Liven up any shift with a fun game of bingo. See who can fill a row first!
Fill a whole card and lose grip with reality.
Your privacy is protected. We will never spam you.