*articles contain affiliate links*
Press Release: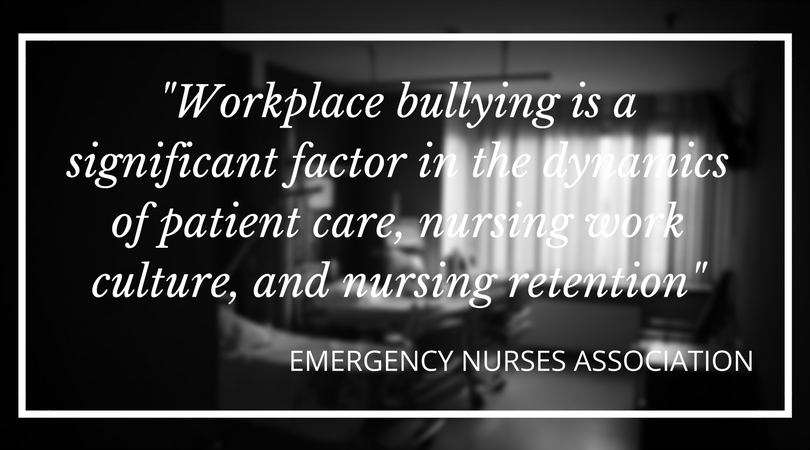 DES PLAINES, Ill. (Oct. 26, 2017) – New research from the Emergency Nurses Association recently published in the International Emergency Nursing Journal indicates workplace bullying is a significant factor in the dynamics of patient care, nursing work culture, and nursing retention. The study, aimed at developing a grounded theory of workplace bullying in emergency departments, describes bullying behavior, the dynamic of hazing and how nurses and patients are negatively impacted.
Forty-four emergency nurses participated in focus groups to share their perceptions and experience with workplace bullying, in addition to actions taken when bullying is observed.
As a result, researchers developed a model of nurse bullying in U.S. emergency departments they say can help hospital and emergency department leaders understand the process by which bullying manifests in their department.
The theory describes responses to bullying as it occurs, how those responses affect the frequency of that behavior, and the influence the bullying and environmental elements might have on the prevalence of bullying.
The research suggests that when guilty bystanding, maintaining the status quo, or retaliation are pronounced, bullying will be more pronounced than in EDs where the "calling-it-out" strategy is employed.
"Workplace bullying is unfortunately pervasive in emergency nursing to the detriment of patient care," said lead researcher and Director of ENA's Institute for Emergency Nursing Research Lisa Wolf, PhD, RN, CEN, FAEN. "Our new theory shows a clear process nurses and administrators can use to identify bullying elements within their environment to ultimately correct this behavior."
Researchers say management can have a significant effect on reducing workplace bullying and its related risks to nurses and patients. An assessment of hospital work environments should include nurse perceptions of and responses to workplace bullying.