*articles contain affiliate links*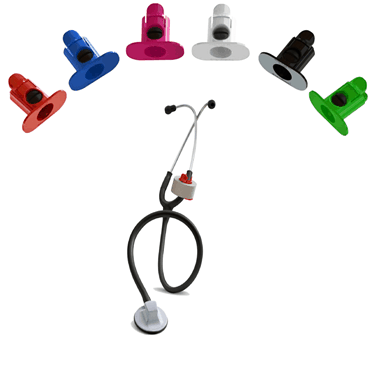 Tools that make nursing care easier are always in high demand. The Stat Gear S3 Stat is one of those tools. It is a device that holds your tape securely on your stethoscope. I can't tell you the number of times my tape has went flying across the floor off the earpiece of my stethoscope. So any clever little item like this is welcome in my nursing world.
At $5.99 they are are inexpensive gift that an nurse, EMT or paramedic would surly enjoy. The concept seems so simple, but it's a good one and keeps your tape close at hand and safe from the floor.
Details from Stat Gear:
Brand new, patent-pending product which is made in the U.S.A.
Attaches to any sized stethoscope and keeps a roll of 1″ medical tape handy
The roll of tape snaps on in a second and stays out of the way until needed
The tape rolls smoothly for rapid tape removal
Acts as a counter-weight to the heavier bell side when worn around the neck
The Stat Gear S3 Stat us available in 6 colors.
Pale & Diaphoretic White – Melena Black –  Epistaxis Red –  Cyanotic Blue – Frothy Pink –  Septic Green
Great Idea for Nurses' Gifts!
Something really cool they do is promotional branding. I would much rather have received this as a gift during nursing week over the plastic beach matt I once received (and likely they paid more for that). This is a useful and functional and practical tool that any nurse, paramedic, or EMT would love to have. So hospital execs, think of this the next time you are tossing around nurses week gift ideas.
You can get your own at statgeartools.com or pick one up on ebay for $5.99 shipped!

Download Nurse Bingo Today!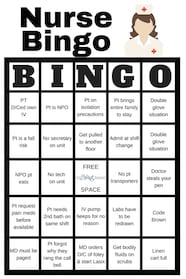 Liven up any shift with a fun game of bingo. See who can fill a row first!
Fill a whole card and lose grip with reality.
Your privacy is protected. We will never spam you.