*articles contain affiliate links*
While spending some time on LinkedIn, I discovered this blog post Social Media Cuts Healthcare Costs and improves patient outcomes, written by Nicola Ziady
She discusses "Healthcare Performance Management in the Era of 'Twitter" and states that social media can decrease the costs of healthcare as well as improve outcomes. The basis for this statement lies in the improvement of communication between healthcare providers and patients. By engaging patients in social media and improving communication, patients feel more in control and empowered for their healthcare. With increased access to information, resources, and the increased involvment in educating themselves on their healthcare, they are more likely to seek treatment sooner and posibly even preventatively.
Apparently, there are actualy measureable and savings associated with healthcare social media:
Healthcare Social Media savings ::

Toms River School District in New Jersey opened an employee health clinic and saved an average healthcare-cost-per-employee of $1,950 in the first three months of operation – a premium reduction of 19%.
I find this interesting, and am reminded of the non-nurse nursing theorist I used for one of BSN papers: Rosabeth Moss Kanter. Her theory of Organizational Empowerment harkens the same message in business: give people the access to the information, and the tools to acheive success, and they will acheve success!
This is illuminated by this statement:
Healthcare Social Media Expert feedback ::

"The bottom line is that when patient information is more transparent, it enhances the delivery of healthcare, reduces costs, and improves quality," Cha said. "The information also is valuable for measuring what forms of treatment work well and achieve the most successful outcomes."
Social media enhances communication and provides additional resources for those who are looking for it. If we give our patients the tools, they will help us to build their bridges over  the troubled water of healthcare.
Connect with your patients and other healthcare providers and encourages them to take charge of their health using social media!
Help your patients build bridges.
Download Nurse Bingo Today!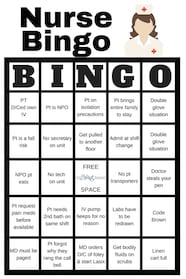 Liven up any shift with a fun game of bingo. See who can fill a row first!
Fill a whole card and lose grip with reality.
Your privacy is protected. We will never spam you.