*articles contain affiliate links*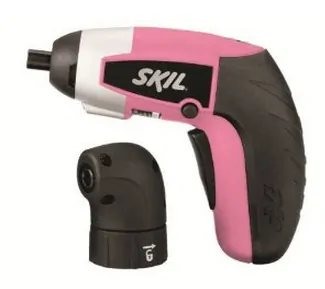 A pink screwdriver? I know what your saying… that must be horribly huge complete pile of AWESOME right?!?!
The SKIL iXO pink cordless screwdriver is certainly review worthy just for it's practical household value.That is magnified even more when you consider the fact it proceeds generated from it sale are being used to help raise funds for the Susan G. Komen breast cancer foundation. Heck, you could even consider this thing a "tool for the cure."
This year, SKIL Power Tools has joined the fight against breast cancer by partnering with Susan G. Komen to launch their "Tools for the Cure" campaign. Ten percent of the unit price of every pink iXO sold between August 1, 2012 and December 31, 2012 will benefit Susan G. Komen for the Cure®, providing a minimum donation of $100,000 to the organization.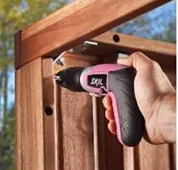 To bring the SKIL IXO to it's current state of awesomeness, they didn't just slap an awesome paint job on this baby. It's got a load of great features that make it a desirable item to have in any tool collection. First of all, it has an integrated rechargeable battery with an indicator that let's you know when it's ready for another charge. It has a right angle attachment the help you better screw-drive at awkward angles. If you're into letting the midnight oil burn, it' has a light built right in. You know, incase you need to drive those screws into the wee hours of the night.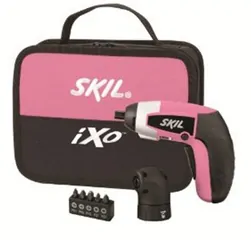 The battery can keep a charge for up to 18 months so even if you lost your charger this baby would run smooth for over an year.You can suck on that Energizer bunny. It comes with attachments and bits to fit most any job. You know things like parenting staples: like changing my sons toy batteries without having to fumble around for those tiny screwdrivers in a messy junk drawer. No sir. This little beauty comes with it's own carrying case to help you get the job done.
Here's something that really does set this cordless screwdriver apart from others. SKIL is donating 10% of all the proceeds this fall to support breast cancer research. If that's not reason enough to buy this handy little screwdriver, you may want to consider that it's made my the worlds best selling power tools, SKIL. And hello, did you forget to consider the fact that is is pink?
Isn't Pink like the new… Pink?
The SKIL IXO is stylish and it functions well. This tool is just the right size, easy to use, and very practical. If you have ever used a manual screwdriver for long periods of time you know as well as I that fatigue becomes an issue. Let this great tool with a great cause do all the work for you by making that job easier and donating to a foundation helps so many.
You can find out more details about the limited edition SKIL iOX pink on SKILiOX.com or by checking them out on facebook or twitter.
You can up the SKIL IXO Pink Cordless Screwdriver at Amazon or a power tool retailer near you.