*articles contain affiliate links*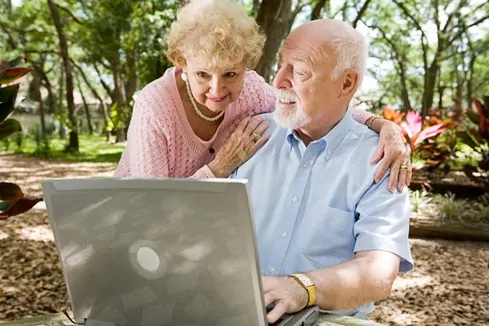 Today's seniors are unlike many of past generations. These days, older Americans expect things their counterparts in previous generations wouldn't have considered.
For example, most want to stay in their own homes as they age. They want to take care of themselves. And many want to avoid being the stereotypical befuddled senior citizen who doesn't understand technology.
Numerous gadgets are available to help seniors stay connected and healthy. Here are six of the best:
Grabber Sticks
The first gadget is cheap, simple and useful: "grab sticks."
Also called "grabber sticks" and "reach extenders," these light metal rods, 27 to 36 inches long, have clamping jaws on one end and a squeeze-grip mechanism at the other that forces the jaws closed. Users position the jaws around the object they want to grab, squeeze the pistol grip and grab the object.
Prices range between $12 and $30.
CareConnect Family Communicator
The second great gadget for seniors is the CareConnect Family Communicator.
CareConnect calls its product a "communication and home healthcare platform featuring a standalone family communicator." But seniors and their relatives may call it their "peace-of-mind machine."
The Communicator has a digital display with touch-screen operation, video chatting, texting and photo streaming, but no computer experience is required to use it. Safety features include personal-alert response and medication and appointment management. CareConnect monitors systems 24 hours a day, seven days a week.
A camera, microphone and speakers are built in, and large buttons make reading easier for seniors with sight problems.
The versatile Communicator sells for just under $300, and monthly monitoring is $9.99. For more, see http://www.careconnect365.com/care-connect.html.
Walk-in bathtub
Third on our list of gadgets is a walk-in bathtub. These can be pricey, but they offer peace-of-mind to seniors who want to avoid falls caused by stepping up and over the tub's side.
Walk-in tubs sell for $2,000 to $6,000, plus installation. Most installers offer financing.
Programmable thermostat
The fourth item is a programmable thermostat. Seniors are more sensitive to fluctuations in room temperature. They may be cold and complain about "circulation," when the thermostat simply needs to be changed.
It takes only a small amount of know-how and simple tools to install programmable thermostats. Some that control only heat start at under $25; more elaborate devices for both heat and cold go for up to $500.
Hand exerciser
Most of us will fight arthritis as we age. To alleviate the symptoms, sufferers need to keep joints limber by moving them. Our fifth gadget, the Xtensor hand exerciser, is great for helping sufferers strengthen arthritis-inflicted muscles.
At $29.99, it's a reasonably priced tool for arthritis sufferers. For information, see https://www.thextensor.com/shop/store.php.
One-hand can opener
Our sixth and final gadget is a one-hand can opener. Easy-to-use cooking tools are an important component of independent living, but even seniors with good strength in both hands can have a tough time opening cans.
The Zyliss EasiCan battery-operated can opener starts and stops by pushing one button. It's available for about $20 through Amazon.
These items can all contribute to safe, independent living for seniors. And that, in turn, will make relatives – and others who care about independent seniors – feel better, too.
Download Nurse Bingo Today!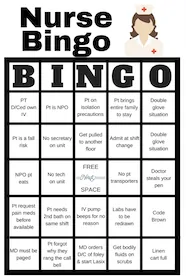 Liven up any shift with a fun game of bingo. See who can fill a row first!
Fill a whole card and lose grip with reality.
Your privacy is protected. We will never spam you.