*articles contain affiliate links*
Guest Blogger: Jenna
Keeping your science classroom safe is top priority for all science teachers. This includes anatomy and microbiology professors and lab coordinators as well. Your students cannot learn in an unsafe environment. By instilling in your students the importance of using safety tools, you're helping to establish good habits and keeping them safe from harm.
Basic Equipment or Comprehensive Equipment?
The type of safety equipment available depends on how extensive your experiments are. If you have a comprehensive laboratory with access to all types of chemicals, you will need more than the basic safety equipment. If you've got a science classroom that is just introducing children to biology and chemistry basic equipment should work.
Protective Eye Equipment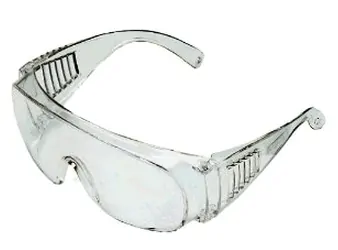 Every classroom needs to have eye protective gear and an eyewash station. The eye protective gear can be basic safety goggles or chemical splash goggles. The second is recommended if you're performing experiments with dangerous chemicals. Before you begin teaching you need to instruct your students on how to wear their safety goggles. You also need to make sure they know where the eyewash stations are located and how to use them.
Proper Dress Code
Protective lab aprons don't cover the entire body. There should be a dress code for all students in the classroom. They should wear long sleeved shirts and pants or long skirts that cover most of their legs. Baggy and loose clothes are a hazard and should not be worn.
Long hair should be fastened securely in the back of the head. If the student is wearing a ponytail, make sure it is tucked into the collar of their shirt. Jewelry should be removed. Students that wear acrylic nails should not be allowed near open flames, as this is a fire hazard. This applies even if they're wearing laboratory gloves. Open-toed shoes should not be allowed to be worn. This includes peep-toed heels, sandals, flip-flops or shoes without a full back to them.
General Safety Rules
Students should wear their protective equipment throughout the entire course of the experiment. They shouldn't be removed until after everything is cleaned up.
All backpacks, purses, books and other items that are not a part of any experiments should be kept far away from the lab equipment in a designated area. This is an extra precaution to prevent fires. Cell phones should never be used in the class room. The student's full attention should be on you.
Hot glass should not be touched with bare hands. Since hot glass looks the same as cool glass and takes a long time to cool off, it's best if it's not touched at all without proper supervision. Dispose of all chemicals properly. If they need to be poured down the sink make sure there is a separate sink for where students can wash their hands.
Remember to remain in the room at all times and carefully supervise the actions of each individual. Make sure that students follow these rules at all times, so that safety can always be maintain in the classroom.
Consideration has been given for review and publication of this content.