*articles contain affiliate links*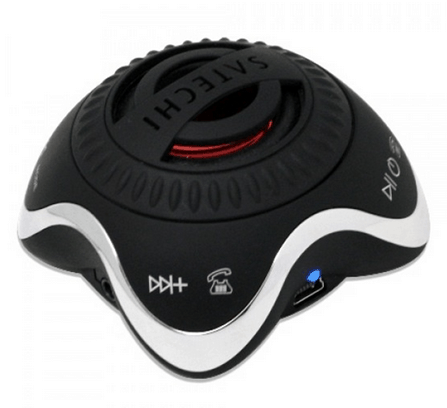 The Satechi BT Wireless Bluetooth Portable Speaker System is a compact and stylish portable audio solution for your bluetooth capable devices. The design is unique and streamlined. And although the unit is compact and wireless, it packs some pretty powerful sound.
One of the most impressive things to me about the Satechi BT is how small yet powerful it is. It is compact, for sure. The unit weighs just 0.5lbs and packs up to 6 hours of battery life.
Instead of having to lug around a big box style stereo dock to boost the volume of your tunes, the Satechi can meet all your needs, and is as portable as your smartphone. Plus since it is bluetooth, you won't have to be concerned with taking along  a lightning adapter to go with your new iPhone 5.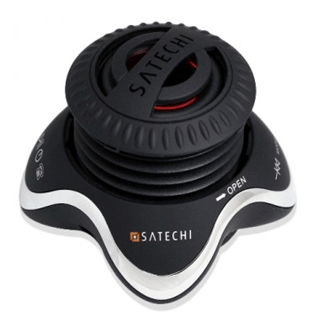 The Dynamic SoundArmed with the signature Bass Expanding System really enhances the quality of the audio and helps this tiny speaker to fill the room with sound. This really transforms the sound that this little speaker can deliver. You just pop that little sucker up and the your audio experience can truly begin. Oh sure, it will produce sound without the pop-up, but once you've heard the Bass Expanding System, you'll never want to hear it any other way.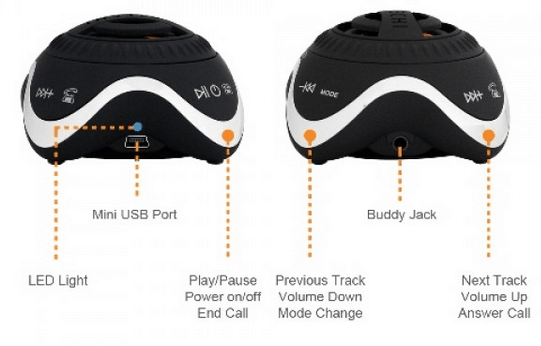 The Satechi BT can also function as a hands free device for your smartphone. It has an integrated microphone and allows you to easily answer incoming calls from the speaker itself. The bluetooth range is an impressive 33 feet, so you can be free to walk around your home or office and enjoy uninterrupted tunes.

A nice bonus of this bluetooth speaker system is that in integrates a 3.5mm audio jack on the bottom. So if you'd prefer a wired connection, you already have everything you need.
Features:
Portable Bluetooth wireless speaker with compact vacuum bass design streams music and hands-free calls.
Bluetooth Ver. 2.1: AVRCP, A2DP, automatic connection, only one time pairing
Easy charging with integrated Li-Ion-battery (USB chargeable) for max 6 hours playtime
Multifunctional three buttons allow Power on/off, Play/Pause, Next track,
Compatible with Apple iPhone 4/3GS/3G/iPod touch G4/iPad/Mackbook/Mackbook Pro/Motorola Atrix/Droid X/Droid 2/Droid/Milestone
This video shows just how easy it is to get started.
Satechi BT Wireless Bluetooth Portable Speaker System
I was really impressed with the quality of the audio of Satechi BT. The seamless and clean button system was attractive and simple to use. After watching the short video, I felt like a pro. But what I was most impressed with is the compact design and great battery life. Those that don't have or want to use bluetooth will also really appreciate the integrated 3.5mm audio jack.
I'd recommend this portable bluetooth speaker to anyone interested in amplifying their sound without having to lug around a bulky speaker system. The Satechi BT retails for $59.99 but is on sale at SATECHI.com and Amazon.com for around $40.
For more details, visit SATECHI.com.
Satechi BT is available from SATECHI.com or Amazon.com
Disclosure: I was provided with the Satechi BT to facilitate this review. Opinions stated are my own.