*articles contain affiliate links*
Successful campaigns to promote health awareness issues have one thing in common. They find an appropriate symbol to represent the underlying health concern. These symbols work because they're easily identifiable and a whole host of complex issues—from the importance of early detection and treatment, to changing the ways in which we view survivors—can be embodied in a simple symbol. Perhaps the most successful of these symbols is the pink ribbon campaign to promote breast cancer awareness. The pink ribbon has become so ubiquitous—and so tied to the issue of breast cancer—that virtually everybody knows what it stands for. It's become an excellent rallying mechanism and has launched a flood of fundraising and early detection efforts. Finding similar symbols for other health awareness campaigns could go a long way toward making a positive difference.
How Prostate Cancer Awareness Could Benefit
Prostate cancer awareness efforts should use the pink ribbon as an example of how to create a sea change in public opinion and perception of a disease and even treatment options. From early detection emphasis all the way to proton therapy treatments, the number of men who would benefit from a proactive approach to prostate health is enormous. Men aren't especially known for being proactive about personal health to begin with. And when you add prostate exams to the equation, reluctance can turn to active procrastination. This is a huge problem because early detection of prostate cancer is key to effective treatment. Discovering prostate cancer early can literally be the difference between life and death. Finding a symbol for prostate cancer awareness that men can identify with and which can function as a starting point for changing the way men view the disease is a great way to tackle the issue.
Why Mustaches Matter
It may seem a bit silly at first blush, but mustaches are beginning to matter. Men may not have a pink ribbon to rally around, but the Movember phenomenon is using the mustache as a means to get men thinking about prostate health. It's essentially a mustache growing competition. Men grow a mustache for the month of November and raise prostate cancer awareness as well as much needed fundraising money. If you've noticed an inordinate amount of mustaches recently, it's likely due to the growing popularity of the Movember movement.
Back in 1999 when the earliest Movember mustaches began sprouting in Melbourne, Australia, the idea didn't look like it would take off. The group didn't even raise any serious funds until 2004—with $43,000 raised for the year. But the mustache growing movement has spread. 2010 resulted in $80.7 million dollars raised and the amount of countries that are participating is increasing, largely through social media. The Movember website Facebook "likes" have grown to a whopping 14,571 and more than 20,000 people are following their Twitter feed. Movember unwittingly may have hit on the perfect symbol for raising prostate cancer awareness.
Mustaches are a masculine symbol—perfect for a disease that only occurs in men. And since most men secretly want to grow a mustache anyway, Movember gives them the opportunity—at least for a month—to see how much they can sprout on their upper lip in a month long mustache growing competition. The mustache may end up doing as much for prostate cancer awareness as the pink ribbon did for breast cancer. And that would be a great thing.
Download Nurse Bingo Today!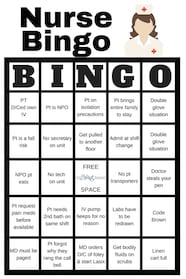 Liven up any shift with a fun game of bingo. See who can fill a row first!
Fill a whole card and lose grip with reality.
Your privacy is protected. We will never spam you.