*articles contain affiliate links*
I had the opportunity to screen the film Puncture.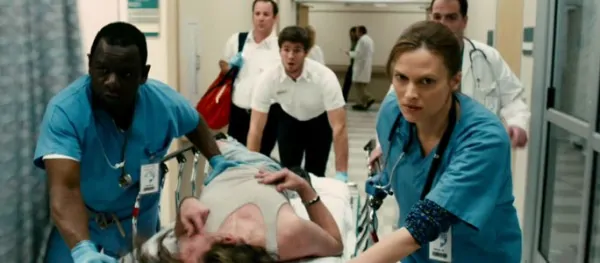 Puncture puts the very real risk that healthcare workers face everyday, needle-sticks, in the forefront of the media. Every day nurses risk exposure to deadly and devastating diseases from HIV, AIDS, hepatitis B, C,  and other deadly bloodborne pathogens. Nurses risk their own lives to save the lives of others.
Based on a true story, the film follows the dramatic legal battle faced by two budding lawyers who take on the biomedical industry to stand up for the rights and lives of healthcare workers on frontline everywhere.
I encourage you to see the film.
Healthcare is Bigger than Nurses and Doctors
Puncture made an impact on me and really made me think about just how big the medical industry is. It made me focus my attention on the fact that not everyone in healthcare is focused on the greater good. Not everyone is healthcare is about saving lives. Some are in healthcare for the paycheck alone. Some in healthcare are about the massive millions they stand to gain by ignoring problems and stopping innovation cold in it's tracks.
This film showcases that evidence based practice alone is not always enough to convince the powers that be of a need for change. Sometimes brute force and perseverance are needed in the fight for patient and healthcare provider safety. Sometimes you have to stand on a soapbox (or a blog) and tell the world there is a better way.
The Safety of Nurses is Vital
Please note, there will be spoilers below. Puncture is in select theaters now, and I encourage you to seek it out. Every nurse needs to know just how much effort was put forth to put safety devices on our needles. Every nurse needs to know why suddenly in 2004, safety needles began showing up in hospitals. Every nurse needs to demand safety devices on their needles and settle for NOTHING LESS.
Puncture: Synopsis and Thoughts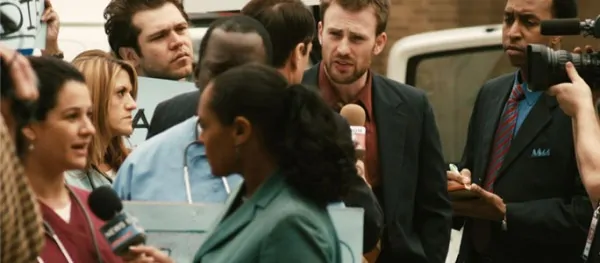 Chris Evans portrays Micheal Weiss, a drug-addict Erin Brockovich  or sorts, in a dramatic and captivating manner that is both shocking and inspiring. Despite his flaws, the mistakes he had made, and those he continued to make in his personal life, he is an underdog who stands up for what was right until the very end. He saw the wrong done to a nurse, the wrong done to 800,000 nurses a year, and could not give up on what his parter, and every other law firm in Texas, felt was a looser case.
Vicky, played by Vinessa Shaw, is an ER nurse who get's infected with HIV after administering Ativan to a psychotic and combative patient. Had she been using a safety needle, her needle-stick injury would have been 100% preventable and her life would have been spared. She contacts  Michael Weiss (Chris Evans) and Paul Danziger (Mark Kassen), but not to sue her employer for the injury, but to help her inventor friend get his needles in use by hospitals. He cannot figure out why after contacting thousands of hospitals only one would agree to purchase his life-saving needles.
"Puncture" is legal thriller loosely based on the true story of two struggling young lawyers, Michael Weiss (Chris Evans) and Paul Danziger (Mark Kassen), who were hired by an eccentric inventor/manufacturer to find out why he couldn't sell his remarkable, lifesaving safety syringe to U. S. hospitals. (puncturethemovie.com)
The plot, as always it seems, runs much deeper than individual hospitals refusal to purchase or even look at the safety needles. Hopsital Group Purchasing Organizations (GPOs) set the price and get the kick-backs for over 5,000 hospitals. This $150 billion dollar a year industry somehow manages to evade the Medicare anti-kickback laws thanks to an "obscure 1986 federal statute called the Medicare anti-kickback "safe harbor." In return, the suppliers get exclusive access to these facilities. In virtually every other U. S. industry, such kickbacks carry criminal penalties" ( puncturethemovie.com).
Needlestick Injuries are Preventable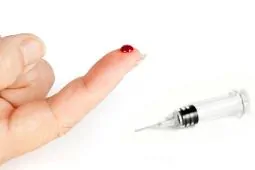 Needlestick injuries are a very real risk that healthcare workers, nurses most often, are faced with every day. Even though safety devices exist, unfortunately, not everyone is using them.
The primary reason: cost.
Needle-Stick Injury Facts

Each year, nurses, physicians and other healthcare workers suffer an estimated 800,000 accidental needlestick injuries in U. S. hospitals.
More than 1,000 of them become infected with HIV/AIDS — just like the emergency room nurse in "Puncture" — hepatitis B and C and other deadly blood-borne diseases.
Worldwide, needle reuse and needle-stick injuries result in an estimated 1,300,000 deaths, 23 million hepatitis infections and 260,000 HIV/AIDS infections annually.
In November 2000, President Clinton signed the Needle-stick Safety and Prevention Act, which calls for the use of "safety-engineered" needle devices to protect workers. Unfortunately, a decade later, little has changed. The main reason: hospital group purchasing organizations (GPOs).

For more information on needle safety in the US and needle reuse go to safeneedle.org
Group Purchasing Organizations in Healthcare
GPOs were originally introduced to help save hospitals and other healthcare organizations money on the supplies they need to save lives. However:
"Under this "pay-to-play" scheme, purchasing agents — not physicians and nurses — decide which medical devices, supplies and even drugs clinicians can use to care for their patients. Patients and workers are therefore denied access to better, safer and more cost-effective products — everything from safe needles to bandages, implants, pacemakers, oxygen monitors, surgical towels, even cancer medications. What matters most to the GPOs is the size of the kickback, not the quality of the product" (puncturethemovie.com).
The right to decide what doctors and nurses use to treat their patients should be in the hands of clinical professionals and chosen with evidence based practice in mind. As nurses we must advocate what is best for our patients health and our own. If there is a better way, a safer way, we owe it to ourselves and our patients to speak out.
As a patient, nurse, and technology advocate, Puncture demonstrated to me clearly the challenges  I will continue to face in promoting the continued need for innovation, growth and change in healthcare.
Nurses:Take Care of Yourself!
If you're a nurse employed by a healthcare organization who does not use safety devices for your needles, I strongly encourage you to speak up and advocate for yourself and your fellow nurses. As a nurse, if you don't advocate for yourself, who is going to advocate for your patients?
Take a Stand Against Healthcare Kickbacks
If you'd like to help us end the corruption and kickbacks depicted in PUNCTURE, Contact Congress NOW. Tell them to stop the group purchasing kickbacks. Find Your Senators (puncturethemovie.com).
For more information of the Puncture, visit puncture-the-movie.com (the official site for the film) for information about the true story behind the film, visit puncturemovie.com (the unofficial movie site). You can also connect on twitter, facebook, and youtube.
Puncture opened in select theaters September 23rd.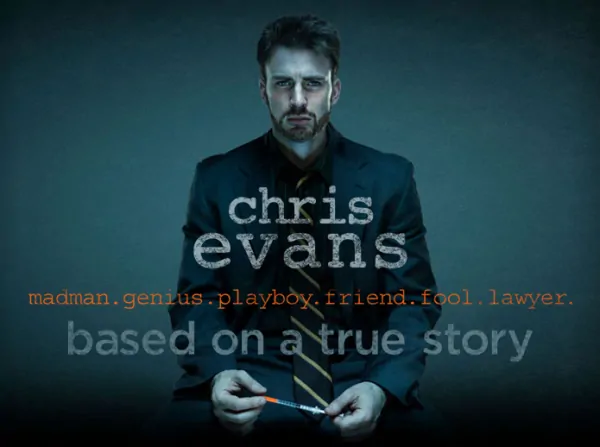 New York
• The Empire 25 | Buy Tickets
• The Sunshine | Buy Tickets
Los Angeles
•The Landmark | Buy Tickets
Houston
• River Oaks Theatre | Buy Tickets
Additional cities and theaters coming soon!
Additional Sites of Interest
Important Sites
American Nurses Association
Safety Needles
RevVac Retracting Safety Syringe
Safety Syringes, Inc.
Smart Syringe
Download Nurse Bingo Today!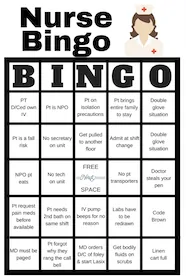 Liven up any shift with a fun game of bingo. See who can fill a row first!
Fill a whole card and lose grip with reality.
Your privacy is protected. We will never spam you.