*articles contain affiliate links*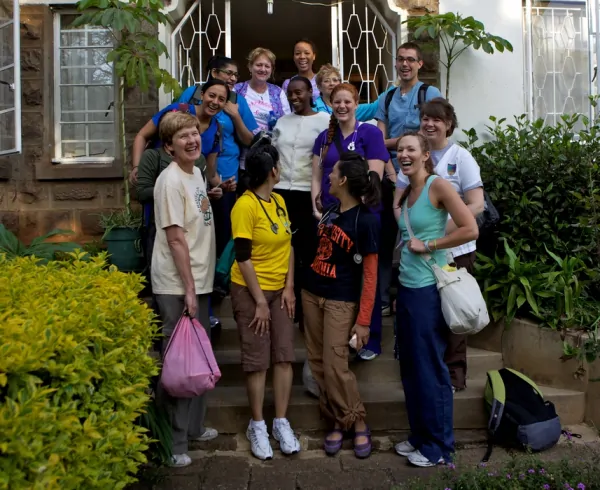 Last May, I took a trip abroad to Nairobi, Kenya, with fellow classmates for one of Chamberlain College of Nursing's international nursing service projects. The two-week trip is designed to immerse nursing students in an impoverished community outside of the U.S. to provide healthcare to people in need. As a Bachelor of Science in Nursing student at Chamberlain's St. Louis campus, the project also fulfills my multiculturalism and community health course requirements. Past projects have taken students to rural Bolivia and Fortaleza, Brazil, and are considered to be – at least in my opinion – an unforgettable experience.
One of the reasons I wanted to go on the trip with Chamberlain was because I knew that I could get some real field experience, the type that you can't necessarily get in a classroom. However, I didn't expect to learn so much. It was a true life experience.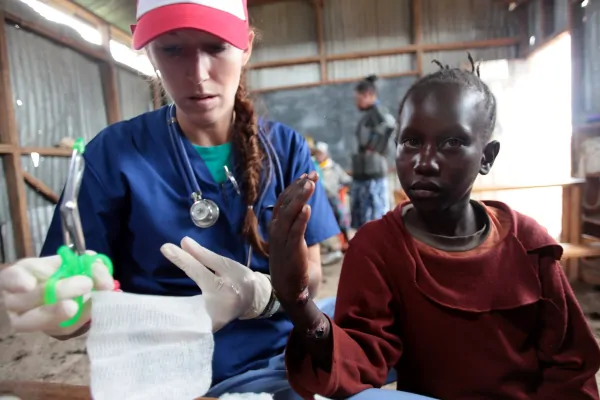 During our first couple of days, we experienced sensory overload. I was constantly taking in the sights of people walking the streets carrying large loads, the children running barefoot through the dirt roads playing with a rope or stick and tiny shops filled with goods the vendor was trying to sell.
The smells were overwhelming, at times—smoke from cooking food, trash, human waste in plastic bags thrown onto the street and the stench of people sweating and working hard but who had not bathed in days.
The sounds were of people talking, laughing and singing children laughing and crying and animal noises from all that were freely walking the slums. Goats, chickens and dogs were the most common ones to be wandering the streets.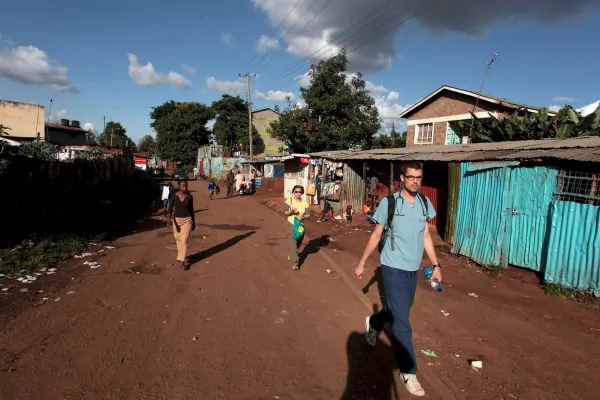 Many of the people, especially the children, knew one line in English, and we heard the continuous chant, "How are you?" from our matatus (or minibus) as we drove down the street. Standing in the sun became very hot and my skin sometimes felt dry and dirty from the blowing dust. During the first few days, our group commented on how unreal it all seemed, as if we were thrown onto the set of the movie Slumdog Millionaire, and it was just pretend. Living in those conditions is unimaginable to me, and I don't think I would survive one week living in the slums of Nairobi.
I am grateful to the doctors and medical students for what they taught me about various diseases and treatments. I frequently teamed up with one of the medical students from Ross University School of Medicine, and we saw patients together. After the patient explained his/her problem, my mind usually started to think as to what made that problem occur, what we can do to stop it, what can we teach the patient about the treatment and what to do, if anything, to keep the problem from happening again. This was probably the nurse's mind in me.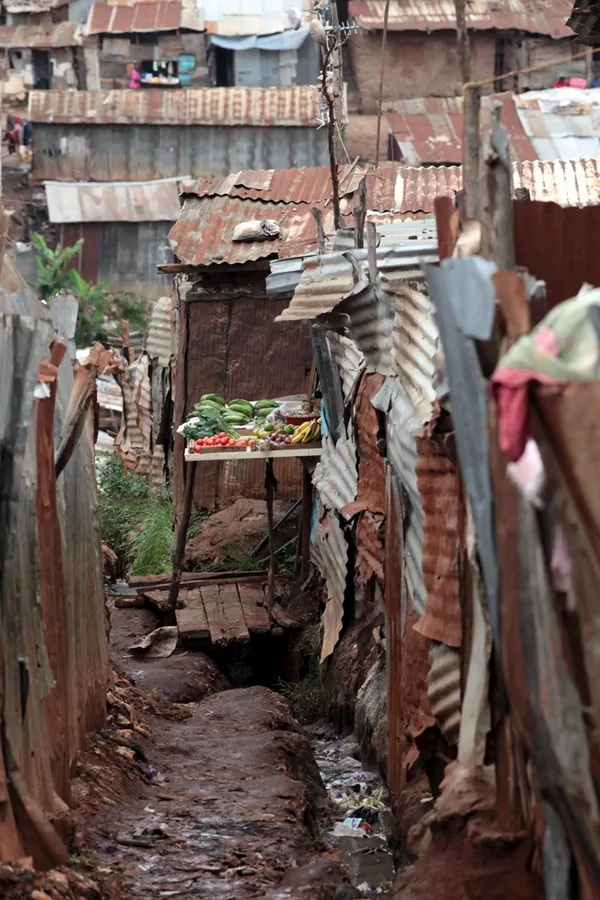 Meanwhile, the medical student had a different approach. She thought about the symptoms, what the problem was and what medication we should prescribe. We collaborated, decided on a proper treatment, educated the patient and just hoped that person left feeling cared for and would actually heal or start to heal because of our help. This interprofessional collaboration was a great learning experience for me.
There were times, though, when we felt frustrated because the problem that brought the patient into our clinic was outside our capacity to treat. We were able to send referrals and sometimes all we could do was sit, listen and show that we cared. The people were thankful to receive anything we could give them—medicines, band-aids, creams, vitamins, anything. I received countless hugs and smiles of appreciation from people who were happy just to be seen for their problem, regardless of how big or small.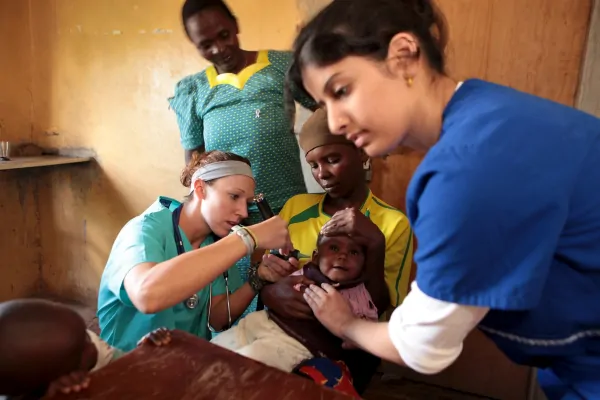 In the U.S., we go to the doctor with high expectations. We expect not to wait too long in the waiting room. We expect that there will be a comfortable exam table. We expect that there will be running water. We expect that the floors and counters will be clean. We expect that our medical team will be able to take care of any problem that causes us pain and worry. These expectations are not outrageous; they are simply what we know. The Kenyans in the slums came in with no expectations and were happy to simply receive any kind of healthcare available.
In Nairobi, we practiced in schools on dirt floors and tiny tables and chairs. We found ourselves feeling fortunate to have running water (it was not clean, but we were still happy to have it). Mitumba was one of the slums that never had healthcare come to them, and we used their school rooms to see patients. The floors were dirt, the walls of the building were metal and the desks were tiny and wobbly.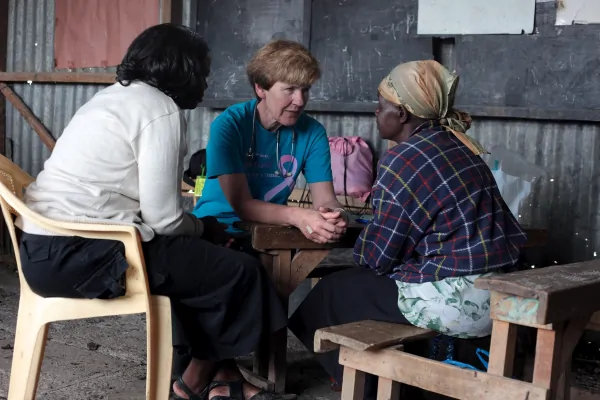 There was an incident in one of these school rooms that was particularly powerful. The rain started falling heavily, and the thoughts in my mind quickly turned to how muddy everything was going to be, how dirty we might get, how loud it was in the room because of the rain of the metal rooftop, and how we needed to avoid the spots in the room where there were holes in the roof.
Right in the middle of my worry, our translator looks to me and says with a big smile, "God is blessing us! First, he brings you to come and help us and now the rain. God is happy. He is sending us many blessings." That moment is one that I will never forget. Here I am, thinking of all the potential problems, and he was thinking of how joyous it was to have healthcare and rain in the same day.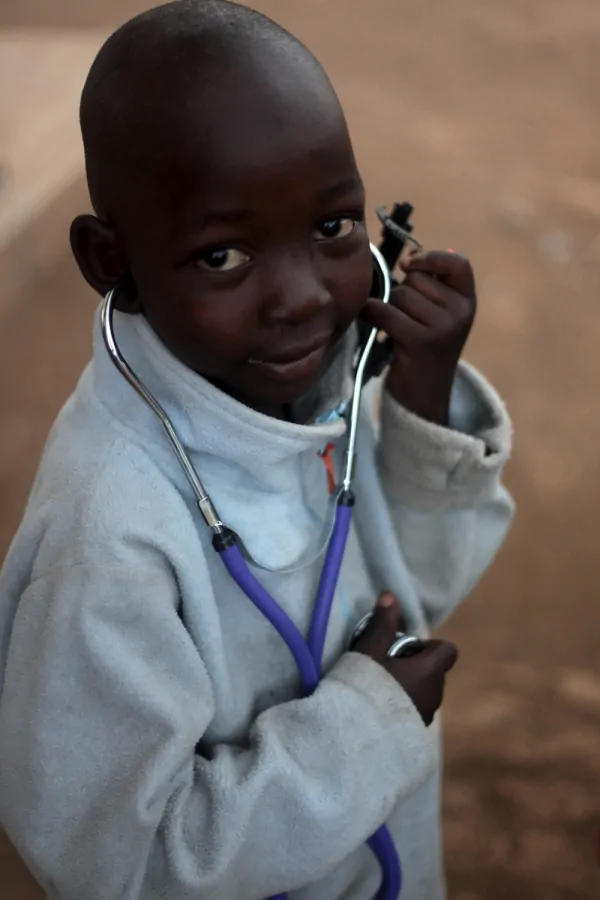 Even reflecting on the trip now, I feel as though it was just a dream, and the pictures are fake; and yet, some of the experiences and people are forever etched in my mind.
Leaving Nairobi was bittersweet. When I arrived home, in O'Fallon, Missouri, I tried explaining the conditions to my family and friends, but words and pictures do not do it justice.
Sure, I missed my family, friends and the comforts of home—toilet seats, clean water, blow dryer—but on the other hand, I wanted to stay and continue to work and help the Kenyan people. I came home completely exhilarated and ready to do another trip. 
I'm not sure where I will travel to next, but I plan to attend another medical mission trip again, hopefully with Chamberlain. I have always known that I am blessed, but I never realized how blessed I really am to have clean water, a warm bed, a bathroom and never have to wonder if I will have food to eat or healthcare if I become sick.
As I reflect on the many experiences I had in those short two weeks, I struggle to find the words to describe it. Incredible, amazing, educational, fun, exciting, emotional and life-changing are just a few that come to mind.
To help capture this unforgettable experience, I have included a couple of excerpts from my journal that I wrote during the trip:
           …Memona pulled me into a room to video some women singing and dancing. She went on to explain that they were a group that was formed for support because they were all 23 and younger and were HIV positive. It was so touching to see them there singing and dancing as though they were having a celebration while they all have this awful disease. It was also heartbreaking because they were there with their babies and I assumed that some of them were HIV positive as well. I think the only reason I didn't tear up was because their smiles and laughter were so contagious. (May 4, 2011)
            …I treated a girl who was 10 and had electrical burns on her arms and between her fingers from three days ago. I was later told that people of that slum (Mitumba) steal electricity and that was probably how it happened. The thing I will remember is how sweet and calm she was. She just sat there with me and let me take care of her. She would sometimes just look into my eyes and then just watch what I was doing. She never squirmed or cried. Part of the burn was partial thickness while others were full thickness and completely necrotic tissue. I knew it had to hurt and she was so sweet and good with it all. (May 5, 2011)
If you would like to learn more about my recent trip to Kenya with Chamberlain College of Nursing, visit Chamberlain's website, chamberlain.edu/serviceproject, and watch the video!
 [author-box-2]
Download Nurse Bingo Today!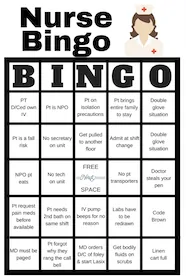 Liven up any shift with a fun game of bingo. See who can fill a row first!
Fill a whole card and lose grip with reality.
Your privacy is protected. We will never spam you.