*articles contain affiliate links*
Guest Blogger: Ann W. Smith LMFT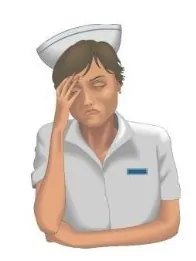 Those of us in the helping professions often feel that we are expected to be perfect but realistically we know from experience that it is not possible. If we have an inborn tendency to be perfectionists on top of that, we may struggle with trying to be the best at everything we do. After all, there is a great deal at stake when others are counting on us to help them.
Perfectionism is a trait that gives us a preference for order, organization, timeliness, people pleasing, success and yes, perfection. When a perfectionist is stressed out, they will do more and take on more in the hope that the feeling of relief will follow once the goal is accomplished or the project finished. The problem is that it is never enough. Once we finish something we see the flaws in it or look to something else that needs to be done.
Perfectionists are forever asking themselves "Did I do that right?"; "Am I forgetting something?"; "Is …. Upset with me? "; "I hope I didn't make a mistake." Listening to our own self doubt and mental committee of critics is exhausting and may increase the likelihood that we will make mistakes. This leads to fear and anxiety which then lead to increased stress. The vicious cycle becomes a compulsive pattern that may last a lifetime unless we become mindful.
Perfectionism may be appreciated at work but it takes its toll eventually. Over time the consequences are apparent in our health, mood swings, depression, anxiety, dissatisfaction with work, irritability at home, and self medicating with food, drugs or alcohol that can lead to addiction.
How can nurses and other helping professionals find balance between being human with limitations and flaws and the need to be perfect?
Tips for Overcoming Perfectionism
Put People First" More than anything else, we need to love and be loved. Don't put stuff ahead of people.
Come Out as a human being. Authenticity is requirement for the pleasure of love, joy, fun and overall happiness. Yes, it is messy but being real will be worth it.
Challenge your negative self-talk by turning the volume down rather than trying to shut out all critical thoughts.
Pay attention to your own signs of trouble. Perfectionists get more anxious and rigid when they are hungry, angry, lonely or tired. Use prevention strategies to manage this tendency. Breathe, laugh, and read something inspiring.
Let go of high expectations and try to accept people as they are. We are all unique and flawed as human beings. Don't judge your flaws or those of others. Embrace your essence and see it as all part of being you. Amazing things will happen if you let go.
About the Author:
Ann W. Smith is the author of Overcoming Perfectionism: Finding the Key to Balance and Self Acceptance and Executive Director of Breakthrough at Caron, 5 day Life Changing Personal Growth Workshops. www.BreakthroughAtCaron.org.
Download Nurse Bingo Today!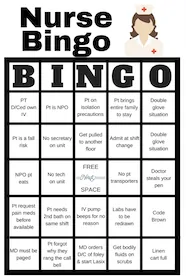 Liven up any shift with a fun game of bingo. See who can fill a row first!
Fill a whole card and lose grip with reality.
Your privacy is protected. We will never spam you.