*articles contain affiliate links*
I must admit, I am a different person when I wear my nurse hat. I can do things, face things, see things, and smell things that I would normally not be able to. There is just something inside of me, a switch, if you will, that turns on and I get into nurse zone.
In these moments I have learned that there are so weird experiences that offer some unique satisfaction to me, and I'm sure several other nurses as well. Although these are definitely not my favorite activities, I do get an overwhelming sense of accomplishment when I get them done.
Bladder Catheter Insertion
Now this may seem silly, because really, how hard is it to put in a Foley catheter? Usually it's very straight forward, especially with a man. However, the complexities of female anatomy have caused for some extended prodding and probing to successfully drain a bladder on more than one occasion. Also, if someone is exceptionally large, which in today's healthcare is all too common, I have required the assistance of extra nurses to hold legs, skin, and other body parts in order to have adequate access. And if you happen to be a male with an enlarged prostate, well quite frankly, sometimes it's an act of God to get a tube past that thing, even with a coude.
So when I get pee, especially in those difficult cases, I get a sense of satisfaction and relief!
Thankfully, usually, so do my patients.
Irrigating a Bladder Catheter
I cannot tell you how much this bizarre, uncomfortable (for me and the patient), procedure fascinates me. Irrigating a catheter is hardly ever as simple as flushing 20ccs of sterile water and watching it flow freely. No, it usually requires vigorous plunging of multiple syringes and muscle to dislodge clots and makes for a free flowing line. While the discomfort the patient experiences while doing this pales in comparison to the dreadfully full bladder they often have before hand, it hate to do this to them. However, when all is said an done, and the urine flows freely, the patient often thanks you, there a cup full of clots, and once again, a feeling of relief and satisfaction.
Wound and Ostomy Care
A simple dressing is not nearly as exciting as packing a wound, managing and ostomy, or wound debridement.
While debridement, I absolutely cannot stand, I know that it is often a necessary part of wound care, and do so as carefully and as painlessly as possible. Ostomy care is usually much more satisfying. Thankfully ostomys almost never hurt. In fact, most patients tell me they cannot even feel it. Cleaning the site, cutting the wafer, making sure the skin is protected, and the bag is secure, while can be very frustrating, and require creativity to tackle, yields a great sense of accomplishment at a job well done. This is especially true when yours is the first bag that makes it longer than 24 hours!


Helping a Patient Poop
Accomplishing this goal can be met in many ways and be needed for a variety of different reasons. Our nursing arsenal is packed with an assortment of means to assist in this process from stool softeners, laxatives, enemas, ambulation, digital extraction of an impaction, or even rolling someone over so they can just push it out. When they get it out, they are so relieved and greatful. While its down and dirty and not for the faint of heart, helping someone do this is fundamental to nursing
Helping an Patient to NOT Poop
In the same regard as helping someone to poop, helping some stop pooping can be just as beneficial and appreciated by the patients. C-diff, other infections, and medications can often be the culprit and helping to eliminate the bad guy, or at least trick the body into calming down the brown volcano. When a patient thanks me after they've slept their first decent night in over a week, all because I helped them stop pooping, once again, relief and satisfaction are present.


NG Tube Insertion
I really loathe to insert these things. The experience is traumatic for the patient and the nurse. However, when all is said and done, and the tube is in place properly and functioning appropriately, the relief that the patients feel is wonderful. And the sense of satisfaction I get from helping them, even though I tortured them to accomplishment, helps to decrease the guilt I often feel for causing them discomfort. Ultimately, I am thankful to be able to help them, and and relieved to have it over with!
Successful IV stick
The holy grail of nursing accomplishments, to some. As simple as this task may seem, there is something explicit and incredible about getting that first surge of blood return, threading the cathalon, and finally flushing and securing the device. When you get a stick, on the first try, and the patient doesn't even flinch, its a natural high that only nurses know and appreciate.
Discharging a Patient
This is one of my favorite tasks, and although not really weird, I wanted to mention it in this accomplishment list. Unfortunately, since started working night shift, I am limited at my opportunities to actually hand them the paperwork and send them on their way. However, every experience I have with patients gets them closer to this goal. I am pleased when together we meet a goal that I know means they will soon get to go home.
These are some of the weird things that uniquely effect my sense of accomplishment and job satisfaction as a nurse. I know some of them are odd, and some are even gross, but when I'm in nurse mode, these are my world, and I am pleased to deliver the care my patients need in order to get home to be with their families.
What weird thing do yo enjoy about nursing?
Download Nurse Bingo Today!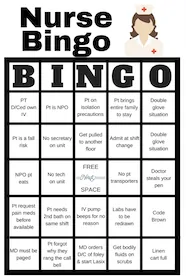 Liven up any shift with a fun game of bingo. See who can fill a row first!
Fill a whole card and lose grip with reality.
Your privacy is protected. We will never spam you.