*articles contain affiliate links*
I had been pining for a Mac for a couple of years now. Several times I came very close to buying one, but just couldn't bring myself to part with the cash. I've always heard that once you go Mac you never go back. But after my experience with a MacBook Pro, I'm hear to tell you that "Once you go Mac you never go back" is Totally Whack!
Last year when I bought a new computer I was so close to buying a Mac but couldn't bring myself to part with the cash and bought an Asus UL30VTX1K.
Recently I have been blessed with an increase in the amount of money I earn from my blog and my Macbook Pro fun finally hit it's magical mark. So right before I went into the hospital to have my brain tumor surgery I decided to bite the bullet and made a trip to Best Buy where I finally bought a Macbook Pro.

I picked up the Apple MacBook Pro MD313LL/A 13.3-Inch Laptop (NEWEST VERSION).
It has decent specs.

2.4 GHz Dual-Core Intel Core i5 Processor
4GB 1333MHz DDR3 SDRAM
500 GB Hard Drive, 8x DVD/CD SuperDrive
13.3-Inch LED-backlit Display, 1280-by-800 Resolution, Intel HD Graphics 3000
Mac OS X v10.7 Lion, 7 Hour Battery Life
Not the top of the line, but surely enough hardware for my use. I don't play graphic intense games. I don't do crazy video or photo editing. I mostly blog, use social media, and play those ridiculous facebook games. (I seriously need to got to AA or something over those things. They are just SO darn addictive.)
Everyone I've spoke with who owns a Mac has just raved about it. My friends from Emerigblog and Nurse Ratched's Place both swear by Macs. At Blog World Expo nearly everyone had one and I have to admit that I was a tiny bit embarrassed of my PC. One of my co-workers told me that her daughter who is in college has a PC and nearly everyone else there has a Mac. Apparently the Mac hipster kids play "Spot the PC."
I was so ready to be super impressed with how efficient and productive I would become with my new MacBook. I was getting ready to be blown away by the lack of lag and slowness I experienced in my normal computing habits. A Mac was going to change my life, after all. Since everyone I've ever talked to just raves about how much they love theirs and can't remember what they did before they had one, surely it was going to utterly rock my face off. Right?
Eternal Apple Bliss Postponed
Unfortunately I was not able to experience the bliss of the Macbook immediately.
I could barely lift my head for over a week after my surgery. Because of this, I was unable to get any real idea of the functionality of my new toy.
I found this highly annoying.
That was just my luck though. I get a Mac but don't even get to use it because I'm too sick.
MacBook Experience Confusing
So when I finally was able to get some serious computing on, I found myself confused by my experience.
My Mac was slow. Unresponsive at times. I used Google Chrome to browse the web and if I tried to open more than 6 tabs at a time, the darn thing would barely do anything. Trying to run more than one App at a time was darn near impossible. Attempting to use the Mail App and surf the web was a joke.
Testing Out Parallels 7 for Mac
I tried to use Parallels to see use Windows Live Writer and to just test how Windows 7 ran on the Mac and it was the biggest joke ever. And honestly I don't think Parallels was the culprit at all. I was impressed with how Parallels functioned and the added abilities it gave me to my Mac experience, it was just unusable because of the slowness of my MacBook.
If I can't even browse the web without extreme lag then why on earth did I expect to be able to run another operating system at the same time?
Yea… yea… I know.
I Wanted to Believe
I wanted to love my Mac.
I really really did.
Surely the hoards of Apple Cultists could not be brainwashed into thinking that Macs were the greatest thing since sliced bread, right?
So there is probably no merit to the theory I have that people are so embarrassed about the large amount of money they spend on Macs that they just tell everyone how great they are to save face.
Probably not.
I do demand a lot out of a computer, but I really was using it lightly. So even though I would like to think that perhaps I'm just such a hardcore computer that a Mac can't handle my awesomeness, the truth is that I probably just got a dud.
OS X Lion Causing Slowness
But I did do some googling prior to returning the Mac and found that the Lion OS was causing many issues, especially after upgrading from a previous version. Several stated there over 2 years old Macs ran better than a new machine did with this update. 
The fix suggested to uninstall and do a clean install of Lion.
I just couldn't stomach it.
I shouldn't have to do any finagling on a brand new computer. I especially shouldn't have to do any finagling on a brand need MacBook Pro. That's why they are so great. No finaglin'!
In an effort to keep my sanity and become productive again, I decided to return it.
I picked up a new Asus U46E-BAL7 and a 32gb white New iPad (iPad 3).
Problem solved.
No slowness. No disappointment. No buyers remorse, so far, at least.
The Asus U46E-BAL7 is a snappy little machine. And for $799 it's over $300 cheaper than the MacBook.
Asus U46E-BAL7 Specs:
Intel® 2nd Generation Core™ i7
8GB DDR3
750GB
14-Inch Screen
Windows 7 Home Premium
So here I am telling you that I went Mac and came right back.
Still love my iPhone and New iPad with all my heart.
For now at least I'll be sticking with a Windows PC.
Microsoft I am sorry I ever doubted you.
Download Nurse Bingo Today!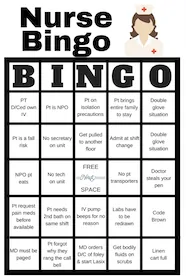 Liven up any shift with a fun game of bingo. See who can fill a row first!
Fill a whole card and lose grip with reality.
Your privacy is protected. We will never spam you.