*articles contain affiliate links*
It's clear that being and advocate automatically makes you a target, but does it make you un-hirable? Nurse K at Crass Pollination gives an interesting and valid perspective about the Amanda Trujillo case and advocacy. In her opinion, and likely many others, what Amanda has done by advocating for her patient, herself, and all nurses is tantamount to career suicide. She also discusses what happens when nurses within an organization speak up and the measures administration often go through to oil the squeaky wheel.
Let it Roll Off
When I was dealing with my issues with bullying, it always seemed like my manager was doing anything and everything she could to get me to shut up. She even said to me that I should simply "let it roll off." Her frustrations were apparent with me as I was even written up  for "being unprofessional" while defending myself from a public nurse-on-nurse attack. The only write-up of my entire nursing career came after another nurse attempted to publically belittle and humiliate me and I responded "You're not my momma or my boss. You can't tell me what to do." At which point the nurse blew up and made a huge scene at the nurses station asking 10 nurses if they heard me and couldn't believe I would say such a thing. Most of them tried desperately to ignore her.
Nursing Management: Behind Closed Doors
I hadn't thought about it at the time, but the points Nurse K makes about the conversations that go on behind closed doors in nursing management and healthcare don't surprise me. They do, however, disgust me.
"The Budget"
In many healthcare environments it's very much about the money makers (the doctors) and the policy makers (administration). If you're neither of these you are often made to feel disposable. Heck, administration is often disposable as well, especially if you're at a for-profit health system and they feel you aren't profitable enough.
At my previous employer, I witnessed hospital administration trimming the fat for budget issues. As staff nurses we often wondered when our turn would come. It didn't, that time, but it certainly sent a message loud and clear to all of us that they were in the mood to fire and we'd better not give them a reason to look at us. All the while they took our bonuses away, reduced our shift differentials, and enforced new uniforms (that we had to buy and monogram with the hospital logo). Funny how firing 25 in administration can keep hundreds of nurses quiet when they were loosing thousands of dollars annually and having their workplace change around them. Oh, yes, and the hospital was also in the process of spending millions on a major renovation. How could they be screaming budget concerns and cutting everywhere yet they were putting in fountains and glass facades?
But wheels that might have normally been squeaky, only whispered their frustrations. If you were an LPN you were going to loose over $500 a month because of changes, but none of them stood up and expressed their frustrations publicly. Any conversations about this occurred behind closed doors. I don't know of one LPN that quit because of it or any that were allowed to be grandfathered in with their old shift premiums.
Fear is a Heck of a Motivator
They were scared. The economy is tough and in a right to work state you can be fired at will. A wrongful termination suit is difficult to win, not to mention you'll make it even more difficult to gain employment. You'll forever have that cloud hanging over your head of suing an employer. And think about it, if you were going to hire someone, would you be interested in someone that had sued their last employer after being terminated?
Picking Your Battles
Nurse K makes a valid point about picking your battles and saving yourself first. I often have to discuss with my husband the need to secure your own safety before risking your life to help others. If you die, then no one can be saved, right?
Employment After Public Advocacy?
I sincerely hope that Amanda Trujillo wins this battle and is able to find employment after. But Nurse K is right to state that it is going to be difficult for her. Amanda is all over google now. She is all over google for going against a former employer who terminated her. Regardless of it it was right or wrong, this is going to prove to be a challenge for for for the rest of her nursing career. I hope that she is able to leverage this experience to use in her future career path. I really hope she is. I know I would be honored to nurse alongside Ms. Trujillo, but it's likely most HR will be terrified to touch her.
She has stated that she does not intend to return to the bedside. We will just have to keep supporting her and see where she ends up.
images: NursToon
Download Nurse Bingo Today!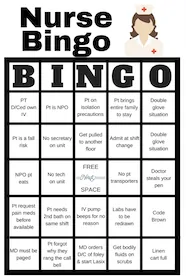 Liven up any shift with a fun game of bingo. See who can fill a row first!
Fill a whole card and lose grip with reality.
Your privacy is protected. We will never spam you.