*articles contain affiliate links*
Nursing Interruptions are a frustrating part of patient care. They can impact safety and cause stress for both caregivers and patients alike. This post, PART I:  Interruption Awareness is More Complicated than Meets the Eye, examines interruptions for nurses and shares additional information and strategies on how to address them.
Guest Blogger:  Beth Boynton, RN, MS
Like many change efforts, the first motivation for doing something different involves a sense that something isn't working. For me, that includes some tough shifts on an Alzheimer's unit where I could feel my stress level go off the chart.
I am typically passing meds to about 20 residents, keeping an eye on individuals as well as the community, and supervising 2-3 LNAs. There have been times when after a few hours of relentless interruptions from colleagues, support staff, managers, patients, and families, not to mention rapidly shifting priorities, essential tasks, and other 'distractions' such as alarms, phones, and pages, when I'm ready to run out the door screaming! I can feel my "best self" disintegrating as I become frustrated and irritable! I started wondering…
Do folks realize that I need to concentrate on important details when I am administering medications?
Do they understand that interruptions are a source of medical errors? Sometimes catastrophic ones?
Does anyone care that an environment of endless interruptions can cause horrible stress on caregivers?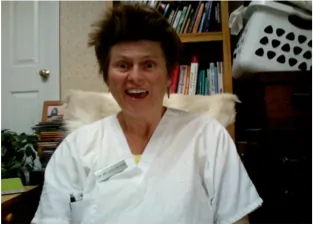 Then last March I had the opportunity to present a workshop at NYU where I facilitated an activity called "Overload". It was the first time I used this activity and a small group of healthcare and theatre education professionals participated. Seeing this activity performed was amazing. The visual display and following discussion brought home points that were incredibly powerful! I knew then that I needed a small group of nurses to help me create a YouTube about this topic.
As the planning process has evolved, so too has my primary goal. At first, I was mostly on trying to stop unnecessary interruptions, yet with discussions with colleagues and related research, I began to see that the issue was much more complicated than I originally thought.
My colleague, Sandy Summers, co-author of Saving Lives: Why the Media's Portrayal of Nursing Puts Us All at Risk
,(with Harry Summers) sent me an email. She invited me to consider some different aspects about the issue and shared a recent OpEd piece in the Nursing Times called, "Do Not Disturb:  Undervaluation in Progress".

I realize now that what we really need is to raise awareness and stimulate respectful dialogue among all stakeholders. Some discussions I've had recently have been helpful in gaining insight into the complexity of interruptions in nursing/healthcare.
Here are three ideas to consider:
1. There is a Relativity to Interruptions
The interruption, i.e. the comment or question that breaks up our concentration is only one factor in a much bigger scheme. The perspective and circumstances of the person being interrupted and those of the person interrupting are also powerful influences. The patient's wife who interrupts a nurse to ask if there is any lime jello may have more or less urgency when considering any of the following:
The nurse she asks is in the middle of checking transfusion orders for another patient.
The woman's husband/patient has a fear of needles,  is dehydrated, and loves lime jello.
The nurse has finished morning meds, the unit is fully staffed, there are no crisis' going on and she just came back from lunch where she noticed a lot of lime jello.
The patient's wife likes lime jello and the nurse had negative feedback on a Patient Satisfaction Survey earlier in the year.
2. Some Interruptions are Vital
Some nursing interruptions are life-saving whereas some contribute to mistakes. The Joint Commission, together with the Centers for Medicare and Medicaid Services is working hard to empower patients and families to 'Speak Up' in their initiatives to decrease medical errors.
For example, these interruptions in patient care are vital for patient safety:
"Doctor, stop! That is the wrong leg!"
"Nurse, my wife is allergic to PCN!"
Assertiveness on the part of nurses, patients and families is important to develop and yet may be more effective when concurrently addressing related issues such as staffing and training and practice in listening. To do one and not the other strikes me as somewhat of a set up for healthcare professionals.
3. In Accident Investigations, Interruptions become Invisible
I was recently talking with a colleague about a med error that she had made. Event a fantastic nurse can make a mistake when she is stressed to the max. No one was harmed, thankfully, but the story is helpful to this discussion. When filling out the event report with her supervisor, the supervisor determined that because she didn't have have the medication next to the Medication Administration Record when she gave the medication that she did not follow procedure. She shared with me that this was true and willingly owned her failure to do so.
In talking with her further, her accountability is admirable, but the truth more complicated because there were a lot of other things going on between beginning to get the medication ready and giving it.
The patient had been screaming for over 30 minutes.
She had answered a call light twice.
A family member asked about visiting hours on Sunday.
An LNA asked her if it was ok to take her 15-minute break.
The phone rang and by the time she reached it the caller had hung up.
Each time she left the medication cart she put the drug back and locked the cart.
The medication she gave was no longer ordered for the patient, was the same dose and class of drug, but a different drug and right next to the correct drug.
As you can see, the circumstances surrounding 'her' med error are much more complicated than the nurse not following correct procedure!
In closing this article, I am sure that there are other layers that my colleagues and consumers in healthcare will have to share that shed more light on this topic. Nursing interruptions should be avoided when unnecessary to help protect patients.
Originally published on: BethBoynton.com
Download Nurse Bingo Today!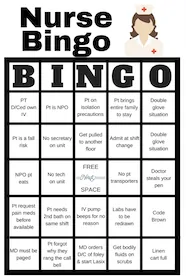 Liven up any shift with a fun game of bingo. See who can fill a row first!
Fill a whole card and lose grip with reality.
Your privacy is protected. We will never spam you.