*articles contain affiliate links*
The people we trust to take care of our elderly and sick family members are letting us down. The fact that nursing home abuse happens is sad enough, but who is ignoring it and letting it happen?
The answer will shock you.
Guest Blogger: Jenna
Nursing Home Abuse
WKRG in Alabama made national news when they reported the story of a former nursing home employee, one who is speaking out against the travesties she's witnessed. Although the news agency is keeping her identity a secret, they are helping her get her message to the masses. This has prompted some New Jersey residents to wonder what's happening in their local nursing homes.
The former nursing home employee explains that she witnessed staff abusing elderly patients, who couldn't speak or were thought too senile to be telling the truth. Oftentimes, these staff members would target patients who didn't have a family to tell.
What You Can Do About Nursing Home Abuse
Visit your relatives often. If someone you love is in a nursing home, a daily visit can ensure their safety, according to the former nursing home employee. She says that patients who are alone are victimized more often than those who aren't.
"It's tough for staff to neglect your family member when they know you're a frequent guest." 
Nurses – What Would You Do If You Witnessed Nursing Home Abuse?
Imagine witnessing these things on a daily basis. What would you do? Would you ignore it? Would you quit your job? Or, would you report it? This former employee told WKRG that she recommends family members, of nursing home patients, check in on their loved ones daily.
But, what about employee accountability?
When did it become up to the family to ensure the institution they're paying isn't abusing their loved one? In New Jersey, laws against elder abuse are governed by the Department of Health. The department is responsible for investigating and imposing punishments on facilities that are reported to be neglecting their patients. When no one is reporting that neglect, there isn't going to be an investigation. It's time non-offending caregivers speak up when they witness neglect.
It's Time to SPEAK UP!
HelpGuide.org, a trusted non-profit resource for resolving health challenges, warns that you may be implicated if you don't do anything to report the abuse you're witnessing. If authorities catch on to the abuse, you may be targeted as an abuser. Turning a blind eye makes you an accomplice. HelpGuide.org suggests, "If you suspect abuse, report it."
Quitting isn't going to make the problem go away. After you leave, hundreds of patients will continue to be subjected to the things you witnessed. Plus, even if you quit, you may still be indicted on charges if any of your patients were found to be abused.
If you're witnessing elderly abuse in New Jersey, the best decision you can make for the victim and yourself is to speak up. Report the incident(s) to your supervisor. If they don't listen, it may be necessary to get the victim's family involved. The victim's family will alert authorities and begin an investigation. They may even contact a nursing home abuse and neglect attorney capable of helping them protect the rights of their loved one.
No matter what happens, it's your duty to report nursing home abuse when you witness it. Simply imagine it's your grandmother, mother, yourself or even your daughter lying in that bed. Everyone grows old and there's no telling where they end up. By reporting and stopping nursing home abuse, you're becoming a part of the solution.
More Articles For Nurses
If you found this article about nursing home abuse helpful, I think you'll enjoy these too!
Download Nurse Bingo Today!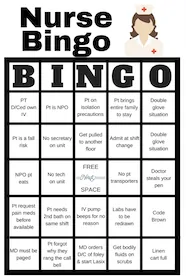 Liven up any shift with a fun game of bingo. See who can fill a row first!
Fill a whole card and lose grip with reality.
Your privacy is protected. We will never spam you.