*articles contain affiliate links*
As you create your goals for the new year, think about these 3 nursing goals. What are your professional resolutions? Use this list to create your own plans and attack them.

Nurses spend so much time caring for others that they often don't have the time or energy to really take care of themselves properly. A new year is a great time to start some new good habits and maybe even quite a few old bad ones. If you want to live a happy life with a fulfilling nursing career then these resolutions might be just right for you.
Top 3 Nursing Goals for All Nurses
This list contains three nurse resolutions that all nurses can definitely use. Which of these most applies to you? I'm sure at least one of them does.
1. Nurses Should Resolve to Become More Empowered
The first goal is a simple one. All nurses should have a nursing goal to be more confident and empowered. It will make you a better nurse and a stronger person.
I've met so many nurses who feel beat down and bitter. They are angry with the way they are overworked and underappreciated. They love nursing but they just don't know how much longer they can take it.
Many nurses who will feel beaten and battered may talk about it online or with trusted friends but seldom speak up about it to the powers that be. The nurses at the station may all be aware of the issues, but the nurse manager and his/her superiors may be oblivious. In order to correct this, nurses need to make an effort to be more assertive about issues that are of concern and directly address the situations. You can never expect your situation to improve if you don't do sometimes directly to initiate a change.
Lorie Brown writes a blog about being an empowered nurse. If you'd like more information or becoming more empowered as a nurse you should take a peek.
2. Nurses Should Resolve to Become More Healthy
The second nursing goal is almost cliche. But it's so important!
I don't think that nurses are alone in the need to become more healthy. We could all use a little more attention on a healthy diet and an active lifestyle. However, the population of the United States is approximately 30% overweight while the population of nurses is 50% overweight. As a profession, we are more likely to be overweight and have other weight-related health issues.
It seems odd that we are more overweight than the general population because many of us do get a fair amount of exercise just by the nature of the work we do. Sure it's not a rigorous gym regimen, but we get a good amount of cardio by walking the halls and lifting heavy patients isn't for the feeble. Even so, we probably aren't getting enough activity to offset or terrible eating habits and the havoc the stress of our work wreaks on our metabolisms. For these reasons, and many mothers, nurses need to be a little more focused and being a little more fit.
3. Nurses Should Resolve to Learn More About Technology
The final nurse resolution is extremely important, especially as time moves forward and tech becomes an even bigger part of healthcare.
A good amount of nurses are already tackling technology with gusto. But there are still many nurses who feel intimidated and undermined by all the new requirements that come along with electronic medical records, meaningful use, and other technologies in the workplace. If this is you, then this year you should make an effort to embrace technology for all it can do for you, your nursing career, and the patient's you care for.
The Nerdy Nurse's Guide to Technology can help provide nurses with the tools needed to embrace technology with open arms. By being more confident and informed on innovations technology can and has brought about, you can see technology in a new light and use it to benefit yourself and your patients.
A New Year a New Nurse
The coming year is an excellent time to shed the old and put on something new. Becoming a more empowered, healthy, and technology savvy nurse you will no doubt make you a much happier nurse with a new-found love for the nursing profession.
Here are some more articles that will help you become a better nurse:
Download Nurse Bingo Today!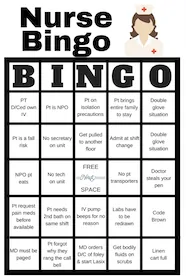 Liven up any shift with a fun game of bingo. See who can fill a row first!
Fill a whole card and lose grip with reality.
Your privacy is protected. We will never spam you.