*articles contain affiliate links*
Nurses are coming together online to discuss many aspects of their careers. We share funny stories, tragedies, what we've learned, and what we hope to learn. There are many forums, facebook groups, and other large forums to connect with other nurses. There are also great nursing blogs and tumblr accounts that can give more specialty specific looks at the nursing profession.
The following infographic highlights some of the best nursing blogs and tumblrs on the net.

Infographic courtesy of Soliant Travel nurse careers
Here is an easy clickable list of all the blogs and tumblrs featured in the infographic.
Blogs From ER Nurses
Blogs From OR to School Nurses
Nurse XY – deactivated
Tales of a School Zoned Nurse – deactivated
Some Recommended Tumblrs
What are your favorites on the list?
Do you know of others that should be included?
Download Nurse Bingo Today!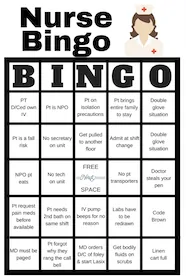 Liven up any shift with a fun game of bingo. See who can fill a row first!
Fill a whole card and lose grip with reality.
Your privacy is protected. We will never spam you.