*articles contain affiliate links*
I've written about lateral violence (the act of nurses being bullies) frequently in the past.
To be completely honest, I hate that this is something that I even know about, and especially felt the need to write about. Not because I don't think the issue should be addressed, but its just completely absurd that it exists at all. The jokes and mumbling under their breath that many state about how Nurses Eat Their Young is a sad state of what trivial boundaries make it difficult for nurses to be seen as professionals.
An article on Medscape, (which I wrote about Respect and Dignity: A Nurses Guide to Bullying in Nursing)  which I I have written and linked to before, has a discussion forum tied to it  ( Nurses — Have You Experienced Bullying? ) which I elected to receive email updates from.Anyone someone comments on the issue of Bullying in Nursing, I receive an email. Unfortunately, I receive an email nearly every day. – please note, you will have to register to read the forums on Medscape, it it only takes a monent and is worth it!
What it brought to my attention today was how some many excellent, compassionate, and caring nurses actaully leave the nursing profession due to bullying. I mean really, bullying? We're adults and we're often being forced to change our entire careers and stop doing something we enjoy because of bullies? It's upsetting to me on so many levels that this childish behavior is tolerated in what is supposed to be a professional environment.
Also, I've had hundreds of people come to my blog after googling "lateral violence", "Horizontal Violence", "bullying nurses", "nurse to nurse hostility" and various other terms related to the inhuman phenomina of nurses eating their young. While I am glad that I am able to provide some comfort to other nurses so that they are at least aware that they are not alone in this, I am deeply bothered that these are terms that people even have to google.
Nurses, we need to ensure we are treating others the way we want to be treated. We need to be advocates for not only our patients, but ourselves, and our profession. If you feel you are being bullied, or see someone else being bullied, SPEAK UP. It will be hard, and it will be uncomfortable, but ulitimatly, it is the RIGHT thing to do. If we want this to stop, we need to stop sweeping it under a rug, put on a pair of gloves (maybe double up, in some cases) and get in their and get dirty.
We get dirty for our patients, why not for ourselves?
Be a Nurse Advocate!
You may also find these articles of interest:
Nurses Too Scared to Oust Bullying Colleagues
Download Nurse Bingo Today!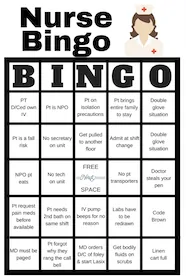 Liven up any shift with a fun game of bingo. See who can fill a row first!
Fill a whole card and lose grip with reality.
Your privacy is protected. We will never spam you.