*articles contain affiliate links*
Nursing can sometimes be a very under-appreciated profession. So when someone wants to off you're an aware for being Nurse of the Year, that would be great, right?
Well… maybe?
View the video and let us know what you think.

Nurse of the Year
The tips for new nurses are pretty spot on, for the most part. But honestly, I have never felt completely thankless as a nurse. I've had some management in the past that made me feel pretty replaceable, but the patients and other staff usually made up for that.
Nursing is very rewarding to most of us, but it's good fun to laugh at a few nursing related jokes that are on the cynical side.
Besides, who there isn't near enough nurse humor on the internet and there certainly aren't enough funny nurse videos.
What are your best tips for nurses?
Download Nurse Bingo Today!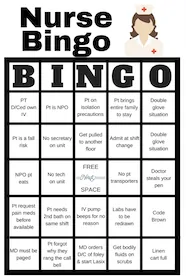 Liven up any shift with a fun game of bingo. See who can fill a row first!
Fill a whole card and lose grip with reality.
Your privacy is protected. We will never spam you.