*articles contain affiliate links*
What is a Nurse Informaticist? It's a "big picture nurse," and one that can leave you feeling disconnected. But it can still be very rewarding.
My Experience as a Nurse Informaticist
It's been a whole month since I jumped over onto the informatics train in nursing leaving my bedside care buddies behind and diving deep into the world of nursing informatics. The change was met with confusion from my colleagues and excitement from me. "Finally," I thought, "I can be a part of the big picture." And that is exactly what I have done. A month into this role I have learned a lot about just how big that picture really is and how many people are involved in the process. Nothing is as simple as it seems it should be and everything touches everything.
The Most Rewarding Things About Being a Nurse Informaticist
There are honestly a lot of things I love about this new role. Being a nurse informaticist has a ton of rewarding aspects, these are my favorite parts.
Nurse Informaticist Blends Technology and Nursing
Forgive me for combining my passions here, but nursing informatics its a beautiful blend of the nursing approach and technology. You have to look at the EMR/EHR from a holistic or systems approach.
Even if you do not think a change will have an impact on anything else, there are some very real chances that it might. In fact, there are some very real chances that someone will be furious with that change!
It Offers A Holistic Approach
Patient care in nursing is a holistic and body system approach. Yes their blood pressure is high, and we can give them a beta blocker, but what is causing their blood pressure to be high? Are they in pain, need their Lasix, have a sodium imbalance, need dialysis, are they paraplegic and laying on something that is irritating them?
You can't just throw a band-aid on the immediate problem and leave it at that, can you? Sure Hydralazine or Metoprolol at 3 am to lower your sky-high pressure is fine for a moment, but you have to figure out what the bigger problem is here. What is the cause of the problem? And what can you do to fix it? And when you fix it, what else will you break in the process, because we all know medications have nearly as many side effects as they do benefits.
Nurse Informaticist is Like Replacing the Band-Aids
That's what nursing informatics is like. Or at least, in my humble opinion, that's how nurse informaticist should practice. We can't fix immediate problems and ignore the big picture. By all means, we must fix the immediate issues, but we need to explore and dig deeper to see what really caused the problem and how we can not only fix this problem but improve the entire process. I've stated before that nursing informatics is about the bigger picture, and I stand by it.
Is A Nurse Informaticist Still a Nurse?
Am I still a nurse even though I don't take care of patients?
I'd argue that I do take care of patients. In fact, I'd argue that the entire health care system and community I work for are my patients. The patients, the nurses, the doctors, the administrators, the vendors, and everyone else that makes the system work.
I take care of all of them by doing my best make their jobs and efficient as possible all while ensuring documentation is performed accurately and within the legal guidelines and regulations. I am an advocate for patients and technology. It is my goal to make technology work with providers to improve patient care. Technology should never be a barrier to good care, but an enhancement.
So often I have said that nursing deals with quality of life rather than merely quantity. Nursing informatics deals with the quality of the health care system rather than just quality.
Download Nurse Bingo Today!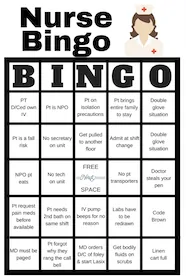 Liven up any shift with a fun game of bingo. See who can fill a row first!
Fill a whole card and lose grip with reality.
Your privacy is protected. We will never spam you.