*articles contain affiliate links*
Back in 1999, the "interview process" for nurses was easy. Jobs were abundant, and so many employers wanted nurses with ANY level of experience, that the interview process could pretty much be summed up like this: "Hi, here's our wonderful unit and wonderful staff! Please come join us; we LURRRRV new faces!"
Now, not so much. New grads are entering the field during the perfect storm of a bad economy, job shortage, and nurse retirees who are back to work because their retirement portfolios are no longer robust enough to support their retirement. So, the problem becomes how to stand out in the sea of applicants?
Let's face it. Some managers will just toss any new grad's resume right in the trash, no matter how concise, how detailed, or how well-thought out. Well, if they're that biased, you didn't want to work for them anyway, trust me. So don't worry about the no-callbacks (easy to say, hard to do, I know). DO worry when they call you back, and you're up for an interview. That's when the pucker factor can really kick in, because now you can no longer hide behind a piece of paper…it's show time!
Two words: Be prepared.
How, you ask?
There's plenty of advice out there on the internet for routine interview tips, what to wear or not wear, how to shake hands, etc. No need to repeat them, especially since most of them are just common sense. Instead, I'll list a few things that might not be so obvious, and could help you long after you've passed "new grad" status. To this day, I use these preparation methods to reduce my anxiety, feel confident, and present myself as the valuable team player I know I am.
1) Have a portfolio. Update as needed. Here's what to keep in it: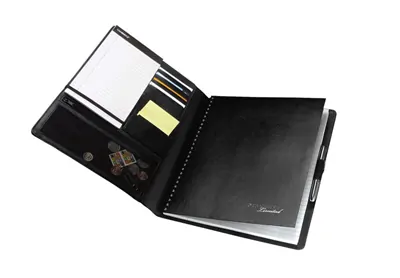 · Resume hard copy: Don't rely on always having it on your computer. Computers crash, files get erased. Keep the resume to 2 pages or less. For new grads, consider including a list of skills with which you are already competent, including keyboarding, word processing, etc.
· Copies of your nursing license, your NCLEX scores, other relevant testing information, grade transcripts, and relevant medical certifications. For a new grad, consider including First Aid, Lifeguard, CPR, nursing assistant, etc.
· List of your addresses for the last 7 years for the criminal background check. You will likely need to copy these to the paper or electronic application form.
· Written questions: What you want to know about the orientation process, turnover rate on the unit, opportunity for committee involvement, how new grads are viewed by staff, etc. Avoid asking about salary, vacation, sick time, benefits, or available internet access.
· Written answers: Take the most common, yet hardest interview questions, sit down and write out thoughtful answers to these questions. If you've already thought about, rehearsed, and read over the answers, you'll have no problem answering them on the fly. Questions include:
Why should we hire you? Why do you want this job?
Where do you see yourself in 5 years?
What are your strengths and weaknesses? (Always present the weaknesses in a positive way, and follow up with how you intend to turn that weakness into a strength.)
How would you deal with difficult or dishonest (doctors, coworkers, patients)?
For more, see this list: 15 Toughest Interview Questions Answers
2) Anticipate the unexpected.
If something goes wrong, the interviewer will not judge you based on what happened, but you will be judged on how you handle it. Think about it. You can't control patient responses to treatments, disease processes, or anything else, but you are expected to react appropriately and in a timely manner to prevent patient and staff harm. The interviewer will extrapolate your conduct regarding interviewing mishaps to your future conduct on their unit.
Communication is key here. Have the contact numbers of your interviewer handy at all times in case you are running late because of a random bridge collapse, or need to reschedule due to tornado warnings. Don't laugh…it's happened. I used to live in Arkansas.
AND FINALLY…the BEST preparation for landing your desired nursing job:
3) Already have a medical or nursing-related job!
Paid, volunteer, in-hospital, contract, day shift, night shift, sitter, caregiver, WHATEVER it is…get it while in school, and start building that resume as far in advance of your graduation as possible.
Not only will this help you with networking (and getting you the scoop on upcoming job openings), but will build your skills and confidence SO necessary to move past the "new grad" status…especially in your own mind.
If you are long past new grad status but have dropped out of the active nursing field for any reason, the above preparation tips are just as valid. Having a prepared portfolio, anticipating the unexpected, and becoming involved in the medical or nursing field in advance of your nursing job search will greatly increase your confidence and success in obtaining the job of your choice!
Let the show BEGIN!
Download Nurse Bingo Today!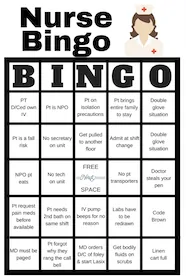 Liven up any shift with a fun game of bingo. See who can fill a row first!
Fill a whole card and lose grip with reality.
Your privacy is protected. We will never spam you.