*articles contain affiliate links*
Thank you to EasyNCLEX for sponsoring this post.

Preparing for the NCLEX can be stressful beyond belief. One of the best pieces of advice you will ever get about the NCLEX is to take as many practice tests as possible. There are entire books and websites devoted to practice NCLEX questions. However, no matter how many times you take a test out of a book it cannot fully prepare you for the experience of taking a test on computer.
To be a nurse you must pass the NCLEX.
I've had my RN license for several years now and was very fortunate to pass the NCLEX in 75 questions on my first attempt. I attribute a large amount of that to taking multiple practice tests online. When looking for NCLEX prep material you should take a look at EasyNCLEX.com.
I have accessed the site and can provide you with a review. The site offers several practice tests online that offer you the ability to take a timed test, keep track of your score, and gives you the ability see the rationale for the answers while you are testing. This is SO much easier than flipping to the back of the book to get the answers in a NCLEX test prep book. You can also wait to view the questions at the end of the test.
EasyNCLEX.com can prepare you to take the NCLEX-RN or the NCLEX-PN for any state you may be testing it. There are a variety of questions including Multiple Choice, Sequence, Fill-In-The-Blank, and the dreaded Select All That Apply. The questions are both high quality and current. The site navigation is very user friendly and the exam sign up is a breeze compared to most NCLEX prep sites.
I would give EasyNCLEX.com a great rating in terms of preparing you to test for the NCLEX on a computer. If you've never tried taking NCLEX style questions on a computer, I would definitely recommend you give it a shot.
Check it out for yourself and let us know what you think!
Consideration has been given for publication of this content.
Download Nurse Bingo Today!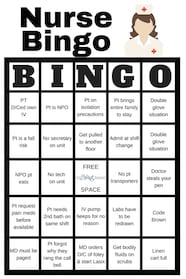 Liven up any shift with a fun game of bingo. See who can fill a row first!
Fill a whole card and lose grip with reality.
Your privacy is protected. We will never spam you.