*articles contain affiliate links*

Received an email about a Free webinar for ANA members about lateral violence in nursing and steps to eliminate it. If you are a non-member it is $15. It is part of the Navigate Nursing: ANA Leadership Resources. I'll copy the contents of the email below for your convenience.It gives 1 CE our if you are in need of those credits!
Navigating the Work Environment: Embracing Zero Tolerance for Bullying

WEBINAR

Navigating the Work Environment:Embracing Zero Tolerance for Bullying
"Sticks and stones might break my bones, but words can never hurt me." This nursery rhyme couldn't be further from the truth. Repeated exposure to negative, disruptive behavior can have a significant impact on you, your colleagues and your patients. What leads to such behavior in the health care environment? Join us for an informative presentation that will help us all better understand, address and prevent bullying, lateral and horizontal violence in the healthcare environment. After the presentation, there will be time to share your thoughts and questions.
Learn about bullying in the workplace and how to address it effectively through ANA's tip card and fact sheet on bullying in the workplace at www.NavigateNursing.org.

Date:     July 22, 2011Time:    1:00-2:00PM EST

Speaker: Internationally recognized for her work on horizontal violence, Joy Longo, PhD, RNC-NIC will present Navigating the Work Environment: Embracing Zero Tolerance for Bullying for the nursing community. Dr. Longo has conducted extensive research on the phenomenon of disruptive behaviors in nursing and has published on the topic in several nursing journals.
Price: ANA-members FREE
Non-members $15

Register now!
ANA Members – access your promotional code now.
New – Tip Cards: Bullying in the Workplace
Is your staff aware of the behaviors that constitute bullying in the workplace? Do they know how to avoid being the victim of bullying? These tip cards are the perfect resource to pass on to members of your staff. Each laminated 3.5″ x 6.75″ tip card shows examples of lateral violence and bullying behaviors in the workplace. The flip side offers ways to effectively respond to such behavior.
Each package contains 25 bullying cards. Cards are not sold separately and are not for individual sale. 
Click here to order today!


1.0 contact hour will be awarded to nurses who successfully complete this activity. Where multiple nurses view the webinar at a single site, all are eligible to receive contact hours for this activity, upon completion of the online evaluation and verification of their attendance at the webinar.
Webinar attendees will receive a link to an online evaluation. The link will be provided at the end of the webinar and also by e-mail to the person that registered, who can distribute that link to everyone in the room. Each attendee should complete the evaluation separately and confirm that they attended the webinar and earned the contact hours. They will then enter their contact information, and a CE certificate will be emailed to them within 4-6 weeks of the webinar.
The American Nurses Association Center for Continuing Education and Professional Development is accredited as a provider of continuing nursing education by the American Nurses Credentialing Center's Commission on Accreditation.
ANCC Provider Number 0023. 
ANA is approved by the California Board of Registered Nursing, Provider Number CEP6178.

© 2011 The American Nurses Association, Inc. All Rights Reserved American Nurses Association – 8515 Georgia Avenue – Suite 400 – Silver Spring, MD 20910 1-800-274-4ANA | Copyright Policy | Privacy Statement
Hope this resource will be well utilized by nursing leaders!
I strongly feel that a no tolerance policy for Bullies is the only way we can eradicated the problem of Nurses Eating Their Young
Download Nurse Bingo Today!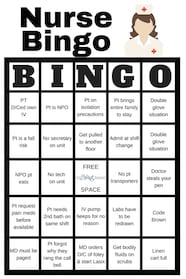 Liven up any shift with a fun game of bingo. See who can fill a row first!
Fill a whole card and lose grip with reality.
Your privacy is protected. We will never spam you.