*articles contain affiliate links*
Guest Blogger: Jenna
Okay, prospective employees in the healthcare field, time for a bit of industry-specific news: if you're looking for a new career, particularly one you can use online training to help you achieve, you should look into medical coding.
What Is Medical Coding?
Whenever a person is cared for by medical personnel, no matter what kind of medical personnel they see, the encounter must be documented. This is done through a process called "charting" and you probably know all about those from watching medical shows on television like Grey's Anatomy, ER, etc. After the encounter someone goes through the chart and assigns codes to everything that happened. This process is called "medical coding."
Why is there Medical Coding?
Medical coding is used to help administrative staff figure out how much to charge the patient for the treatment and care that they received. It helps smooth out the billing creation and processing. Without medical coding, administrative staff would have to go through pages and pages of handwritten charts, trying to figure out what happened while the patient was being treated.
Why Should I Consider a Career in Medical Coding?
Medical coding is definitely a worthwhile job to pursue. It pays well and, in many circumstances, is work that you can do from home or in the evenings. It is one of the few jobs that you can do around an already busy schedule, which is why so many people choose to learn how to do it. With ICD-10 implementation getting closer there are many healthcare facilities looking for individuals trained in this area.
What Is Involved with Being a Medical Coder?
There is a lot of work, believe it or not, that goes into learning how to do medical coding. There is more involved than simply reading a chart and transposing words into numbers. Medical coders need to know anatomy and physiology. They need to learn and be intimately familiar with medical terminology. Medical coders also need to be thoroughly versed in the different types of insurance policies, plans, regulations and compliance laws. Obviously they also need to learn all of the different codes that they will be using.
How Do I Get Started?
If you are interested in this job and think you have what it takes to master all of the things that you will need to know, the first thing you should do is sign up for a medical coding training course. If you enjoy the class goes well, you'll want to join an association for medical coders and then start taking regular medical coding courses. Start studying for the CPC exam (and, later, pass the exam).
What does Life as a Medical Coder Look Like?
Once you've completed your training and passed your tests you are ready to find work as a medical coder. This is where things start to vary. Some companies will require that you work on site, doing the medical coding in their administrative offices. Others will allow you to do medical coding off site, from home, using a secure system through which you login and complete your transcriptions.
Money-wise, medical coding can be a lucrative career. In 2010, the Bureau of Labor Statistics reported that medical coders earned between fifteen and sixteen dollars an hour. The field is one with a lot of growth, too, so you don't have to worry about whether or not your certification will sit unused for months before you get a chance to use it.
Medical coding is a fantastic field to go into. The training is extensive, but the hours and pay are great and, with consistent job growth you shouldn't have to worry about unemployment for the foreseeable future. Go for it!
Download Nurse Bingo Today!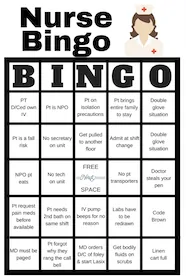 Liven up any shift with a fun game of bingo. See who can fill a row first!
Fill a whole card and lose grip with reality.
Your privacy is protected. We will never spam you.