*articles contain affiliate links*


If you haven't already lost yourself in the retail therapy that is Think Geek, you've really been missing out. I myself have spent hours browsing the oddities that exist and pining for some of the cooler items of geekery.
To those that are non-nerds, us nerds may be a little difficult to buy for. But I can assure you that if you were to get that special nerd or geek in your life any of the gadgets, gizmos, or trinkets found on Think Geek, they would not be disappointed. What you may think is weird or odd, we think is downright awesome.
Celebrate Geek Love
Think Geek has taken the time to pink through their inventory and devote an entire section to celebrating Geek Love. Some of those items that this nerd finds particularly interesting are as follows:
8-Bit Flower Bouquet $14.99
Sometimes Even Self-Rescuing Princesses Need Flowers
Pixelated flowers make the perfect gift for your 8-bit Princess 8bit
Never needs watering
Includes folding stand for display
Personally, I'd much prefer these 8-bit buds to live flowers. They will last forever and would make for fantastic office conversation. If it wasn't already known that I was the youngest in the IT department, this would certainly confirm that. And at 15 bucks, this is cheaper than any other floral arrangements you'll find!
Anatomical Heart Necklace $39.99
Heart of Sparkliness
Pewter pendant hangs from 18″ double chain.
Both chains plated with sterling silver.
Heart guaranteed not to break or need nitroglycerin.
Now if this isn't a gift that just scream nerdy nurse! Ok… so I probably couldn't get away with wearing that around the office. They might just find that to be a little too weird. But I certainly would rock it outside of the hospital walls.
Us medical geeks have a weird sense of style and humor, and often they are combine.
And if heart's don't strike your fancy, there is also an Anatomical Brain Pendant.
Zombie Friendship Necklace Set $29.99
Friendship is Forever
These brains are perfect for sharing with your ZFF.
Includes 2 24″ long, rhodium-plated chains.
Comes in a pinstripe jewelry box.
Won't you be my Zombie BFF! I'll give you the other half of this brain and anytime we are near each other, our brains will unite and become whole again. Come one. You know you want to!
iNecklace $74.99
Open-Source Wearable Electronic Pendant
Aluminum pendant on 18″ sterling silver chain
CR1220 battery lasts up to 72 hours
LED is totally programmable to do your bidding
I am notoriously frugal, but I have to say I might actually have to spend the $75 to get this necklace. It puts new meaning to turning a nerd on. Really. I lights up! Makes my nerdy little heart just skip a beat.
I could probably fill an entire blog with the geeky items over at Think Geek that I'm pining over, but I'll leave that to some nerdy with much more time on their hands. I am interested, however, in what you think is cook at Think Geek. Browse around. There's some neat stuff there. You'll be adding tons of stuff to your wish list, so don't say I didn't warn ya.
Download Nurse Bingo Today!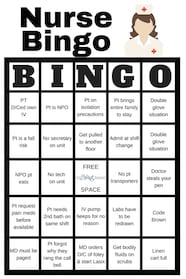 Liven up any shift with a fun game of bingo. See who can fill a row first!
Fill a whole card and lose grip with reality.
Your privacy is protected. We will never spam you.